Home » Auto Bytes
Road Trip Vehicles of the Year 2009*

In one of the more brilliant press releases to come across my desk in a while, Thule, a manufacturer of roof racks as well as other auto accessories, announced their picks for Road Trip Vehicle of the Year 2009.  After reading the release, I'm pretty sure not very women work at Thule. This is not a bad thing, it's just funny to me how these guys rated the vehicles and what ended up most important.
Apparently, employees of Thule assigned points in 10 categories to come up with the winners, each category being something important on a road trip. Extra points were given to cars that were fun to drive or offered four-wheel or all-wheel drive. Sounds like the Thule dudes like to road trip pretty far off the highway system.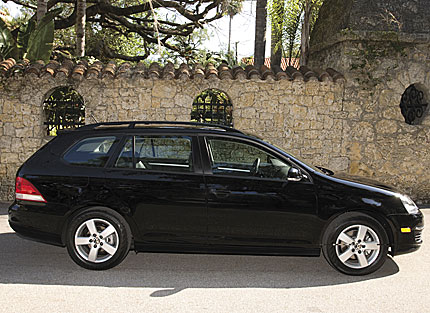 In the Under $30k category, they picked Volkswagen's Jetta SportWagen TDI. "Volkswagen did a great job with the Jetta SportWagen TDI. It is a reasonably priced vehicle with lots of great standard options. With a gas mileage rating of 30 mpg city and 41 mpg highway the Jetta SportWagen TDI can go 600+ miles without refueling," remarked Tripp Wyckoff, Thule's VP of Sales, Marketing and Service.
From the release: "In Thule's testing, the Jetta SportsWagen TDI was a comfortable, all day travel companion. With a very intuitive dashboard layout, all the important controls are right at the tester's fingertips. The 6-disc CD player, MP3 jack and 10 speaker sound system provide adequate audio options for the trip." Because we all know that's what is most important. Music. Forget adequate leg room, comfortable seating or even cup holders.
And, in case you were wondering how this ties in with roof-top storage, here's some extra details: "With the standard raised rail on the roof, installing a Thule multi-purpose roof rack system took less than 10 minutes. The test vehicle was equipped with a Thule roof box for carrying longer items and two Sidearm upright bicycle carriers. This gave more interior space for snacks and games on our road trip," said Karl Wiedemann, Thule's PR and Communications Manager. Finally, they're speaking my language. Snacks, games, maybe room for a car seat or two inside the vehicle.  That's important.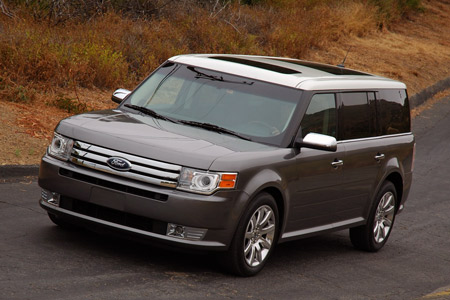 For the over $30,000 category, the Ford Flex Limited AWD took the honors. "The Ford Flex Limited AWD is a very fun vehicle. Ford thought of just about everything with this one. Available options such as ambient lighting, rear refrigerator/freezer, seating for seven and a panoramic sunroof make this vehicle a pleasure to drive on long trips," said Wyckoff. Panoramic sunroof? Wow. The rear fridge sounds awesome, however, and while I'd never want seven people on a road trip with me, it sounds like a great car.
Thule adds: "The Ford Flex was a great balance of utility, style and fun. When the third row seating was not in use, the Flex provided adequate storage for a weekend away. The rear DVD entertainment center will keep backseat passengers occupied during any trip." Any trip? Huh.
The generous width of the roof, providing up to 58″ of roof rack space, can easily accommodate two bicycle carriers and a Thule cargo box. The vehicle's lower profile design made it easy to load and unload the rooftop cargo.
Getting back to roof-top storage, "As with most vehicles on the market, the Volkswagen Jetta SportWagen TDI and the Ford Flex Limited AWD work seamlessly with Thule's complete line of racks, cargo boxes, organizational solutions and sport specific carriers. With innovative solutions to carry bicycles, kayaks, surfboards, canoes, camping gear, snowboards and skis, a multi-purpose Thule rack system will take away the age-old road trip question of, "how are we going to fit all this stuff in the car?"  Thule's world-class products help to safely and stylishly transport all the gear a family needs to carry this summer."
Well, ok then. I have to hand it to Thule for a fun release, and I'm marginally more interested in throwing some stuff up on the roof than I was earlier today.
<!most popular rating>