Home » Rockies or Bust 2010
Cowboy Up! Welcome to Wyoming — Rockies or Bust 2010 Day 1
After a tearful goodbye to our family (we spent the first part of our mega trip camping in the Black Hills of South Dakota with family we don't see very often), we hit the road for Day 1 of our Top 10 Scenic Drives in the Northern Rockies road trip. Since that's such a mouthful, we're just calling it "Rockies or Bust 2010″. Our goal is to drive all 10 of the Top 10 drives between now and August 3rd. We'll be sharing our experiences from the road in this special column and doing traditional media as well, so look for us on a channel near you.
Circle the Continental Divide Driving Tour
We drive west out of South Dakota and hit Wyoming, the Cowboy State, just in time for lunch. Luckily we all love old school country because the radio doesn't seem to have any other options. Today we're traveling on the Circle the Continental Divide Driving Tour. This drive highlights the best of Wyoming — including national parks, museums, rodeos, pioneer trails, Native American tribes, jaw-dropping scenery, and colorful wildlife. Your family could visit the rumored burial spot of Sacajawea on the Wind River Indian Reservation or walk in historic wagon ruts on the Oregon Trail. Or, you might choose to hike and camp on five million acres of public land. It's all about experiencing the essence of the Wyoming Rocky Mountains along the Continental Divide.
Thermopolis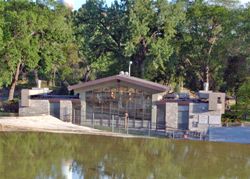 Pulling a trailer requires frequent stops for gas and driving slower than normal. This is one of the joys of a road trip — stopping at out of the way places you'd blow through on your way to something bigger and better. Like Thermopolis. Home to the world's largest mineral hot springs, Thermopolis is reminiscent of a stop on Route 66. Everything is a bit faded and extravagantly billed. Start at the State Bath House, and thank the 1896 treaty with the Shoshone and Arapaho Native American Tribes that gives free public access to the hot springs here. Here's one reason to bring the grandparents with you on a road trip: The indoor and outdoor soaking pools (no swimming!) require bathing suits, but there are clothing optional private tubs where you have privacy.
If this is not just a pit stop, check out The Star Plunge and Teepee Pools for all-day fun with water slides, multiple pools and hot tubs. The Thermopolis Hot Springs State Park is the most visited state park with Rainbow Terraces, the Swinging Bridge and The Big Spring being some of the main attractions. Kids will love seeing the buffalo (this is home to the central herd for the Wyoming State Parks) and there's plentiful camping, fishing and the Wyoming Dinosaur Center to spark some educational moments.
The Wyoming Dinosaur Center is a 16,000 square foot complex in the Big Horn Basin of central Wyoming.  It includes a world-class museum, working dig sites and a complete modern preparation laboratory.  Interpretive dig site tours allow visitors to walk the same ground as ancient dinosaurs and watch as scientists remove fossils from burial sites.  By special arrangement, individuals and families can work alongside skilled professionals for a day.  The museum is open yearly, dig site tours as weather permits.
Meeteetse
Truly one of those places where you blink and totally miss it, Meeteetse (kids will get at least 30 minutes of laughs trying to pronounce it!) is 30 miles south of Cody. Eat at the Outlaw Parlor Cafe and Cowboy Bar. This is the original cowboy bar, and Butch Cassidy spent his only time in jail after an arrest in this bar for stealing a horse. Known for their chicken fried buffalo steak and other buffalo menu items, the cafe is kid friendly (back room in the evenings out of the bar area) and the boardwalk across the street will make your little outlaws feel like they're really walking the walk. Moms will want to stop at the Meeteetse Chocolatier for the most decadent chocolate in Wyoming. There's also an RV park and a couple of lodging options if you want to spend the night.
Cody
We arrive late in Cody and pull into the Gateway Campground. A no frills park, the Gateway Campground is perfect for a night or two while you enjoy Cody. Choose from tent camping, electric only or full hookups. The bath house has plenty of showers and toilets (no waiting on busy mornings) and the park is clean and quiet. It's also close to the rodeo grounds. We were too tired to care and turned the lights out after setting up the trailer. Lots of activities tomorrow in Cody, and the Cody Nite Rodeo goes until 10 pm or later so we need to get some sleep!
<!most popular rating>