Home » Car Games, Guest Post
Top 10 Great Kids Books for the Road — Guest Post from Vegbooks.org
We're thrilled to have Jessica Almy of Vegbooks guest posting! She's the queen of kids' book reviews from a vegetarian perspective, and has a four year-old daughter, so she's always reading the latest and best books. Plus she has hand-on experience in the car because her family rocks the road trip. She's also got a great Facebook page.
Our family car is a small sedan, so we're picky about what we take on road trips.  A cooler of food, our water bottles, some CDs, my daughter's Etch-A-Sketch, and a handful of books are usually what make the cut.
Picking which books to bring is the hard part.  My husband usually drives, so the books we choose usually have to do double-duty of keeping kiddo and me entertained.  Here are ten that do the trick.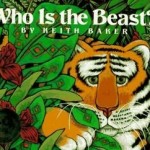 1 ) Who Is the Beast?

by Keith Baker
Lush illustrations, a positive message, and a hidden snail on each page make this book a favorite.  Since the story is set in a rain forest, we love naming all of the animals who make an appearance – including a bee, catfish, and snake – and seeking out the tiny snail who blends into the pictures.  (I still forget where it is on some pages!)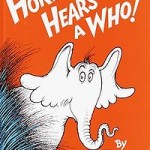 2 ) Horton Hears A Who!

by Dr. Seuss
This is one of my all-time favorite stories, featuring the very lovable elephant Horton.  On his adventure to save the microscopic Whos, Horton experiences a wide range of emotions, from joy upon discovering new friends to fatigue and frustration when he begins to lose hope that he'll find them again.  Roadtripping kids might be able to relate.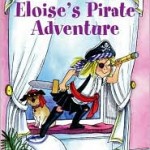 3 ) Eloise's Pirate Adventure (Ready-to-Read. Level 1)

based on the Art of Hilary Knight
Actually any early reader based on one of our favorite characters will do.  We love the Fancy Nancy
"I Can Read" series too.  Boys also have many options to pick from and the books are small and easy to travel with. Simple words and an easy-to-follow story make these kinds of books fun choices for word games.  We count common words like "the," sound out difficult words, find all the words that start with the letter "p," guess what word comes next, etc.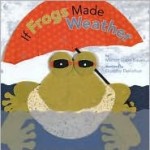 4 ) If Frogs Made the Weather

by Marion Dane Bauer and Dorothy Donahue
Books that get our creative juices flowing are a must, and this fun book – about what type of weather different animals would choose – works perfectly.  After reading it through, we might find ourselves wondering where animals would go on vacation, what kind of cars they would drive, or where they'd stop for lunch.

5 ) Dog Heaven

by Cynthia Rylant
Sometimes it's good to bring a serious book along to spark the kind of conversations that we seem never to have time for at home.  Cynthia Rylant's sensitive tribute to the passing of dogs is a good choice for our family, since it elicits discussion of our beloved cat who died, the role of animal companions in our family and our society, life after death, and God's compassion.  Other families might appreciate Bible stories, traditional folk lore, or other literature that's meaningful to their faith and traditions.

6 ) Ladybug Girl at the Beach

by David Soman and Jackie Davis
Not only is this new release vacation-themed, but it features a wonderfully independent and inventive little girl, Lulu.  We brought this book on a recent trip to the beach, and my kiddo looked at it the whole drive back, reliving her memories of the shore.
7 ) My Friend Rabbit
by Eric Rohmann
8 ) The Cinder-Eyed Cats
by Eric Rohmann
9 ) Time Flies
by Eric Rohmann
10 ) Tuesday
by David Wiesner
What these final four books have in common (other than that three are illustrated by the amazing Eric Rohmann) is that they are all wordless, or mostly wordless, adventure books.  Not only do these books allow us to make up the stories our own way, changing them each time we "read" them, but they're also great to keep a kid entertained on her very own, freeing up the person in the passenger seat to fiddle with the GPS, browse the map, or just take a little snooze.
<!most popular rating>