Home » Trip Planning, Uncategorized
Swimmers Itch: Wet with a Chance of Parasites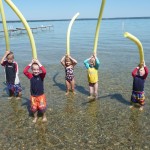 This is my very favorite photo of summer vacation. Here are five carefree cousins on a perfect summer day in a warm, sandy, pristine lake in Michigan. Fast forward twenty minutes and replace the word carefree with miserable and itchy.
Unknown to us (but known to the locals not pictured in this photo, or anywhere in the lake) the water was favorable for swimmers itch, an infection of the skin by a parasite most common in developing countries.

Here's how the chain of events went down: A duck carrying the parasite (known to biologists as cercaria) landed in the freshwater lake. The duck pooped in the water and the water temperature was warm enough for the parasite to find a new host in the intestines of a snail. Needing a more exciting life than the intestines of a snail, the parasite headed into the water to find more ducks (or happy cousins, in our case). Because the weather was so warm, we jumped into the car and air dried all the way back to the cabin. Microscopically, thousands of cercaria were having a field day burrowing down into the pores of our unsuspecting human skin.
The first sign of swimmers itch is a patchy red pinpoint skin rash on parts of the body having recently been in the water. The second sign is intense itching. At first we thought all five kids instantaneously contracted Chicken Pox, and scavenged through the dated medicine case looking for any "anti-anything" remedy. Making matters worse, we administered hot showers (as the pores opened in the heat and steam the ambitious cercaria burrowed deeper and with a heightened intensity). Everyone was crying (including two moms).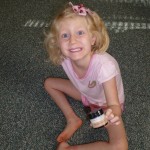 Unable to survive the acidity of our stomachs, the life-cycle of the cercaria stops sometime between two and seven days of misery. We treated the symptoms  in a trial-and-error sort of way. A combination of anti-histamines, Disney movies, ice cream, and Green Salve from Motherlove Herbal Company.
Shown here with a jar of Green Salve is my daughter between ice cream and Disney Movies. Originally packed for bug bites and contact with poison ivy, the organic ingredients in the Green Salve really took the edge off the constant scratching. Re-applied regularly and generously, we were thankful to have this all-purpose all natural versatile salve in our toiletry bag. I even used a last dollop on a bee sting later that week–instant relief (yea!).
Next summer we'll be prepared for swimmers itch. A combination of monitoring the water temperature, thoroughly toweling down immediately after swimming, and looking for other people (read: locals) will all be part of our new summer vigil. One person we met swears by a good dousing of vegetable oil, but this is completely unconfirmed by anyone using Google. Either way, we'll re-stock the freezer, the movie bin, and have a bunch of Green Salve in the thoroughly purged medicine case.
<!most popular rating>