Home » Trip Planning
Celebrity Interview: Jonny Moseley, Ford Focus Rally:America, and Road Trips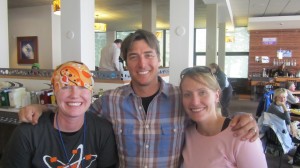 If hard work requires focus, Jonny Moseley has the upper hand. Olympic gold medalist, MTV regular, celebrity judge, in 2010 Moseley was even a cast member on the ABC show Skating with the Stars. Beyond hosting Saturday Night Live, appearing on the cover of Rolling Stone Magazine, and the city of San Francisco reserving a day in his honor, the list continues on his very own Wikipedia page.
The Dinner Roll, Jonny's signature aerial ski move involves 720 degrees of rotation on both the x- and y-axis. Add a little more butter and a lot less spinning, and my sister and I invented a new trick called The Breadstick. Best suited for green runs, what The Breadstick lacks in danger it makes up in hospital co-pays.
Presented with the opportunity to meet Jonny in person at Squaw Valley USA in California last week, we spent a few minutes over lunch chatting about, what else, road trips. Father of two boys (ages 3 and really young), we wanted to know how Jonny survives travel with toddlers, dragging his kids away from the hotel pool, and the chaos (and sometimes monotony) of family travel.
About to embark on an exciting new cross-country adventure, Moseley has partnered with the road trip gurus at Ford on the Focus Rally:America competition beginning February 4, 2011. A completely new and interactive way to compete, six two-person teams will set off on a nationwide adventure in brand new 2012 Ford Focuses in the name of danger, adventure, and romance. Actually, I made that last part up, but the challenge was designed by the creators of The Amazing Race. (So, buckle your seat belts and hang on.)
Throughout the five-week trip, the teams will rely on the social media support of their virtual teammates. Using communication tools like Twitter and Facebook, those of us glued to our news feeds can help solve puzzles, look up information, and provide assistance to our favorite teams. (By the way, I'm totally picking Brittany & Matt.)
Winners of the race (Brittany & Matt) will each win a new 2012 Ford Focus and a $100,000 cash pot. Continuing the e-fanfare tomorrow (January 18, 2011 at 12PM EST) with Road Trip Challenge puzzles, anyone can register online at Focus Rally: America and begin solving for prizes and a chance to win a trip to see the teams off from the staring line on February 4. Footage filmed during the race will appear on Hulu in March in time for the official 2012 Ford Focus launch.
Prepare to see a whole-lotta Jonny Moseley and maybe even a little Dinner Roll action next month as he leads us on another road trip. In the mean time, here's our video debut of Jonny: dad, champion, and a really nice guy who perhaps knows how to focus better than any of us:
<!most popular rating>