Home » Our Trips
A New SPiN on Kid-Friendly Fun in Milwaukee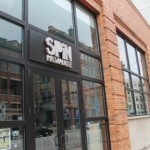 SPiN Milwaukee
The best thing since heated toilet seats and sliced bread, Milwaukee has jumped on the hip-and-trendy bandwagon with the addition of SPiN to its historic Third Ward. A tennis table social club worthy of regulation standards, SPiN Milwaukee is what happens when great ideas are influenced by Forrest Gump.
Visiting the warehouse-sized bar/restaurant/court on a random Monday afternoon, the venue was taking a minute to re-group from a weekend packed with live music and atmosphere. Gloriously empty, the experience involved a foodie's delight lunch followed by humble pie dessert drizzled in injured pride (replace fork with paddle and the story unfolds).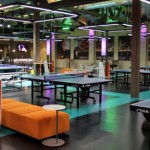 A family-friendly spot during non-dating hours, SPiN Milwaukee houses "12 top-quality table-tennis courts on cushioned Olympic-competition flooring, plus a 13th stadium-like center court." With private rooms perfect for corporate events and birthday parties, chalk has been strategically placed by a slate-coated table to tempt children and those of us emotionally trapped at age eleven.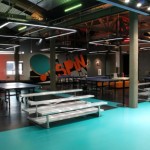 Before 6PM, table rates are $16/hour and $8/half hour for the general public—families can switch out players during this time period, giving everyone a turn. This price drops to $12/hour and $6/hour after 6PM (groups larger than 10 are encouraged to make advanced reservations). BYOPaddle or borrow one from the club.
With a bottomless supply of orange ping-pong balls, monitoring the path of the ricochet seems important until you spot SPiN staff colleting the equipment with floor-length nets. Embracing reckless abandon, SPiN has enabled the inner-child to resurface and duel its offspring in a match of pride.
Breaking for sustenance, items on the kids' menu include pasta, chicken sandwiches, burgers, and grilled cheese and range between $5 and $6. Appetizers and adult-menu items are similarly appetizing and reasonably priced (consider asking for a second plate and divvying up the food).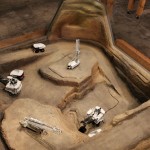 Bucyrus Museum
If ping-pong doesn't successfully tire the kids out, keep your car pointed south and hit the new Bucyrus Museum in South Milwaukee. Located on the Caterpillar manufacturing grounds, Bucyrus is a three-story, 18,000 square foot museum designed to preserve the long, local history both companies have played in the mining equipment industry. Oh, and admission is free.
Kid-friendly exhibits start on the first floor and meander up to the top-level. Popular with pre-schoolers and elementary students' area 495 shovel cab simulator, the life-sized replica of a shovel dipper, and digger/dumper play area.  Read more about the museum on my VISIT Milwaukee guest blog post here.
But Wait, There's More!
And if you still needs some ideas for family-friendly fun in the big city by the lake, check out my Milwaukee Loves Kids smart phone app (now on iTunes and Google Play for Android).
<!most popular rating>