Home » Guest Post, Tech & Gadgets
Bento App for iPhone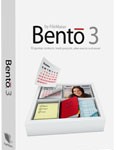 It's summer! That crazy time that strikes fear into the heart of even the most organized parent. Keeping track of all the appointments, activities, camps, trips, entertaining and family fun that gets jammed into that 8-10 week window can be exhausting. The remedy? How about a really good, non-techie easy to use database? One you can set up fast, simple to use, and available for updates from home and on the go.  Something that's compatible with with your iPhone, iPad, and Mac.
Bento is a personal database from FileMaker that's designed for family use. It comes loaded with 35 templates for managing contacts, diet logs, vacation schedule, event plans, recipes, and more. Road Trips for Families was offered the opportunity to see for ourselves. So…we found a tech-savvy dad and asked him to try Bento for the summer. Here's his review:
Bento App for iPhone, reviewed by Milwaukee Dad, Dave Ruocco
Being an at-home dad of two young boys, I am always on the lookout for a way to organize our hectic schedule, ensuring everyone gets where they need to be. Daily grind aside, the family vacation is the next biggest scheduling challenge in our family.
This is where Bento for the iPhone comes in handy. A self-described personal database app; at $4.99 it's not expensive, but for an app, not cheap either. For starters, Bento is a well-designed, versatile program that functioned flawlessly. I spent a month trying to integrate Bento into my daily routine. I was initially drawn to two features; scheduling and To-Do lists.
The To-Do list was initially impressive, but soon proved to be better fantasy than reality. Yes, I could make To-Do lists to my heart's content on a very nice template, but for a parent on the move, I don't need to know when I bought milk, just that I actually bought the milk. The repeated deleting of each completed item (or logging that it was done) soon became tedious. A simple list with a strike through would be nicer.
The scheduler worked far better as a global organizer. Once I got used to opening the Bento app each time I wanted to see contacts, photos, and calendars, the beauty of this app became more apparent. For example, if you want to see greater detail about who is going to be at the play date or visiting with Grandma at the same time, Bento provides an easy solution. Add the event to the calendar then just add each person from the contacts list (much like a subgroup in your contacts list) and viola! Now when you open that event, you can see a list of everyone (with their pertinent info, like who has food allergies or does not play well with your kids).
Keeper of the bills in our house, I am usually tasked to figure out if the next trip to Disney is going to happen before the kids are "too old." If you have the time, Bento is a real asset—it will track your bills, airfare, hotel, auto etc. You can even set up a Disney Vacation project and add each expense, in an excel-like spreadsheet to track the costs by category. The Bento app also functions wonderfully as a "PIN vault," storing all those travel miles and web logins in one convenient place.
By now you'd think I was a raving Bento fan, yet that is not the case. The fact is I am too spoiled by so many other apps that build what I need out of the box to spend the time to do it myself. My time is precious; I want to spend it on other things than data entry, so the To-Do list was too much and the scheduler was not quite beneficial enough for my needs. The true deal breaker though was the lack of an alarm function! This wonderful app is unable to tie into iCals alarm feature (due to Apple's restrictions on its use, not Bento's, according to their website). So if you are someone who needs an audio reminder, you have to first rely on iCal, then check your Bento database.
For me the bottom line is this: if you have the time and only want a single broad-based app that can be made to fit multiple roles, I recommend Bento. If, however, free time is scarce and you can't function without audio warnings, then you may be better served elsewhere.
Dave Ruocco is a stay at home dad of two young boys who keep him constantly challenged and entertained. He stays busy by practicing law and running an advanced motorcycle rider training company called Total Rider Tech. Among his many hobbies are martial arts, motorcycling, and computers. Dave also has a passion for teaching.