Home » Tech & Gadgets, Trip Planning
Bringing along Baby
A road trip can offer its own particular brand of difficulties for families traveling with babies and those on the cusp of toddler-hood. Babies require their own diaper bags, clean bottles, food, and entertainment. Our editors are always keeping an eye out for products that will make our trips easier. Here are a few that have crossed our desk recently that we think you might appreciate as well:
DiaperBuds
If you are heading out on a road trip, the likelihood is that you have not just a fully loaded diaper bag, but also a bin with extra diapers and wipes. But part of the fun of road-tripping is getting away from the car. It's the little side trip that might take 15 minutes, or a couple hours, that make it an adventure. In those situations it's not always convenient to strap on the fully loaded diaper bag. DiaperBuds is a unique option for just those situations. They are full-sized diapers that have been vacuum-packed to fit in a purse or pocket. We were really impressed by how small these diapers can get. They come in sizes 2–5, from 8–30 count. And the price wasn't far off from a pack of Pampers: just $17.99 for a 24-pack of size 5 diapers. You can try 'em out for just $1/diaper on their site.
texthook
Strollers these days come loaded with conveniences comparable to those of a mid-sized sedan. You can get strollers with one or two cup holders, a compartment for your keys, hooks for a diaper bag or purse, and trunks to stash coats, etc. One thing I haven't seen, however, is a place to mount your smart phone. The texthook fills that gap. Attached to the handle of your stroller, it positions your iPhone (or other device) so that it is convenient for texting, emailing, or surfing your apps. The retail price for these is $25.99. You can find it at retail outlets like Buy Buy Baby, or online.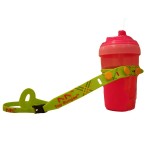 Toy Bungee
If you have a toddler you know the restaurant routine: The kid squawks, you hand him a sippy cup, he takes a drink and tosses at the feet of the people dining next to you. Then there's more squawking, and, after a moment in which you should have thought better of the idea, you hand the boy the cup again and off it flies coming to a skidding halt under the foot of a passing server who might just be carrying a tray of 20 entrées for table #7. We've tried a couple solutions for this. (Duct tape seemed a good idea for awhile, but it drew more attention than the fussy kid.) Recently we tried something new: Toy Bungee. So far it's worked out great. No more playing catch with Fisher-Price Click-n-Laugh Camera. No more dolling out huge tips to show our sincere gratitude to a server who bent over 12 times to pick up a bottle. Of course, fussiness is still an issue, but it's less work for us. You can find the Toy Bungee on Amazon or through the NiNi Baby website for $8.95.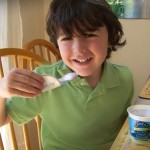 EcoSpoon, EcoTensil
Made from renewable paperboard, EcoSpoons are environmentally and diaper-bag friendly. Much less bulky than plastic spoons, EcoSpoons can be tucked in your glove box or purse pocket for snacking on-the-go. Guilty of pilfering fast-food utensils on many a road trip, we much prefer a stash of these recyclable and compostable utensils away from home. Obviously, when possible, the most environmental option is to re-use utensils when you can. That said, lightweight and stackable, the EcoSpoon does help maximize packing space on camping and cramped road trips. To help preserve their longevity, keep the spoons away from moisture and the elements.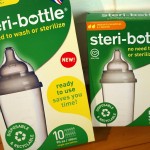 Steri-bottle
In keeping with the theme of "stuff you recycle after use" we'd like to mention Steri-bottle. When we road trip, one of the biggest hassles is keeping bottles clean. Gas station bathrooms are hardly hygenic, and even when we find a clean bathroom (in our hotel, perhaps) carrying soap and a bottle brush on a trip is almost sure to create a terrible mess in your luggage. That's where Steri-bottle becomes a lifesaver. Designed for one-use, the bottles are clean out of the package and can be recycled when you're done. Easy-squeezy. Bottles come with medium- or fast-flow nipples. You can find them in packs of five and ten at retailers like Babies R Us and CVS, and online at Amazon.com.