Home » Contests and Giveaways, Trip Planning
Movies To Go: Redbox on the Road
As a general rule of thumb, we provide our kids with unlimited opportunities for self-entertainment (i.e., looking out the window) for road trips under nine hours. This is partly because our Hail Mary minivan is as analog as it gets and partly because most computer repair shops generally frown upon jerry-rigging laptops using a combination of bungee cords and Newton's Third Law of Motion. That said, there are occasions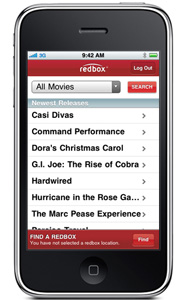 when even the most seasoned road warriors are faced with choosing between the digital baby sitter and eating our offspring.
Redbox to the rescue.
About two summers ago it dawned on me we could rent and return DVDs as we traveled. Allowing kids to select new movie releases and video game rentals from one Redbox location, we'd drive 400-500 miles, find another self-service kiosk and repeat the process at $1.20/rental ($1.50 for Blu-ray/$2 for video games) . With now nearly 28,000 locations nationwide and a handy mobile app (we use the iPhone app, but Android is also available), the rent, travel, rent process is much more streamlined than calling your husband for help from 1642 miles away. The smart phone apps also allow you to browse titles and reserve advance copies.
Currently subscribers to Netflix from our home mailing address, Redbox "on the road" offers the additional flexibility and instant gratification necessary for preserving your mental health when driving solo, say, to the Gulf of Mexico from Wisconsin in two days. (!)
Viewable from the car, hotel room, airplane, train, and boat (we make lots of trips across Lake Michigan), the folks at Redbox are generously donating 20 FREE DVD rentals to the first 20 people (one each) who leave a comment on this post with their favorite road trip movie.