Home » Tech & Gadgets
Our Pick: Road Trip Gadgets
Traveling with kids is all about packing everything you can into the smallest space possible and imagining the potential situations you might need to solve. But, trunk space is limited. Airline suitcases are even more limited.  In that theme, here are some suggestions for little things that make traveling with kids easier.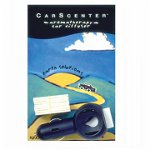 CarScenter Aromatherapy Auto Diffuser
Hands down our newest favorite must have for road trips is the CarScenter Aromatherapy Auto Diffuser from Earth Solutions. Conveniently plugging into a standard lighter outlet, pour ten or more drops of essential oil onto the included pad and place it into the tab on the round end. Use your own oils, or order one of the suggested blends from Earth Solultions (we love Stay Alert blend, which retails for $10.06 in a 10 oz bottle). Leaving the diffuser in the car for running errands and commuting to work, this is one "new car" smell that lingers on and on. The diffuser retails for $14, with a 10 pack of replacement pads available for $4.
FlipFold: The Ultimate Folding Tool
When road tripping to a vacation paradise like Hawaii, your "trunk" suddenly becomes a suitcase. Considering both space and weight, those of us set on avoiding baggage fees will want to invest in a FlipFold. The Adult Junior Combo (shown in the photo) retails for $34.98 on FlipFold.com and is ideal for families with junior- and adult-sized clothing. Not only will your suitcase impress the baggage inspectors, you'll have room left over for souvenirs. Mastering the FlipFold technique with baskets of laundry, even the kids wanted to get in on the action (self-reliance, here we come!). If you don't believe me, watch this fun YouTube video tutorial and you too will be bent on getting your own. And, oh yeah, FlipFold is made in the U.S.A.!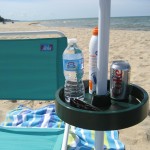 UpShelf: The Detachable Umbrella Pole Shelf
Attaching to umbrella and canopy poles, the UpShelf gives you a place to store anything from keys to ketchup. Testing the utility of the UpShelf on the shores of Lake Michigan, the shelf is perfect for items you want up and out of the sand. Easy to assemble, the shelf height can be adjusted by loosening the two screws on the hub (keep a screwdriver handy if you want to make adjustments once your pole is buried in the sand). For people with blankets and chairs sans cup holder, the UpShelf is worth the $19.95.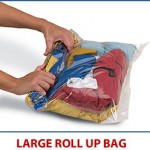 Space Bag To Go Bags
You've no doubt seen the commercials for the large Space Bags that hold blankets and sweaters and large bulky objects. But those require the use of a vacuum, not exactly something you keep in the trunk on a road trip. The Space Bag To Go comes in two models – one that rolls up and one that pushes down to compress. Designed especially for travelers, they are sized to fit into a suitcase when compressed, and can be re-used, just like their giant cousins. The push down bags are useful for toiletries, they keep any spills out of the rest of your carry on, and can be used for anything messy or bulky that needs to be contained. Their web site shows them being used for a suitcase's worth of clothes, so you can double pack, but we've had bad luck with the over zealous luggage weighing counter person, so if you do this, be careful about weight. On our epic road trip this summer, we found them fantastic at compressing all the winter coats that we didn't need, but felt compelled to bring just in case.
The roll up bags are daily use, you'll wonder why you didn't have them earlier. Compressed, they form a cylinder the perfect size to toss in that back of the trunk space that's always underused. We used one bag for swimming suits and it kept them handy, clean and out of the way when we didn't need them. Another bag was purposed with keeping a spare set of essential clothes for "just in case". Next year we'll attempt to be organized enough to pack complete sets of clothes in bags and just grab one and go. No need to haul a whole suitcase every day.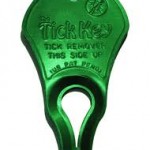 The TickKey
Here is one handy product I hope we never use: The TickKey. Scattered throughout the Duluth Trading Company store in Mt. Horeb, Wisconsin, we paid $7.33 (with tax) for the "easiest-to-use tick removal device on Earth!" Store the TickKey on your key chain and the next time you come face-to-face with a pesky wood tick, slide the tick into the tapered end of the teardrop hole slot and pull your worries out of your skin. Personally traumatized with the "match-sterilized tweezers" method as a child, I'm thrilled to discover tick removal has evolved.