Home » Canada, Destinations, Our Trips, US
Sugaring Off at the Sugar Shack: Maple Syrup Festivals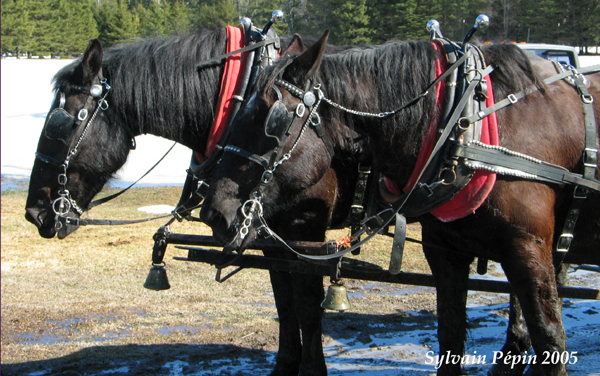 It's that time of year when it feels like winter but you see little hints of Spring. Like the freezing nights andwarm days that cause the sap to run in the Maple trees. Maple syrup production is centered around one thing — climate. You can't make maple syrup if you can't grow maple trees. Canada makes about 80 percent of the world's maple syrup, with the majority (75% of the world production) centered in Quebec. Vermont (the US's largest producer), Maine, New York, andNew England all produce syrup, while some outlying states with the right climate also produce small amounts.
Maple Syrup Festivals celebrate the first signs of Spring, even as the temperature can still be more reminiscent of winter. Expect all the hallmarks of a great festival: agriculture celebrations at their finest. Food, demonstrations, craft booths, farming education, entertainment and family fun. It requires approximately 40 gallons of raw sap to produce one gallon of syrup, and the process has changed over the years from buckets and hand carved taps to plastic lines and vacuum systems. Old school festivals celebrate the labor intensive days and the sweet, addictive product.
Festival Beauceron de l'Erable
March 17-21, 2010
Quebec, Canada
Sugaring off, as the syrup season is known in Quebec, is one of the quintessential family vacations. One of the premiere winter playgrounds in the world, Quebec has family activities galore, and the Festival Beauceron de l'Erable is held near Saint-Georges, one of the most scenic areas of the entire province.
Visit a traditional sugar shack for the traditional "cabane à sucre" foods: pea soup, baked beans, maple-cured ham, "oreilles de crisse" (fried strips of salt pork), omelettes, and maple-sweetened desserts like sugar pie, crepes and "grands-pères" (dumplings poached in maple syrup). Then everyone goes outside for the traditional hot maple taffy, served on a bed of fresh snow and scooped up with wooden sticks. For adults, it's fun to drink "caribou". Not the animal, rather, it's a mixture of wine and alcohol that has you feeling festive in no time.
The festival is a way for locals to celebrate their heritage, eat, drink, sing and dance to folk music with family and friends. The event showcases the traditions that were once a way of life for the rural communities, and the contribution that maple syrup plays in the economy. The program includes fine foods, local crafts and agricultural products, entertaining, maple product tastings and maple taffy on the snow. Most events are free but some have a minimal charge.
National Maple Syrup Festival
1st and 2nd Weekends in March
Medora, Indiana
Held at Burton's Maplewood Farm, two miles north of Medora, Indiana, this is the first and only national maple syrup festival in the US. Enjoy hot pancakes with maple syrup all day, see the demonstrations and buy from the vendors as well as participate in activities and entertainment. Experience "Hoosier Hospitality" and sample syrup from every syrup-producing state in the US. Admission $6 (ages 5-15) and $10 for adults.
Indian Creek Nature Center
1st Weekend in March
Cedar Rapids, Iowa
Experience the steamy boiling of maple sap at the sugarhouse at Indian Creek Nature Center. Demonstrations of Native American and pioneer syruping methods andtree tapping with pancake breakfast. The center also offers programs for groups that teach more in-depth information about the process and the trees themselves. $7. 319-362-0664
Vermont Maple Open House Weekend
1st Weekend of Spring (March 26-28, 2010)
Sugarhouses Throughout Vermont
Activities vary at each sugarhouse, but usually include the opportunity to see maple syrup being made and sample the syrup and other products. Check the list of sugarhouses and feel free to visit several as no two experiences are the same.
Make Your Own in Minnesota State Parks
Several Minnesota state parks have "make your own" programs. Fort Snelling, Sibley State Park,  Whitewater State Park, Lake Maria, and Wild River State Park all offer programs that are hands-on and you leave with syrup. A couple of the programs require multiple visits and you actually take home syrup that you had a hand in producing. The programs fill quickly and usually require advance registration.
Minnesota also has its share of festivals. Find information on the Minnesota Maple Syrup Festival web site about some of the events. Here's a list of all the festivals:
Maple Syruping Day at Audubon Center of the North Woods near Sandstone
Pancake Brunch & Maple Syrup Tours at the University of Minnesota Landscape Arboretum in Chanhassen
Maple Syrup Festival at Saint John's Arboretum in Collegeville
Maple Syrup Festival at Eastman Nature Center in Osseo
Ontario has many maple syrup festivals throughout the months of March and April. The Ontario Maple Syrup Producers Association has a complete list of all the festivities and events. The association's web site also has a comprehensive list of recipes featuring maple syrup. It's not just for breakfast! The chicken and barbeque sauce recipes look especially appetizing. Note that many of the festivals combine winter fun with the activities, so dress warm!
Wisconsin has a plethora of maple syrup festivals. Find details about the industry and some festival information on the Wisconsin Maple Syrup Festival web site. Here's a list of the festivals:
The Sweet, Sweet Spring Festival held at the Norskedalen Nature and Heritage Center has many demonstrations, presentations by the Driftless Folk School and more.
Maple Sugar Festival in Big Hill Park in Beloit
Pancake Breakfast and Open House near Viroqua
Maple Syrup Magic Open House at Riveredge Nature Center near Newburg
Maple Syrup Saturday at Gordon Bubolz Nature Preserve in Appleton
Maple Syrup Breakfast at Fallen Timbers Environmental Center near Green Bay
Maple Syrup Fest at the Aldo Leopold Nature Center in Monona (near Madison)
Maple Syrup Sunday at Ledge View Nature Center near Chilton
Maple Syrup Festival at MacKenzie Environmental Education Center near Poynette
Leanne & Michael's Sugarbush
Last Weekend in February and First Weekend in March
Salem, Indiana
Demonstrations of Indian maple syrup making, scavenger hunt for kids, children's activity area, mule-drawn wagon rides, lots of food, pioneer maple syrup making display and lots, lots more. Plus, there's no admission fee and parking is also free!
Shepard Maple Syrup Festival
April 23-25, 2010
Shepard, Michigan
The proceeds of the festival finance an ten-week summer recreation program for children in the local school district and maintain a community park. The event is truly a community affair. Volunteers do everything from haul sap buckets to make sausage, prep the festival and make candy. It's a good old-fashioned small town party in the "Sweetest Little Town Anywhere Around". The Michigan Maple Syrup Association's web site has more information on local maple syrup production and events.
Vermontville Maple Syrup Festival
Last Full Weekend in April
Vermontville, Michigan
The original maple syrup festival in Michigan, new in 2010 are the fireworks to celebrate the 70th anniversary of the festival. There's something for everyone. Mid-America rides, talent show, arts and crafts, flea market, two parades, petting zoo, princess pageant, various displays, games, free entertainment and arm wrestling. The syrup producers are located throughout the village selling syrup, candies, crème and the ever popular maple syrup cotton candy.
Hartman Reserve Nature Center
First Weekend in March
Cedar Falls, Iowa
Hearty pancake breakfast, featuring the flipping talents of Chris Cakes (recently featured on Food Network). If you've never had a Chris Cake, here's the recipe for their famous flapjacks. The proceeds go towards environmental education. The event involves the entire community, and previous years have fed over 1,700 breakfasts.
Byron Forest Preserve District
March 20, 2010
Byron, Illinois (near Rockford)
Byron Forest Preserve District hosts a pancake breakfast, maple tree tapping, hay rides, kid's crafts and more. Free admission with small fee for breakfast. Crystal Mountain Resort & Spa has a special Maple Syrup Festival package that includes Friday and Saturday lodging, Sunday pancake breakfast, family maple syrup surrey ride, one bottle of maple syrup and spa discounts.
Hebron Maple Festival
2nd Weekend in March
Hebron, Connecticut
Witness maple cotton candy being made and enjoy the crafts, food, activities and entertainment. There's also a self tour of operating sugar houses both days (no admission charge), historical quilt exhibition and sale, sugar on snow, silent auction, letter boxing and scavenger hunt.
Massachusetts Maple Month
March
Most Local Sugarhouses
Celebrate the agricultural awakening of the state witha month-long celebration of all things maple. Many local sugarhouses will be open for tours and pancake breakfasts. Staying in a bed & breakfast makes for a fantastic weekend getaway.
Wakarusa Maple Syrup Festival
April 16 & 17, 2010
Wakarusa, Indiana
Most of the festivities are free, including a parade, craft booths, popcorn, garden tractor pull, sugar camp tour, historical museum tours and live entertainment. There's also a car show, the Tour De-WakyBike Ride and Road Run, library book sale, and rides on everything from a camel to an Amish buggy and helicopter. Other Indiana festivals include the Parke County Maple Syrup Fair.
Pennsylvania Maple Festival
March 20-28, 2010
Meyersdale, Pennsylvania
Started around a pot-bellied stove in a local store, the Pennsylvania Maple Festival has grown to draw over 10,000 visitors annually and has been central in growing the local community. Now the festival includes a Annual 5K Maple Walk and Run, historical pageant, auto show, pancake breakfast, dance, horse and tractor pulling contests, quilt show and parade. The Maple Festival Park features a historic homestead, antique doctor's office, cobbler's shop, country store and sugar camp. The Maple Queen contest draws entries from local high schools. The Endless Mountains Maple Festival in Troy, Pennsylvania continues to grow and is a fun local alternative to the larger production in Meyersdale.
Highland Maple Festival
2nd & 3rd Weekends in March
Monterey, Virginia
One of the largest festivals of any type in the Southeast, the Highland Maple Festival draws over 35,000 people over two weekends. Attend one of the region's largest craft shows and shake your sugar tree at the Festival Fling Dance, Festival Sugar Shakeup Dance or the Maple Queen Ball. Visit sugar campes throughout the county on the Maple Sugar Tour (pick up a map at any of the participating sugar houses). Even stay on a working farm to get the experience of a working farm.
Maple Sugaring Festival
1st & 2nd Weekends in March
Lucas, Ohio
Ohio State Parks staff lead demonstrations at Malabar Farm and offer free samples of maple syrup. Admission is free and features sugaring demonstrations, historic tours, horse-drawn rides and sweet maple treats. The summer bell house, behind the nearby Pugh Log Cabin, is set up as a pioneer cabin, where families can take part in daily pioneer chores like washing clothes, making candles, cooking and tending to the fire. Live entertainment and snacks are also available. Other Ohio Maple Sugar festivals include Maple Fest, at Snavely's Sugar Shack, in Republic, Maple Sugaring Weekend, at Lake Metroparks Farmpark, March Maple Madness Driving Tour in Burton, Maple Syrup Open House at Mapleberry Farms in Waverly and the Geauga County Maple Festival at the Historic Chardon Square in Chardon.