Connected to the Atlantic Ocean by a system of locks, canals, and channels along the Saint Lawrence Seaway, a popular Midwest road trip is the Great Lakes Circle Tour, a designated scenic road system connecting all of the Great Lakes and the St. Lawrence River. The Great Lakes Circle Tour consists of routes for circumnavigating the Great Lakes, either individually or collectively. The Lake Michigan Circle Tour is part of this system.
Lake Michigan Circle Tour
With 1,640 miles of shoreline touching Michigan, Illinois, Indiana, and Wisconsin, the Lake Michigan Circle Tour exists within the Great Lakes Circle Tour. First published by the Michigan Department of Transportation and the West Michigan Tourist Association as a 52-page guide book in 1899, the Lake Michigan Circle Tour was replaced by a website in 2007. However, you can order a printable copy of the map to be sent to your home address (we have this and like it).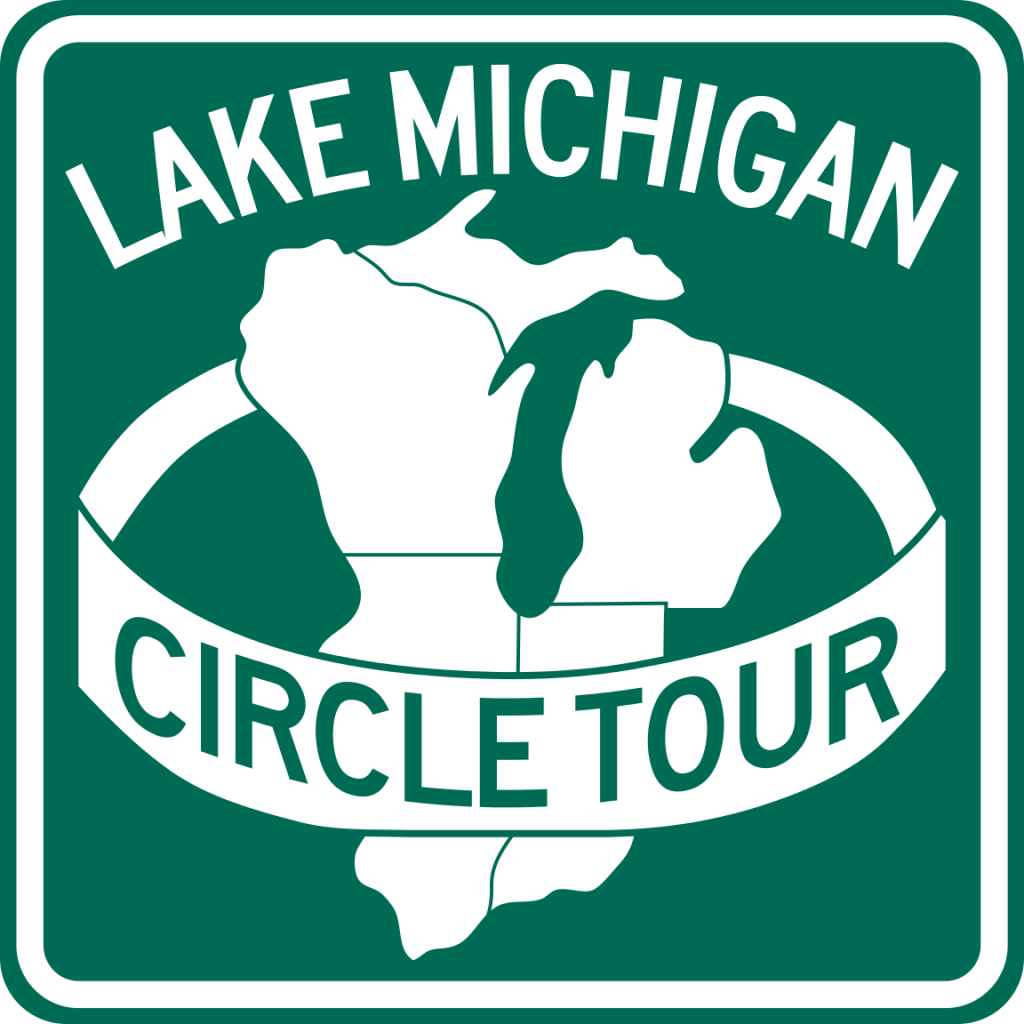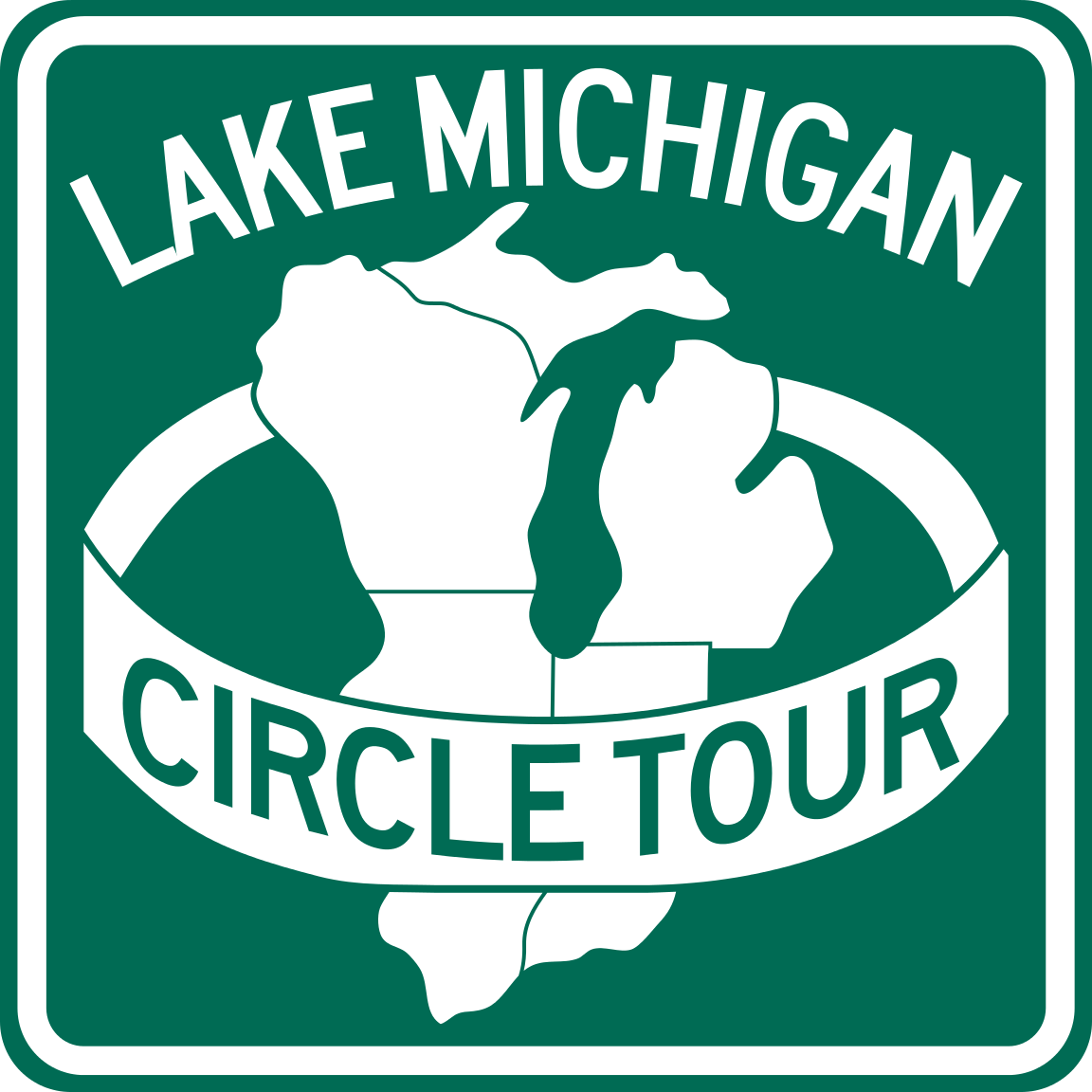 Marked with this scenic road marker every ten miles, the Lake Michigan Circle Tour is roughly 1,000 miles long, the drive would take about 14 hours to complete without stopping. A key attraction on the tour is 105 Lake Michigan lighthouses, some of which are accessible only by boat. Brown "Harbor Tour" signs are intended to direct travelers on a side trip into one of the many port communities along the lakeshore.
Key Stops on the Lake Michigan Circle Tour
Having completed the entire trip over the span of several years and several road trips and in different seasons, there's something about Lake Michigan that sort of gets in your soul. Here are some of our recommended key stops along the route, with links embedded to more detailed stories previously published on Road Trips for Families.
West Michigan
I grew up in West Michigan, so let's start there. Sand dunes, boardwalks, and beaches. These three things are fundamental to the childhood of anyone living within 40 miles of "The Lake." In Holland, Tunnel Park has an amazing playground, beach, and campsites. Duck Lake State Park, north of Muskegon is an excellent spot to try skim boarding (pick your own board up at Meijer or purchase one before your trip).
Grand Haven has a lovely boardwalk and popular state park. We visited last year and went on a sunset cruise (read more in this story). Hug the lakeshore and continue north on M31 and you'll pass through Ludington (where the SS Badger car ferry crosses the lake into Manitowoc, Wisconsin). Before you leave, however, be sure to stop and see the lighthouses here (we recommend a visit to Ludington State Park).
M22 and Sleeping Bear Dunes National Lakeshore
Arguably the most popular tourist destination in Michigan is the Sleeping Bear Dunes National Lakeshore, Traverse City and the Leelanau Peninsula. Once a month I see a M22 sticker on a vehicle out here in Oregon; a testament to the fact that so many of us Michiganders have moved west but still have a formative connection to this part of the world. The Oregon Dunes National Lakeshore is as close as it gets. As I mentioned earlier, some of the stops on the Lake Michigan Circle Tour are only accessible by boat/ferry, namely the Manitou, Beaver, and Squaw Islands.
I have strong family ties with the Manitou Islands; my great great grandparents settled there after immigrating to America; read about making your own day trip to South Manitou Island in this story.
Door County, Wisconsin
Considered the Cape Cod of the Midwest, Door County, Wisconsin is the Wisconsin tourism equivalent of Michigan's Leelanau Peninsula. Also known for wine, cherries, sailing, and shopping, over ten lighthouse stops are noted on this section of the Lake Michigan Circle Tour.
Because the wind typically travels West to East across Lake Michigan, you won't find the spectacular sand dunes (when I first moved to Wisconsin in 1995 I was not expecting a quick and steep drop off into the water at Bradford Beach in Milwaukee – one can easily wade slowly out into Lake Michigan for several hundred feet on the opposite shore). That said, spectacular winds and deep water help put places like Sheboygan, Wisconsin on the map as the Surfing Capitol of the Midwest.
Travel south from Sheboygan and make a stop in Port Washington, home of the famous Pirate Festival. As spectacular as Michigan's dunes are Wisconsin's bluffs.
Bottom of the Lake
The bottom, or "foot" of Lake Michigan is about the opposite experience from Michigan's Upper Peninsula as it gets (we don't have any published stories on the U.P, but we'll fix that soon, eh!) If you have never been to Milwaukee, add it to your bucket list. Milwaukee is one of the most underrated cities in America and has lots to offer for families from museums to parks, sports, festivals, events, tours, and loads of regional, ethnic, non-chain restaurants.
A lovely stop on the Lake Michigan Circle Tour is the the North Point Lighthouse Museum is a lighthouse built in 1888, located in the picturesque Lake Park and now on the National Register of Historic Places. For more ideas on what to do in Brew City, check out my insiders guide here. Approximately 30 minutes south of Milwaukee in the town of Racine the Windpoint Lighthouse, another lighthouse/museum worth checking out.  We had a nice picnic on the beach here despite visiting in early spring when the wind can still be bitter cold from the recent ice melt.
Kenosha, Chicago, South Chicago, and Norther Indiana have stops along the route; the Indiana sand dunes and Indiana Dunes National Park is most definitely on our bucket list.
Before You Drive the Lake Michigan Circle Tour
Before you visit Wisconsin and Michigan, be sure to read these funny insider tips in these stories: