Call it kismet, karma, or fate. Whatever sequence of events lead up to our mid-winter discovery of Confections for Any Occasion by Joel, does it really matter? Embracing the mantra to eat dessert first, once you meet restaurant owner and chocolatier extraordinaire Joel Bernhard, you'll know why life is sweet.
Blind since the age of two, Bernhard has been perfecting his craft since 2000. From his first truffle in culinary school, two years of education, hard work, and an entrepreneurial spirit, Bernhard opened the doors to Confections for Any Occasion in 2002 and has been tempting sweet teeth for the past decade.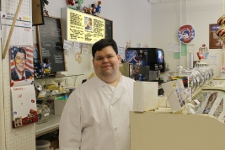 Located in the sleepy town of Theresa (pronounced "the ressa"), Confections for Any Occasion is a fifteen minute drive southwest of Fond du Lac, a community of 45,000 nestled at the foot Lake Winnebago (Wisconsin's largest inland lake). Unassuming by its common-looking facade, Theresa has cleverly hidden a small-scale Wonka Factory at 101 North Milwaukee Street.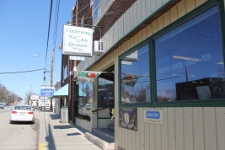 Part soda fountain, part restaurant, and a whole lotta Norman Rockwell, Confections for Any Occasion features homemade chocolates, toffee, popcorn, caramels, truffles, jar candies, fudge, cheese, sausage, honey, syrup, and nostalgic/novelty candy.* With great pride in supporting Wisconsin-based companies like Cedar Crest Ice Cream, Sprecher gourmet soda, and local vineyard, Bernhard also uses regional dairy and nuts in his kitchen.
A small dining room holds 25 (or so) patrons, who are welcome to order from the standard menu, noting daily soup and sandwich specials. Thrilled to discover kids' menu prices set at $2.95, we were happy to splurge on a Sloppy Joe plate with homemade potato chips for $4.50. At $1/each, our taco kid enjoyed two soft shells and a homemade chocolate milk for slightly less. Trust me on the homemade potato chips.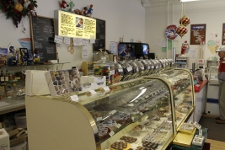 For travelers on a time table, "to go" orders can be called in and picked up according to your itinerary. Group tours of the facility are available with advance notice. OR, place an online order and maybe send a finder's fee to your favorite Feed Me editor (we currently accept all flavors of almond bark).
* For the dieter or diabetic in your life, a delightfully sweet selection of sugar-free candies are available online and behind the counter.