We've all been there. It's late. Everyone's tired. Everyone is cranky. And that is the night you pick the restaurant that takes 30 minutes to get drinks and bread to the table. We're normally all about not taking screens on vacation. But, sometimes, well it's just an emergency. Sherry Segal and Wendy Wiseman have been there too, and they're experts on quality apps for kids. Their app company, Kiboomu, helps kids learn with music. We asked them to give us their top 10 picks for preventing restaurant meltdowns.
Kids and restaurants can be a scary combination for parents. Especially when it's in a foreign place, and after hours of sightseeing and possible jet lag. Parents used to have get really creative to keep the calm, but, now parents can enjoy their meal knowing they have a new tool at their disposal – apps for kids on the iPhone (or Droid). It's the perfect distraction to entertain kids and avoid meltdowns. Here are our ten 10 apps for successful family meals while traveling.
#1: Angry Birds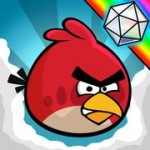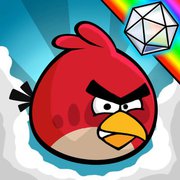 Kids can't get enough of these Angry Birds. It's just too much bird flinging fun as you launch the angry birds towards fortresses built by the greedy pigs who have stolen their eggs. After you solve all the original puzzles, check out Angry Birds Seasons and Angry Birds Rio.
$0.99 on iPhone — Free on Android
#2: Doodle Buddy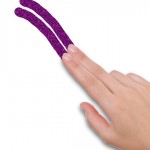 Kids draw all sorts of doodles in many different colors, lines, shapes and backgrounds. But, perhaps the best part is you can take pictures of people and then the kids can draw on them. There's also a version for the iPad, and the sounds are fun for kids. Good for kids of all ages!
Free on iPhone and Android
#3: Cut The Rope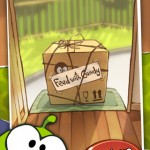 The universal objective of kids everywhere — how to get to the candy? In this app, kids help get the candy to Om Nom, the adorable monster, in this highly innovative and addictive puzzle game. Same age range as Angry Birds. We think this is every bit as addictive as Angry Birds!
$0.99 on iPhone — not available for Android
#4: Giraffe's Matching Zoo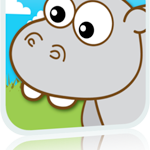 Kids match a bunch of super cute animals as fast as they can. After every two matches, the treasure chest opens to reveal the fun button. Press the fun button and you get a surprise. The surprises build anticipation and they happen often enough to keep little players engaged. No menus or options, just play the game.
Free on iPhone — $0.99 on Android
#5: Toddler Sing & Learn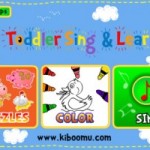 Kids learn words, letters, numbers, colors and shapes, body parts, food and more with super voice-overs and 10 sing along songs, 10 puzzles and 10 coloring pictures! The sing-a-longs are perfect for restaurants that need extra incentive to move a family's food out faster. Definitely more geared for the toddler set.
$1.99 on iPhone — not available for Android
#6: Tasty Planet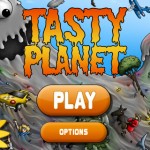 Kids control a tiny blob that eats everything in its path that is smaller than it. The more it eats, the bigger it gets! The obvious object is to eat everything smaller and successively eat the bigger objects — kids seem to really enjoy eating dogs and houses and trees and other ginormous objects. Fun for the middle school crowd.
$0.99 on iPhone — not available for Android
#7: Highlights Hidden Pictures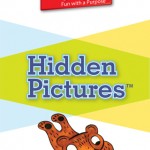 Remember Highlights magazine from when you were a kid? One of the best parts was the hidden pictures. Each of eight illustrations has over 100 hidden objects. Use clues and hints to make the objects easier to find for the younger set. Kids put their eyes to work as they try and locate hidden objects in these well-illustrated scenes.
$1.99 on iPhone — not available for Android
#8: Monkey Preschool Lunchbox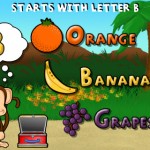 Kids learn a variety of preschool skills as they work through puzzles and learning games with the help of a monkey tutor. And, they are rewarded with animated stickers after each game! Along with the usual colors and matching and counting, we like the spot the difference game that teaches preschoolers to pick out something that's different from the rest.
$.0.99 on iPhone — $1.99 on Android
#9: Jelly Doodle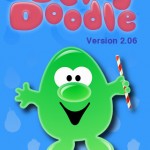 Kids create their very own gelatin dessert! There are over 70 molds to choose from and kids can add colors and other delicious ingredients to the concoction. Move the phone to pour, and you don't have to fill the mold to pop out a creation. (Try making half of a penguin — pretty cute!) Once the jelly is ready, kids can bounce it around their jiggly creation.
$0.99 on iPhone — not available for Android
#10: Balloonimals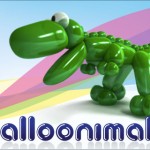 Kids make the balloons inflate by blowing into the phone's microphone. And, when they shake the iPhone, their balloons twist into the shape of an animal! Pet the animal to see it do tricks, and yes, eventually pop. The only downside is that your phone can get a little wet. Don't say we didn't warn you.
$1.99 on iPhone — not available for Android