You might think you have to travel to an actual German town, or at the very least, a "Bavarian village" such as Leavenworth, Washington, which goes all out at Christmas-time. But the answer is no! You can visit the charming town of Cottage Grove, Oregon, and have a similar experience. And, you can leave your German phrasebook at home.
This year marks the sixth year of the Christmas at the Village Green event, which we also attended last year and had a blast. Last year boated 250,000 Christmas lights, but this year they've upped the game with more than 500,000, including several new light "scenes." Plus, the organizers rearranged one of the outdoor walking areas to include a lot more space (and more firepits!) and rearranged the cute Christmas market.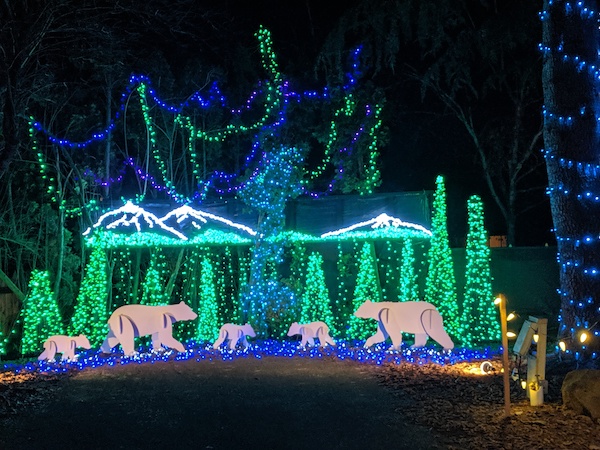 This year, the event runs from November 29 through December 31, and all you have to do is show up and pay a modest admission fee. But I highly recommend making a reservation at the hotel and enjoying a cozy hotel room, delicious on-site continental breakfast with biscuits and gravy and waffles the next morning. Bring your pets, as we did, and enjoy a pet-friendly hotel room—the hotel provides a dog blanket and food and water bowls, and treats.
The Village Green hotel is more than a hotel. It can actually be a destination, especially if you like covered bridges, because Cottage Grove is the "Covered Bridge Capital of Oregon. I enjoy the Village Green's charming rustic architecture, its pool and hot tub, and resort-like 14-acre garden. If I had an RV, the hookups and laundry facilities would make it a perfect getaway. It's easy to get to, just off I-5, and while there you can enjoy the Seasons at the Green restaurant, and the Fireside Lounge. Book your Village Green Christmas Package and enjoy admission to the Christmas event, a drink voucher, cute commemorative mugs in the shape of stockings and a delicious breakfast the next day.
If you want to take your family to the Christmas event, you'll get much more than just lights. Give yourself at least two hours for all of the exploring there is to do. The large area where the lights are set up has the feel of a public square, just like the best old-town markets. Booths are set up for drinks, such as hot chocolate, coffee, eggnog, and warm spiced Glühwein to keep your hands warm. 
It might be cold as you wander through Winter Wonderland, but never fear, because there are warming firepits set up just about everywhere, so you won't be cold for long. Once you wander and enjoy the lights in the main area (especially the cool new light tunnel!), head off around the side where the lights continue for a visit with Santa. Live music and carolers will happen every day, and live reindeer will visit on December 6, 7, and 8. View the calendar of events for specific information and times.
If you're looking for a unique Christmas gift, check out the market. On the day we visited, there were lots of cool items, including wooden puzzles. We really enjoyed both of our visits to the Christmas at the Village Green event, and whether you're from nearby in Oregon or making a special road trip to get there, we're confident you'll enjoy it too.
Vanessa Salvia is a long-time freelance writer and editor. Read her journalistic work at vanessasalvia.com and learn more about her editing and content creation services at sagemediaandmarketing.com