TripAdvisor.com lists 102 restaurants in Hood River, Oregon, a town of around 7000 Oregonians. Known at the Windsurfing Capitol of the World, Hood River draws silent sports enthusiasts from all walks of life.
The town itself is split into two uniquely complimentary districts—downtown and the waterfront. Oak Street is the main drag through the historic downtown district and is lined with boutiques, coffee shops, outfitters, bike stores, and eateries. Mirroring the thriving economics in the heart of the city is a new mixed-use space on the Columbia River Waterfront. Built to the principles of LEED architecture, you'll find industry, office space, and a mix of retail and eateries.
Perfect for road weary families is a wonderful paved walking path that travels through an open space park/playground/beach right along the river.
Where to Stay
Find family-friendly accommodations in Hood River, Oregon from traditional hotels to private vacation rentals through Stay22.com:
I recently visited Hood River with a group of journalists and had the opportunity to dine at five different restaurants. As always, I'm interested in kid-friendly venues that go beyond the chicken nugget. Here's my $0.02 on where to fill up with your family in tow.
Breakfast:
Bette's Place
Website: http://bettesplace.com/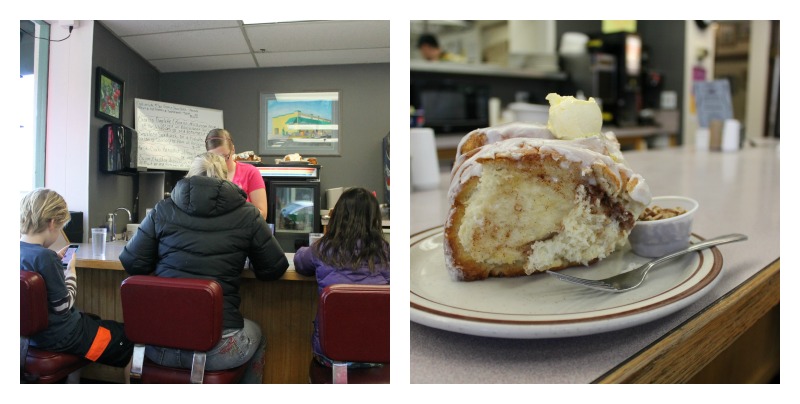 Bette's Place should be your first choice for breakfast in Hood River. Why? First, there's nothing fancy your kids will break. Second, the restaurant has been in the community since 1975 (a good sign they must be doing something right). Third, for $4.95 you can purchase a cinnamon roll the size of a small mammal. Betty's has an extensive Children's menu and an overflow seating area. Rumor has it wait times can be a challenge on weekends (plan ahead or just get the cinnamon rolls to go).
Lunch:
Solstice Wood Fire Café & Bar
Website: http://www.solsticewoodfirecafe.com/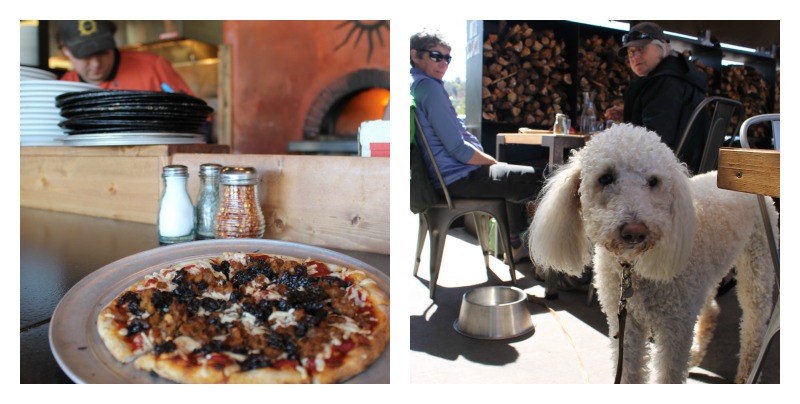 Sourcing local, seasonal, and organic ingredients, Solstice Wood Fire Café & Bar has received numerous awards and accolades for serving up some of the most delicious wood fire pizza in the Pacific Northwest. Dog friendly on the covered patio, look for a tin of dog treats near the host station. You'll also find a kids play area and a kids menu that features pizza, pasta, entrees like free-range chicken and grilled wild, local salmon ($6), organic green salad ($4) or $2 sides a la carte (local pear slices, mashed potatoes, for example). Save room for Grandma's chocolate pudding ($5) or a scoop of organic vanilla ice cream ($2).
If you go, look for the "chalkboard of love," a wall art thank you to community members and individuals who contributed to a Kickstarter campaign that raised $57,647 to help move the restaurant to its current location.
Apple Valley BBQ
Website: http://www.applevalleystore.com/The_Restaurant.html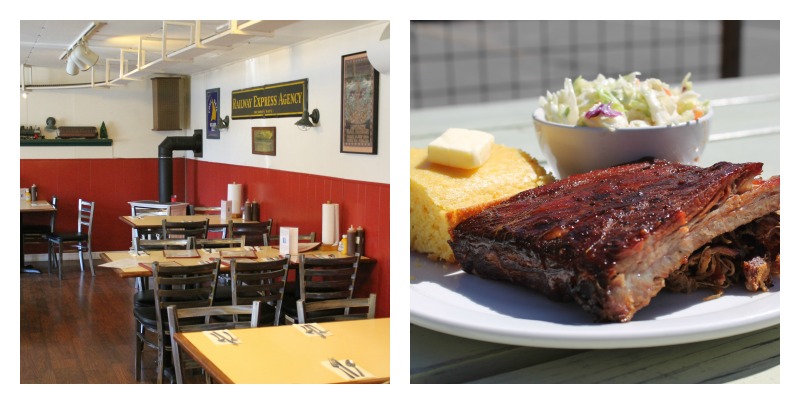 "Technically" Apple Valley BBQ is in Parkdale, not Hood River. The kind of town where you can do laundry at the gas station, Parkdale is near several u-pick orchards and vineyards worth a road trip in the fall. I like Apple Valley because they have a sign indicating Hipsters should use the back door.
Portion sizes are ample, the meat is smoked over local cherry wood, and the kitchen seeks to use as many locally sourced ingredients as possible. I had the BBQ lunch plate and ended up buying a bottle of homemade BBQ sauce as my trip souvenir. The kids menu includes a chicken breast and BBQ pork sandwich. Omnivores will also find vegetarian (and gluten free) options.
Lunch or Dinner:
3 Rivers Grill
Website: http://www.threeriversgrill.com/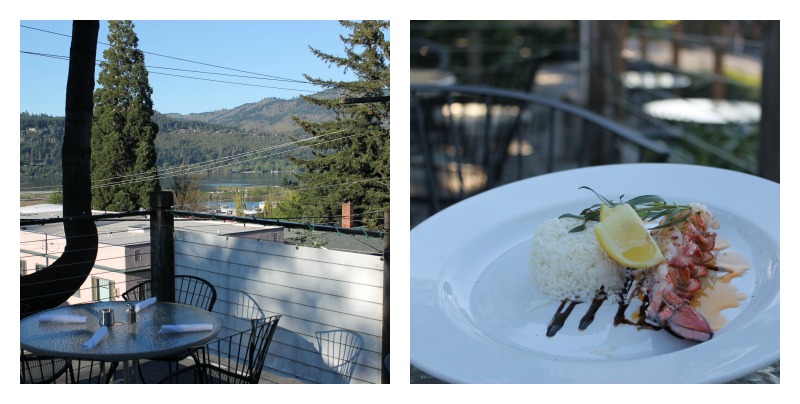 For fabulous views of the Columbia River, consider dining on the deck at 3 Rivers Grill. Considered "fine dining in an upscale relaxed atmosphere," I would probably take my kids to 3 Rivers Grill for lunch over dinner (by the way, this would be an excellent place to go on a kid-free date). The kids' menu ranges from a cheese quesadilla or pasta for $3.95, or a burger and chicken strips for $1 more.
Celilo Restaurant and Bar
Website: http://www.celilorestaurant.com/
Another elegant venue for a date or special occasion, Celilo Restaurant and Bar has raised the bar for sustainability and supporting the local economy. Customizing the menu based on the season, I can honestly say Celilo is the very first place I have seen garlic and pepper prawns on a children's menu.
pFreim Family Brewers
Website: http://blog.pfriembeer.com/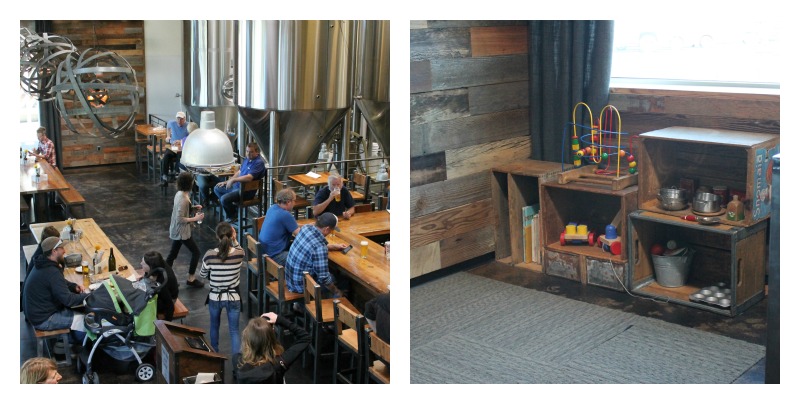 Popping into pFriem to take this rogue paparazzi photo, this waterfront brewpub serves a full menu in addition to craft beer. While I did not dine here, I did make note of the children's play area and lovely outdoor patio space.
Mike's Ice Cream and The Trillium Café
Website: https://www.restaurantji.com/or/hood-river/trillium-caf-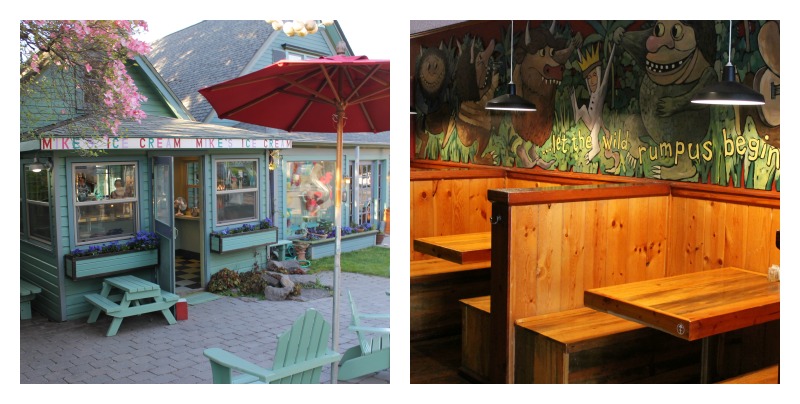 Mike's Ice Cream and The Trillium Café, both on Oak Street in downtown Hood River have made my Hood River bucket list. Mike's has placed colorful Adirondack chairs and benches on a soft green lawn; both ideal for enjoying a cool summertime treat. Recommended to me by another mom, I popped into The Trillium Café to snag a photo of the wild rumpus mural on the wall. Kids will enjoy board games and a small arcade. I smiled to see a family sharing a giant dish of tater tots, a true midwestern delicacy.