When you think of lakes in the state of New Hampshire, most people think of Lake Winnipesauke or Lake Sunappee, as they are two of the largest lakes in the state. My family and I, however, decided on taking a day trip out to Newfoundland Lake. It's about a little over an hour ride for us.
It was early the next morning when we packed lunches, drinks, goggles, towels, and of course sunscreen, and a change of clothes. We encountered unexpected traffic along the way (leading to an impromptu stop at Dunkin' Donuts!) and when we arrived at the lake we were stopped once again. The lake was so popular that a police officer was telling new arrivals that the parking lot was full.
My husband had the idea of driving an extra hour to Echo Lake. We weren't even sure if you could swim in it, but we all said 'Let's go!'
It was a beautiful drive up through the mountains of North Conway, New Hampshire. The drive alone is spectacular. Echo Lake was not only open to the public with a large parking lot, but the lake itself was pristine with it's crystal clear waters, a shack for renting tubes, paddle boats, and kayaks, clean restrooms, and lifeguards on site. Being surrounded by nature all around was amazing. I couldn't help but take in the large pine trees and mountain hills that surrounded us. The day turned out to be even better than we expected. Our day was filled with beautiful waters, laughter, good food, nature's beauty, and a quiet, peaceful drive home. Echo Lake is definitely worth the day trip.
For more info on Echo Lake State Park, visit the state of New Hampshire's page about it.
If you're staying overnight in the area,there are 53 hotels close by which will make a visit to Echo Lake an easy day trip.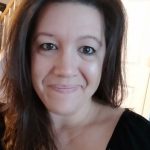 Christina Briggs is a freelance writer and travel blogger. She loves all things New Hampshire, coffee, wine, and travel. She lives with her wonderful husband and two sons, Nicholas, 14 years old, and Logan, 11 years old.