Think "National Parks" and images of sunny summer days camping in the woods or hiking in the mountains come to mind. For most people, the words "summer" and "National Parks" go hand in hand. But some of America's most spectacular national parks are located in the desert, where summer is the worst time to visit. Dehydration, sunburns, overheated car engines—these are just a few of the delights you can experience in the sweltering summer months. The good news? America's desert parks are terrific places to visit in the early spring and late fall, when most other national parks are cold and icy.
Joshua Tree National Park, located about two hours east of Los Angeles, is a perfect example. Located on the border of the Mojave and Sonoran Deserts, it's home to some of the strangest and most spectacular scenery in America. Visit in the spring, and you'll be treated to spectacular wildflower blooms that transform the otherwise parched landscape into an explosion of color. Visit in the fall, and you'll enjoy balmy temperatures perfect for hiking or rock climbing. Not summer? Not a problem. Joshua Tree awaits!
Where to Stay
Find family-friendly accommodations near Joshua Tree National Park from traditional hotels to private vacation rentals through Stay22.com: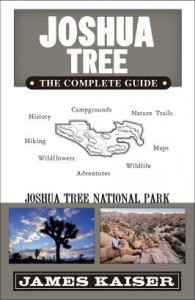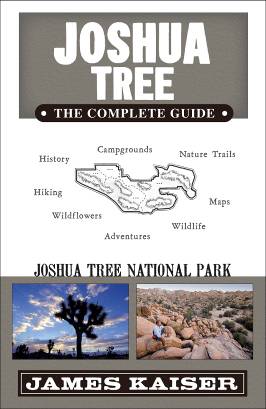 Day 1
Check out the Magical Mojave
Joshua Tree National Park is huge (1,200 square miles), so it's best to explore the park one desert at a time. Start with the Mojave, which covers the northern half of the park and is home to its most famous and spectacular scenery. Enter from the small town of Joshua Tree and follow Park Boulevard through a vast forest of Joshua trees. These bizarre, twisted plants (often mistaken as cacti, but actually members of the agave family) look like enormous overturned tarantulas. Described by one early explorer as "the most repulsive plant in the vegetable kingdom," Joshua trees are actually quite lovely when blooming in the spring or silhouetted by a beautiful sunset.
Scattered among the Joshua trees are towering boulder piles, some up to six stories tall. These geological oddities lure thousands of rock climbers each year, and turn the otherwise strange landscape into something downright surreal. Continue along the road until you reach Hidden Valley, a towering rock formation that shelters a small valley inside. Enter Hidden Valley through a small opening in the rocks and follow a well-marked trail that loops through the interior. Next drive to Keys View, a mountaintop viewpoint that overlooks Palm Springs and the Coachella Valley, which lie just south of the park. Finish the day with an afternoon hike up Ryan Mountain and enjoy spectacular 360-degree views of the the Suessian scenery below.
Day 2
Hike to a "Lost" Palm Oasis
Pack a picnic lunch and head south along Pinto Basin Boulevard, which cuts through the Sonoran Desert half of the park. You'll pass by colorful Teddybear Cholla Cactus and spindly Ocotillo as you descend into Pinto Basin, a massive gulf of land bounded by five mountain ranges. Follow the road through the barren landscape until you reach the Cottonwood Visitor Center, where you can enjoy a picnic lunch next to Cottonwood Spring—one of five desert fan palm oases in the park. After lunch, follow the 3.6-mile trail to Lost Palms Oasis, a remote, rocky valley filled with over 100 palm trees. Keep your eyes out for bighorn sheep, which can sometimes be seen on the cliffs above.
With over 400 climbing formations and 8,000 climbing routes, Joshua Tree is one of the world's premier rock climbing destinations. But you don't have to be an expert to get in touch with your inner Spiderman. Joshua Tree is home to hundreds of easy routes, making it a world-class beginner destination, too. Several rock climbing schools offer lessons in the park, so book a full-day of rock climbing and learn how to get vertical!
Day 4
Explore the Human Side of Joshua Tree
Although Joshua Tree is famous for its natural scenery, there are plenty of weird and wonderful surprises outside the park. Case in point: The Integratron, a bizarre domed structure lying on the outskirts of Joshua Tree. Originally built by an aeronautical engineer who claimed to have been contacted by aliens, The Integratron now offers soothing "Sound Baths"—deep relaxation sessions where visitors listen to live music played on crystal bowls. Not far from the Integratron is Pioneertown, a former western movie set once owned by Roy Rogers and Gene Autry. Today you can wander past saloons and bathhouses along Main Street, check out the vintage 50s bowling alley, and grab a bite to eat at Pappy & Harriets, a terrific BBQ restaurant with live music. After filling up on hearty cowboy fare, head to Smith's Ranch Drive-In Theater in Twentynine Palms, which offers double-feature movies under the stars.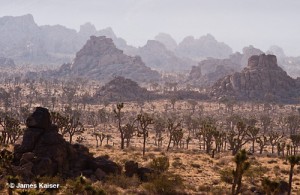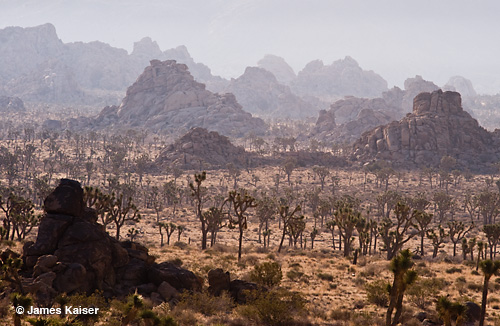 Day 5 – Go Back for More!
In a landscape as unique as Joshua Tree, different people are attracted to different things. So spend your last day focusing on whatever it was you liked best. Love the hike to Lost Palm Oases? Check out the hike to Fortynine Palms Oasis along the northern boundary of the park. Caught the rock climbing bug? Schedule another day of instruction. Want to see more wildflowers? Explore a different part of the park in search of more species. It's your adventure, choose it!
Lodging/Camping: There are nine campgrounds in the park, and dozens of hotels in the small towns just north of the park. (A complete lodging list can be found at my website: www.jameskaiser.com/joshuatree-lodging).
James Kaiser is an award-winning author of books about several national parks, and in honor of National Park Week and some of his favorite parks, he has written itineraries for road tripping families for a few of his favorite parks. Today's post gives families his tips on how to explore Joshua Tree National Park. James' book, Joshua Tree: The Complete Guide: Joshua Tree National Park, has won several awards, and has spectacular photos as well as great tips and information on how to best enjoy the park.