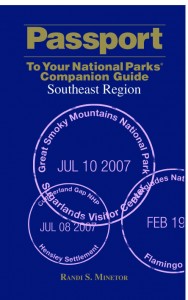 Randi Minetor is the author of the nine-book Passport To Your National Parks Companion Guides series, which provide the location of every known Passport cancellation in the United States and its territories. The first three of these books (Passport To Your National Parks Companion Guide: North Atlantic Region (Passport Series)are in print and available at all online bookstores and in the national parks in these regions. The remaining six regional guides will be published in e-book format in 2011 and 2012. More information is available on these and other books by the Minetors on their website.
When we pulled into the parking lot at Antietam National Battlefield on Veterans Day 2000, I had no idea that my life was about to take a head-spinning turn.
The day began innocently enough. My husband, Nic, and I had plotted a course from our home in Rochester, NY, to Fort Lauderdale, FL, to visit my parents in their Seinfeld-esque "Del Boca Vista"-style condo complex. Along the way, we planned to see some of the sights Nic had visited on his family's many road trips throughout his childhood—a selection of national battlefields, scenic parks and historic sites that I had never explored. We did not know that these sites were linked by their inclusion in the National Park Service system. We only knew that they looked like fun, interesting, and possibly educational places to stop.
So when Nic picked up a copy of the Passport To Your National Parks® in the Antietam gift shop, tore away the cellophane wrapper and unfolded the enclosed map, we saw the full, vast spectrum of the then-388 properties of the National Park Service for the first time—a total perspective that could drive otherwise sane travelers mad.
"You know," Nic said, "we could visit, like, twenty or more of these on this trip, and get all the Passport stamps."
I distinctly remember blinking twice before I said, "Yeah, okay."
The Passport To Your National Parks program, the brainchild of the non-profit Eastern National Bookstores, began in 1986 and celebrates its 25th anniversary in 2011. The simple concept was meant to attract children's interest in visiting America's national parks to collect a single cancellation stamp at every park—an imprint that looks like a postmark, with the date of your visit. Eastern National provided a book that looks like a US Passport, with smudge-resistant blank pages on which visitors could stamp their cancellations.
No doubt children embraced the program, but it was the adults who pushed it forward with great enthusiasm. The idea of visiting every site in the National Park Service system—now 394 sites—seizes the imagination with visions of adventures in remote places, spectacular vistas across the nation's great wilderness areas, and off-continent trips to Hawaii, Guam, American Samoa, Puerto Rico and the Virgin Islands.
I confess that I'm a "lister." I love to check things off lists as I do them. Nic and I had already traversed the country to expand our life lists of birds, and we continue to do this today. I'm also currently reading all of the Pulitzer Prize-winning novels, in chronological order. While I've never been diagnosed as obsessive-compulsive, it's a pretty safe bet I've got a mild case… and I like to think that mine has manifested itself in a benign, constructive way.
So in that split second as we gazed at the map, I saw the rest of my life flash before my eyes in a heady rush of images and exploits. The deal was sealed. We were off and running.
Our carefully planned trip itinerary literally went out the window. As we drove away from Antietam (which, by the way, was the site of the single bloodiest day of battle in the entire Civil War) Nic charted a new course that included Harpers Ferry National Historical Park, Wright Brothers National Memorial, Fort Raleigh, Cape Hatteras, Fort Pulaski, Castillo de San Marco, Fort Frederica, Fort Matanzas, and Canaveral National Seashore. And that was just the trip south.
Our return trip brought us to Washington, DC, that paradise for Passport owners, where more than a dozen national park sites offer cancellations within walking distance of one another. As we stood in line to enter the Washington Monument, we presented our Passport to a ranger and he produced not one, but three cancellations.
"Why do you have more than one?" I asked.
"Lots of sites have more than one," he said. "Some parks have more than a dozen."
I grabbed hold of a stanchion for support. "You mean…"
"Yes," he said. "There are far more cancellations than there are parks."
"Where can we get a list of them all?" I asked.
He shook his head. "I've never seen a list," he said. "I don't think there is one."
So began our treasure hunt to find every cancellation in the national park system. Passport cancellations are hidden away in obscure visitor centers and ranger stations in the northern wilds of Glacier, Acadia, Yellowstone, and Voyageurs National Parks; they're stashed in secondary historical buildings in Harry S. Truman, Andrew Johnson, Abraham Lincoln Boyhood Home, and Herbert Hoover National Historic Sites; and they're sprinkled through sites that are affiliates (not official units) of the National Park Service, including many National Heritage Areas spread across the contiguous 48 states.
How many cancellations are there in all? It's really anyone's guess, but estimates today top 1,700. This year, that number jumped beyond 2,000 when Eastern National issued a special 25th anniversary cancellation to every park in the system. (If you're traveling to parks in 2011, you may want to purchase a special 25th anniversary Passport to collect these limited-time imprints. Official word is that they'll disappear in 2012.)
To date, Nic and I have visited 277 of the 394 national parks, collecting more than 600 cancellations. As road trippers know, planning the trips is almost as much fun as taking them! Our living and dining rooms sport two maps: The first has a pin for each park we have not yet visited. When we visit that park, we pull the pin and put it into the other map—the National Park Service official map of all the parks. Using these two maps, it's easy to see where we need to go next to maximize our Passport cancellation collecting.
Do you have Passport cancellation stories to share? We'd love to hear where you've been and where you're going—and what you find when you get there.