For most of us, planning a road trip to Alaska is as daunting as the state itself. A "lifetime" journey for the adventuresome lot, if you're ever going to need a guidebook to jump start your vacation planning, this list will get you one step closer to the Great North.

Moon Handbooks, Alaska
Don Pitcher
Buy it on Amazon: Moon Alaska (Moon Handbooks)
Organized by geographical region and by city, Pitcher meticulously describes the events, lodging, recreation, food, and services for nearly 400 pages in this Moon Handbooks guidebook. Providing suggested itineraries and realistic driving times, much of the book covers how to get from point A to point B using various modes of transportation. Ending with supplemental reading materials and web links, make sure to read the Essentials section (page 542) after pouring over the beautiful four-color "Discover Alaska" intro. For travelers with limited time (or ideas on where to begin), consider Pitcher's "Best of Alaska" day-by-day itinerary on page 14. Downtown maps offer useful points of interest, but you'll want to pack a more industrious and larger-scale supplemental version to clip with this guide book.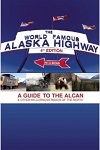 The World-Famous Alaska Highway
A Guide to the Alcan & Other Wilderness Roads of the North, 4th Edition
Tricia Brown
Buy it on Amazon: The World-Famous Alaska Highway: A Guide to the Alcan & Other Wilderness Roads of the North
Beloved by many a traveler along the Alcan, anyone reading this informative, entertaining, and useful account of the world-famous Alaskan Highway will understand why Tricia Brown has written for the Fairbanks Daily News-Miner, Anchorage Daily News and Alaska magazine. Begin with Chapter 2, What You Need to Know, A to Z. As corny as it sounds, this 15 page alphabetical summary truly highlights the 101 of a first-time trip to The Final Frontier. Organized by the two different driving routes through Canada (the Eastern Route through Alberta or the Western Route through British Colombia) and into Alaska on the famed Alaska Highway, Brown provides a "compendium of historic sites, roadside attractions, dramatic views, wildlife sighting sites, recreational resource" (someone else said this too perfectly in a review of the book on Amazon.com). A fan of literary diversion, I particularly enjoyed the color photos, sidebars, data tables (including miles and driving times), and suggestions for packing and preparing your vehicle at the very front of the guide book.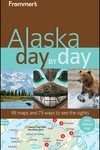 Frommer's Alaska Day by Day
Charles Wohlforth
Buy it on Amazon: Frommer's Alaska Day by Day (Frommer's Day by Day – Full Size)
Author of both Frommer's Alaska  and Frommer's Alaska Day by Day, life-long Alaska resident Charles Wohlforth knows a lifetime's worth of information about his state. With chapters on planning your trip to Alaska and a history of the state, Frommer's Alaska is somewhat more "high level," than Alaska Day by Day. Both books, however, offer suggestions on Alaska's "best" and give suggested itineraries and strategies for seeing the state. Both books are broken down into geographical regions and much of the information on events, lodging, recreation, food, and services overlap. In full-color and featuring hundreds of photos throughout the pages, a sturdy fold-out map is affixed to the back cover (for driving, you'll still want to invest in an atlas or official Department of Transportation version. Broken into manageable sections, Wohlforth mixes layman's terms with useful tips and clever antidotes thought the combined 1000 pages that are his guidebooks.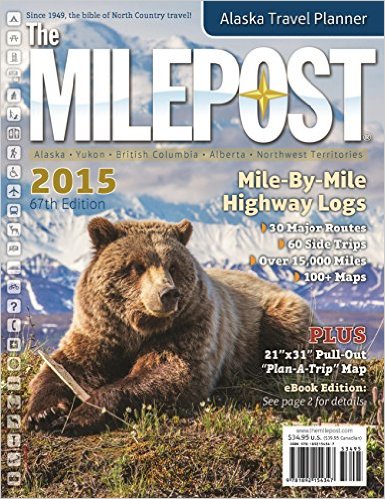 The Milepost 2015 Alaska Travel Planner
Edited by Kris Valencia
Buy it on Amazon: Milepost 2015
Recommended by Jeff Roach, Planning Manager at Alaska.gov, Roach says, "The premier travel book for the Alaska Highway and travel within Alaska that is used by most Alaskans is 'The Milepost' published by Morris Communication Company LLC. I've lived in Alaska for more than 30 years and have used 'The Milepost' for many trips back and forth to the Lower 48 and within Alaska. It is considered the ultimate Alaska travel guide because it provides a detailed description of all surface route amenities, activities and sights. I wouldn't drive to Alaska without 'The Milepost'.
Pouring over our own personal copy of The Milepost, the 783 four color pages of maps, itineraries, statistics, history, driving directions, photos, and advertisements, we have pinned the complimentary fold-out highway map to one of the kids' bedroom walls. Like a department store catalog, the thick magazine-like reference book is designed for flipping, marking, tagging, and otherwise storing with the atlas in the glove box or behind the seat. Concurring with Roach, we wouldn't leave home without this one.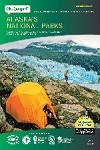 Oh, Ranger: Alaska's National Parks
Previously featured in out post on Top 10 Books for a National Park Family Vacation, the little, green Oh, Ranger! guide to Alaska's National Parks are lightweight, portable, and educational enough for both parents and slightly older kids. Available as a set online, visitors to Alaska can pick up a free copy of Oh, Ranger: Alaska's National Parks at the Public Lands Information Centers, the Alaska Marine Highway System ferries, the Alaska Railroad, local chambers of commerce and visitor centers, and select hotels.
Travelers bringing their iPhones to Alaska should also check out the Oh, Ranger! Park Finder mobile app. The app is designed to help outdoor recreation enthusiasts find activities at more than 6,000 national parks, state parks and public lands nationwide.