Nestled in the foothills of the Adirondack Mountains is the town of Herkimer, N.Y., home to the Herkimer Diamond Mines and award-winning KOA campground, as well as Lock 18 of the Erie Canal. Whether you visit for a day trip or a full-on camping vacation, this upstate New York town is full of laid-back fun for the family.
I took my two kids, aged 6 and 12, for a day trip to Herkimer last summer. Our first stop of the day was the Herkimer Diamond Mine. Herkimer Diamonds are actually the hardest of all quartz crystals and have a diamond-like geometrical shape. With your admission you are given use of a hammer, zip-lock bags for your diamond finds, and entrance to the museum. There are three separate mining areas where you are free to dig and chisel for diamonds all day (be sure to bring your sunscreen!).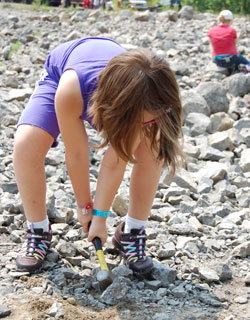 Where to Stay
Find family-friendly accommodations in Herkimer, New York from traditional hotels to private vacation rentals through Stay22.com:
My kids loved the mines. The hammering was difficult for them – you need to actually break apart rock to look for diamonds – but they had lots of success digging in gravel areas and finding small diamonds. We hammered and dug for a couple hours before the heat and hunger set in. We also spent some quality time in the extensive gem shop and museum where there's lots to learn and see.
Our next stop was the waterfront: Gems Along the Mohawk. Here we found one of those awesome gift shops that contains an "everything but the kitchen sink" array of local products. We had a scrumptious lunch at the Waterfront Grille and then we were ready for our boat tour on the Erie Canal!
The Captain of the Lil' Diamond II was not only knowledgeable, but great with the kids. He gave us an animated history of the canal and lock system. Each child got a chance to steer the boat. And then the best part — moving through the working Lock 18.
You enter the lock and the gates close behind you. With the gates closed, the water level in the lock starts to go down. You can barely feel the boat moving, but keep your eye on the yellow rails in the photo above. Now do you see the yellow rails at the top of the lock? That's how far our boat was lowered. We all loved it!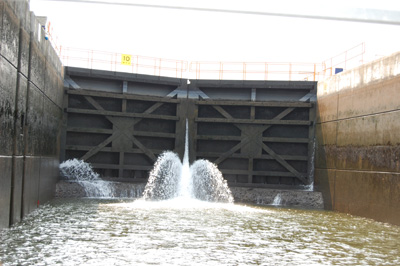 We headed home (well, to Grandma's house) after our boat ride, but there's more to do if you'll be staying in the Herkimer area for more than a day. You might make a stop at Fort Herkimer, a Revolutionary War site that is discussed on the Lock 18 boat tour. There's a wonderful campground and opportunities for fishing, canoeing and kayaking. You can bike along State Bicycle Route 5. You can take a 45 minute drive south to the National Baseball Hall of Fame in Cooperstown. For dinner, be sure to check out beautiful Beardslee Castle in nearby Little Falls, NY, which is known for its ghost stories (and the food is amazing, too!).
No matter what direction you travel from, you'll have a beautiful drive into Herkimer. While these attractions are right off the NY State Thruway, I recommend a more scenic route for at least part of your journey. Don't miss the fantastic scenery along the Mohawk River during your road trip to Herkimer! Route 5 is a gorgeous drive and parallels the Thruway from Utica to Albany.