With gas prices climbing to nearly $6/gallon here in Oregon and a looming head gasket repair bill on our aging Subaru, I joined ranks with a growing number of automobile enthusiasts and purchased a new (to us) electric vehicle. While I still have a gas guzzler for long road trips through remote places, hopefully the infrastructure for long-haul road trips will help make this new type of environmentally-friendly travel the norm in my lifetime.
Here's what I've learned about road tripping with an EV so far:
Know Where to Charge for Free and Still Carry a Charger
The first thing you'll want to do (and perhaps do this even before you purchase your EV) is to download an app like PlugShare and get a feel for the number of public charging stations in your area. Some charging stations are free, some are not. Some are free inside a parking garage, but you still have to pay an hourly or daily parking rate. In this case, look up or calculate the cost to fully charge your vehicle from empty. In my case, a full charge for my Nissan Leaf is $7 (less if I charge it in the non peak hours between 10pm and 6am). If you're paying $6 to park in a public garage for a 45% charge, do the math and decide if you can make it home or park somewhere else for less money.
Some charging stations require you create an account with their unique system (Charge Point and Sema Connect, for example) before you can plug in. Creating an account and logging in tracks which stations are in use. Even in the short time I have owned my EV, I have noticed a higher number of occupied free charging stations. Also important to know is whether the charger is (1) a fast charging station and (2) if your vehicle is compatible with the outlet. I was surprised to discover there are many different types of EV connectors, and that my vehicle will not plug into a super charger. Tesla, for example, has its own network of charging stations at hotels, restaurants, and parking garages compatible with the J1772 port.
Plan Your Route Strategically
Plug Share  has a trip planner feature that displays charging stations along your route. I this example, I'm traveling from Eugene, Oregon to Toledo, Ohio. The app offered three different routes with charging stations along the way, noting mileage points along the routes. Electrify America is another similar great trip planning tool resource.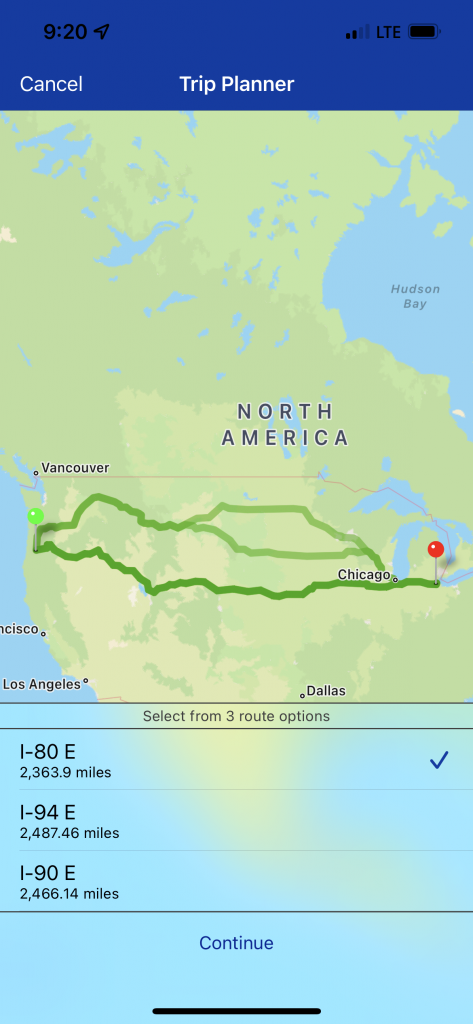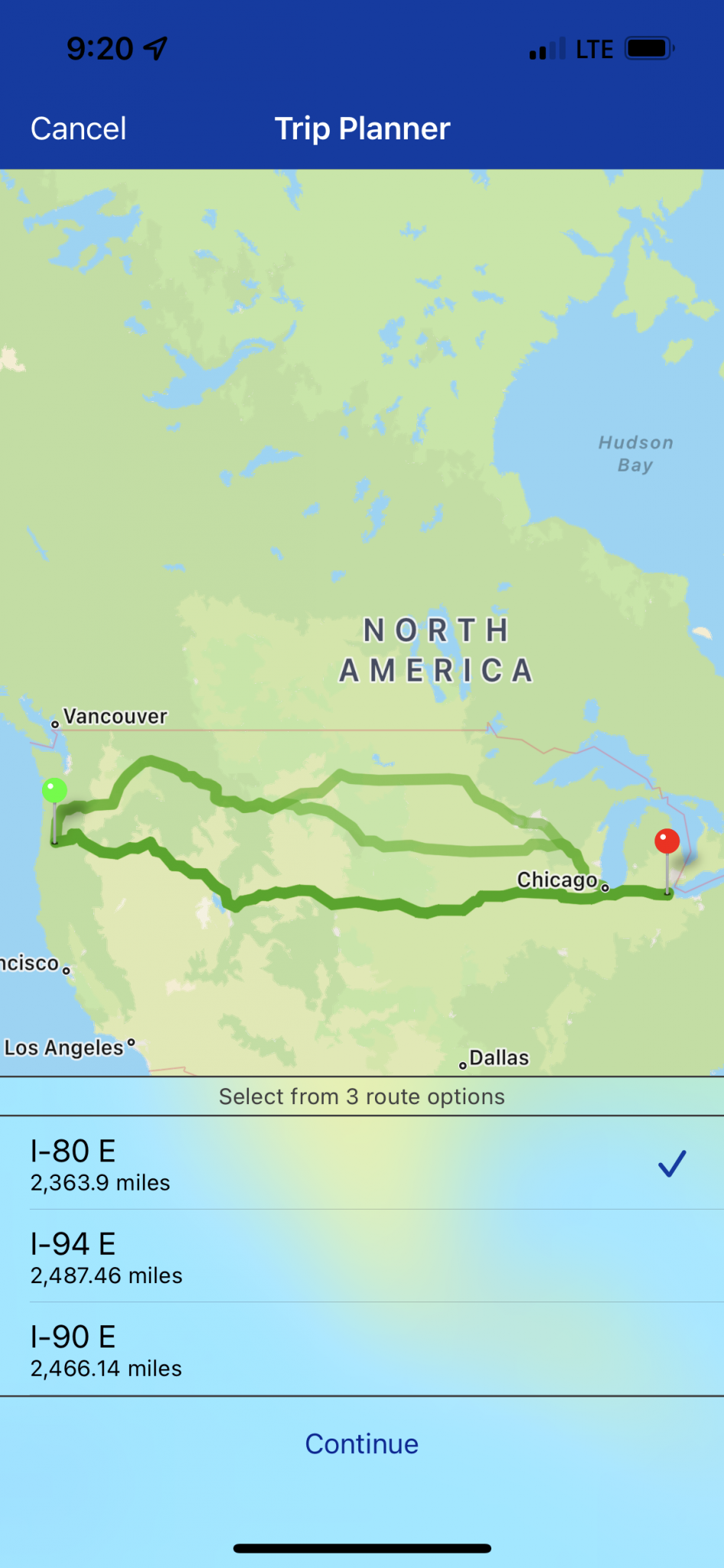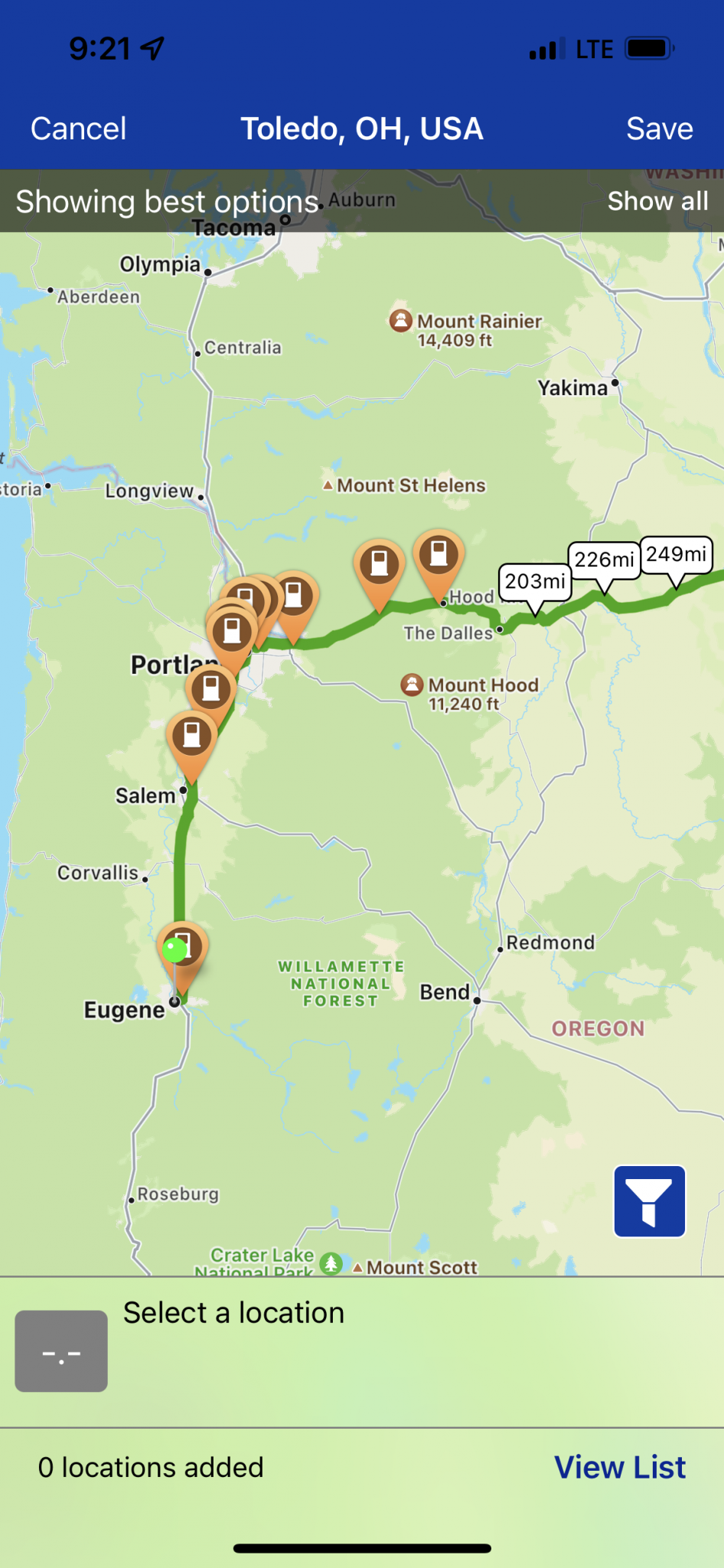 That said, I'm not sure I would leave things to chance. In addition to always carrying an emergency preparedness kit, I would not travel without my own 120V slow charger. I ordered an additional kid for $150 from my local AutoZone, similar models are available on Amazon.com. Level 1 (slow) chargers won't get you very far very fast, but they are universal. Make sure you plug directly into a wall outlet and keep an eye on the cord temperature for overheating.
Stay at an Electric Vehicle Friendly Hotel or Air B&B
My Leaf has a range of 225 miles, or 3.75 hours at 60mph. This method, obviously, is not the fastest way to travel and requires you planning your activities and day trips around charging stations. One way to start the day at a full battery is by staying at a hotel chain or Air B&B offering complimentary Level 2 (240V) or Level 3 (super charger) charging stations for registered guests.
As an aside, I recently hired an electrician to install a 240V outlet in my garage and then applied for a $500 credit from my local electrical board. If you are an Air B&B owner, you may qualify for a similar program as a way to entice an additional group of guests to your property.
Use Eco Power and Regenerative Breaking
Last, but not least, if your vehicle has an "eco" setting and/or regenerative braking capability that extends your range, be sure to drive with both of these features enabled. Every mile counts when you're on the open road!
Happy trails! 
Feature photo credit: https://www.unitednissan.com/2023-nissan-leaf-new-look/