When presented with the opportunity to review the MiVue 420 2.7-inch Super HD Dash Camera from Magellan, I immediately recognized a solution for capturing epic road trip moments without the need for a second driver or having to pull off the road.
I recently published a story on a number of Steve "Pre" Prefontaine sites in the state of Oregon (read that story here). Pre's Rock, the site of Prefontaine's fatal car accident on May 30, 1975, is located in Eugene. Tucked into the side of a steep hill, getting to Pre's rock involves traveling on slippery and narrow roads through Hendrick's Park (Eugene's oldest park).
I mounted the MiVue 420 to the front window of my Ford Transit and set off to capture the essence of the drive. During the road trip, I talk about the site and note some of the pros and cons of the Super HD Dash Cam. The video was imported into iMovie so I could edit the length and publish the content on YouTube. I think you lose a bit of resolution in the process; the original footage is quite clear at Super HD 2304×1296 (despite light rain and an overcast Oregon sky).
Receiving this camera two days ago, I have not had a chance to fully test many of the key features including driver assistance alerts like speed limit warnings, lane departure, and forward collision warnings. The MiVue 420 also has a camera for taking still shots; I snapped this photo at the site of Pre's Rock (again, consider the rainy and depressing forecast).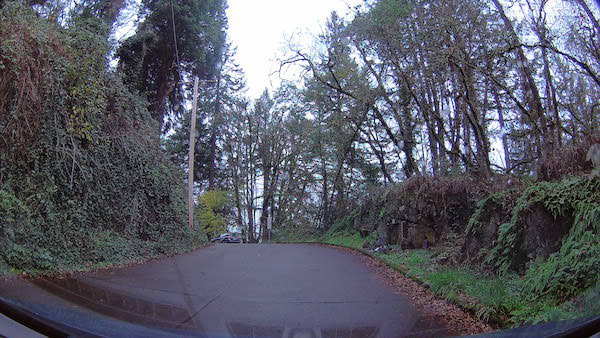 I am guilty of using my iPhone camera while driving and the camera feature on the MiVue 420 will help keep me safe and accountable. Not to mention, when I finally see a bigfoot or a jackalope, I will be ready! At 2.7″ wide, the monitor is easy enough to see from the vantage of the driver's seat.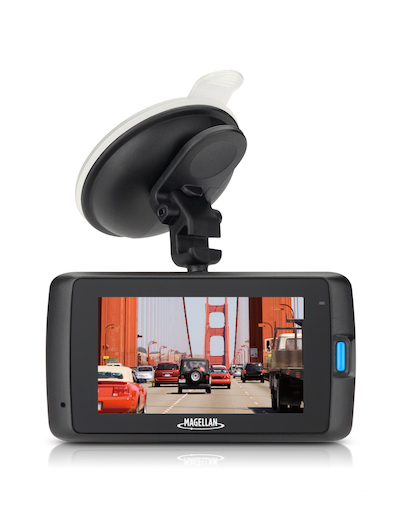 And, if you were ever unfortunately in an accident or pulled over for a traffic violation, the dash camera video offers excellent footage for insurance companies and courtrooms. The camera can run all the time, with data constantly saving to a 8MB Micro SD card (it's compatible up to 128GB). There's even an event button to start a specific event (event recordings start automatically in the event of a sudden impact or accidental crash).
On the subject of the Micro SD card, I found it somewhat difficult to remove from the device (found using the blunt end of a kitchen spoon does the trick). Four buttons on the side of the camera are pressed to move between different settings and menus; I needed a few trial runs to feel confident I was correctly recording video and data. There's also a parking feature that collects video while you are away from your vehicle (I know I have had enough grocery cart and door dings to want this type of security footage).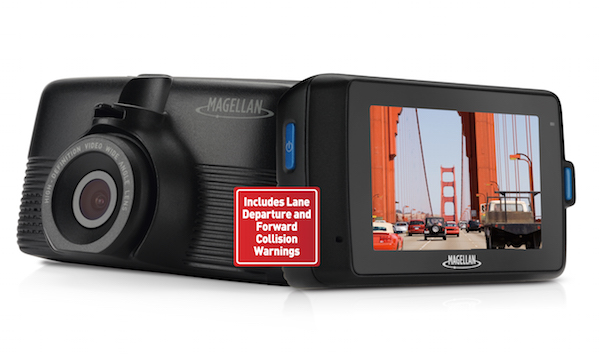 The unit is shipped with  a 10′ long power cable that connects the camera to the cigarette lighter receptacle. If you kept the camera as a permanent fixture in your vehicle, you would want to more permanently route the cable out of your line of view. The MiVue 420 also captures audio; something I realized after singing along to the radio (you can manually disable this feature, but I kind of like the idea of keeping it on in places like national parks and coastal highways).
The Magellan MiVue 420 is currently priced at $179.99. Magellan is a name brand in navigation and outdoor recreation and we have always had excellent results with our Magellan devices.
Win Your Own Magellan MiVue 420
If you are looking for holiday gift ideas for the road trip lover in your life, a Super HD Dash Camera or dash cams like this are a fantastic option.
As a bonus, Magellan will ship a MiVue 420 to one lucky reader*. To enter yourself in the contest, leave a comment where you would love to record some of your own dash camera video footage. We're always looking for cool new road trip routes. The winner will be selected at random at 5PM PST on Friday, December 9.
Following Magellan's Facebook, Instagram, and Twitter accounts will bring you good karma, but are not requirements for winning. Good luck!
Happy Trails!
*US and Canadian shipping addresses only.