If you have even one little girl somewhere in your life, you know the marketing machine that is American Girl. Each doll lives in a fantasy land of ball gowns and accessories, historical items or character-related pieces. Once you get past the price tags and the thick catalogs, if you research the company itself, you'll find staggering sales numbers. American Girl was ranked in 2009 as one of the top 15 book publishers in the US and their catalog is in the top 25. They have sold over well over 14 million dolls.
Whether you agree or disagree with the obsession, you can't fight it. At some point your daughter will want to take a pilgrimage to one of the American Girl Stores. We asked the experts (kids!) what makes the trip extra special and researched hotel deals that combine special rates and extra touches to make your mom-daughter getaway even better.
Tricks and Tips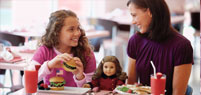 If this is your first trip to one of the American Girl Stores, anticipate crowds. Allow lots of extra time just to walk the store and see all the merchandise. This isn't an easy navigation as the stores are large and usually packed with lots of parents and children.
If you want to eat at the Cafe or Bistro, be sure to make reservations well ahead of time. The food is surprisingly good and all the touches (dolls sit next to girls in special chairs, etc.) are well done.
Is your trip celebrating a special day? The stores have themed parties and birthday celebrations, check the site for details or call the store you plan to visit.
A budget-friendly activity at the stores is the Doll Hair Salon. Learn about how to care for and style your doll's hair and get her a new 'do at the same time. Prices range from $10-20 and your daughter can pick the style she wants.
The stores also have a variety of special events that feature crafts, activities and book signings. Check the site regularly if you live in the area, these are usually very budget friendly (sometimes even free) and our girls have always had a really great time.
Set a budget with your daughter before you visit the store. Look at the catalog or browse the site and talk about options, maybe even print them out or agree on a purchase in advance. No matter what your budget, the stores are experts at selling to kids and you'll save drama by agreeing in advance on what you both expect.
Allow for a break to get a breath of fresh air or go get lunch and come back to the store if you're getting overwhelmed. There's a lot of stimulation and everything looks tempting, so take it in small chunks if that's easier.
Special Hotel Packages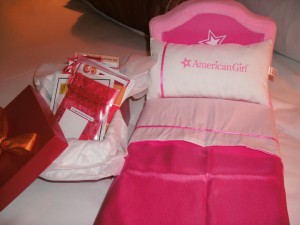 InterContinental New York Barclay
Offered thru December 31, 2010, the package starts at $279 per night and features a designated American Girl check-in desk (pictured above), an American Girl DVD to borrow during the stay, in-room munchies basket, a weekends-only "Kids Eat Free" coupon, and best of all, a keepsake American Girl travel bed. For reservations, call 1-888-424-6835 or 1-212-755-5900. Your daughter will also receive a Peace Bracelet Service Project Kit that includes instructions on completing the bracelet and background on the charities to which the donation is going. Participate in the Children for Children's Service Projects of the Month if your visit coincides with a project and show your daughter that it's really better to give than to receive.
Fairfield Suites Downtown Chicago
Package includes a $50 gift certificate to the American Girl Place, your choice of guest room type, complimentary deluxe continental breakfast and free valet parking.
Chicago Marriott Downtown (Magnificent Mile)
Package rates from $199-$249 per night thru 12/31/2010. Package includes American Girl travel bed for doll, ABC Chicago City Guide Book for Kids, breakfast buffet for two adults and two kids, cookies and milk on arrival, 15% food and beverage credit in hotel restaurant, complimentary use of hotel indoor pool and health club, turndown service and a letter from your personal shopper at American Girl Place Chicago.
Wyndham Chicago
The American Girl PJ Pallooza Party standard package includes welcome letter, standard room, American Girl travel bed with matching keepsake Wyndham Chicago pillowcase, pink-striped Garrett's popcorn tin to fill with your favorite flavor, American Girl DVD to borrow during your stay, satin sleeper mask, 2 free breakfast coupons, 20% discount on food in hotel restaurant and 25% off valet parking. The deluxe package includes everything included in the standard package plus an upgrade to a deluxe two-room executive suite and complimentary overnight parking at the hotel. Rates range from $149-329 per night.
Omni Chicago Hotel
Package (from $244 per night) includes American Girl Doll Travel Bed to take home, American Girl Chicago T-shirt for doll, American Girl pants or bubble skirt for doll (colors and style vary), $50 food and beverage voucher for the Omni Chicago Hotel per day, Sugar and Sweet All-American Sundae on night of arrival, cookies and milk with turndown service on night of arrival, valet parking for one car per night, one entry into a quarterly drawing for an American Girl Doll. Call 312-288-2838 for Cheryl Patterson, the official American Girl Place personal shopper for the Omni Chicago Hotel. She can assist you with reservations in the American Girl Cafe, special packages and events as well as help you with questions you may have about American Girl merchandise.  For hotel reservations please call 1-888-444-6664.
Sheraton Chicago Hotel & Towers
Special rates from $179 (mention code AMR when making reservation) include VIP check-in, complimentary upgrade, American Girl travel bed, digital picture of your daughter and her doll, two cupcakes and complimentary valet parking. Call 866-716-8103 or book online.