The Mt. Hood Territory region of Oregon is one of the most beautiful road trips in the US.  You can explore the region with less than 100 miles of actual road trip distance (factor in more for detours and pit stops) and it's great for a weekend or partial-week trip. The scenery is world-class, but the region is also so flexible that each season offers different attractions and opportunities to explore the area. You could return several times a year and take a totally different trip. We love it for families because of that flexibility and the short driving distance between each point.
A recent Spring Break trip to the region allowed us to scope out both the end of the winter season and beginning of spring. The weather might be a little hard to predict, but it's perfect for enjoying winter activities without the crowds and spending time outside in the impressive spring growth season. Spring is one of the least popular times of the year to visit this region, probably due to school schedules and the difficulty in predicting sunny weather, but keep it in mind for next year's spring vacation, especially if you can be flexible when you arrive. The lack of crowds and incredible spring scenery (there are few places on earth with a more impressive spring!) will instantly make this one of your favorite road trips.
Your basic itinerary will be the same, no matter what season you plan to travel. If you're flying into Portland (PDX), it's easy to rent a car and head out on the trip. You could also take the light rail to Clackamas and rent a car there after exploring for a day on foot. Grab a good map of the region before heading out, many of the best routes are not major highways.
Day One:
Start your trip in Clackamas, at the Clackamas Town Center. Probably seems like a strange stop for a road trip, but the REI store rents outdoor equipment, and is an excellent place to stop and pick up anything you need for the trip. If you are flying to Portland, rental prices might be less expensive than checking the bags these days. After you're set for outdoor adventure, head to Milwaukie, a little bedroom community just south of Portland and west of Clackamas. Grab some lunch at Casa de Tamales downtown. The restaurant, owned and operated by the Canby Asparagus Farm, is famous for their asparagus tamale, deep fried asparagus and asparagus mole. All are delicious. Sample from the other tamales on the menu (over 40 different options!) or try the crab chile relleno. Very kid friendly.
While you're in Milwaukie, visit Things From Another World. Dark Horse Comics started in the back room of the Milwaukie location, and with their online store, Things From Another World is the third-largest comic book dealer in the US. Just down the street, the Main Street Collectors Mall & Soda Fountain is a fun stop to browse items from over 60 dealers. Enjoy an old-fashioned malt or soda on the same stool that JFK used when he visited the store.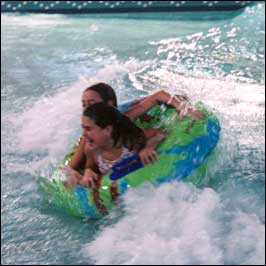 The kids will rave about a visit to the North Clackamas Aquatic Park. Rain or shine, the indoor water park has swimming, a wave pool and three water slides as well as a toddler area. Family rates are available, and the facility is clean and loaded with options. Teens will like the chance to get away from the rest of the family and "hang out" while little kids will appreciate swimming and sliding.
The #1 Road Trip Family tip is to find a local attraction like this on the first or second day of a trip. Let your kids play and enjoy other kids, which is what they miss most about not being home. If you get lucky and make a good friend, make plans for a play date later in the vacation or plan to return to the original park, etc. Spots like this are great fun and are usually inexpensive or free.  Going from one tourist spot to another is draining on both the kids and the pocketbook. Look for local favorites before you travel.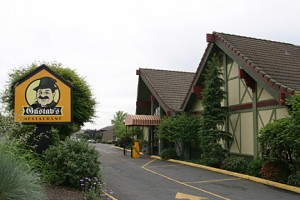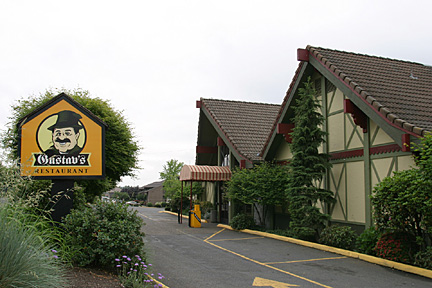 The Courtyard by Marriott Portland Southeast, Clackamas, Oregon, United States makes a good stopping point for the night. The property has just finished a complete remodel and the family-friendly amenities as well as business center, free internet, free parking, comfortable lobby workspace for late night deadlines and friendly staff are perfect for a traveling family. The location is just off the freeway with lots of restaurants nearby. Our favorite is Gustav's Pub & Grill, which specializes in German cuisine and beer. A local favorite (there's even a location in the Portland Airport), make sure you try the chef's special and taste a few of the German beers on tap. The kid's menu has plenty of old favorites as well as a few German favorites, or ask the staff for a recommendation. The pretzels were a fun appetizer and very kid friendly.
Day Two: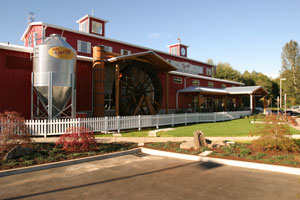 Start the day with breakfast at Bob's Red Mill. Famous for their whole grain products, the restaurant is a way for locals to enjoy foods made with Bob's Red Mill products as well as do some shopping. The biscuits are legendary! The company has been in business for over 25 years, and the mill tours are a fun way for the family to learn more about the products you just enjoyed for breakfast. The tours are held Monday to Friday at 10 am.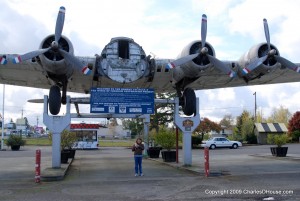 After the mill tour, stop for lunch at The Bomber Restaurant on the way out of town. They serve comfort food in an old-fashioned diner, but the real attraction is the B-17G bomber in the parking lot. One of only 11 intact planes of its kind in the world, the plane is being restored. Grab a Bomber Burger (peanut butter is the secret ingredient, shh, don't tell!) while you read about the plane and its history.
Next, head east to the Sandy Farm Loop for some agritourism fun. The loop is great for families because it's not long or involved and there are about 20 options for stops along the way, ranging from fresh fruits and vegetables to alpacas and trout fishing. Red Pig Garden Tools & Blacksmith offers the largest variety of manual gardening tools in the US, many forged by blacksmith Bob right on the farm. Prices are very reasonable. Stop in Sandy for Joe's Donuts (39230 Pioneer Boulevard, 503-668-7215). Grab a dozen to take to Mt. Hood and sit and eat one in the shop with a pint of milk. The Sandy Historical Museum is a fun stop if your family enjoys learning about the history of the area. The museum is located on the famous Barlow Road, the last leg of the Oregon Trail.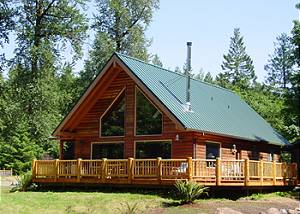 If you're planning to spend a couple of days exploring Mt. Hood (highly recommended!), renting a home from an experienced vacation rental company is the way to go. Vacation rentals specialize in renting homes or condos, and they are experts on what your particular family might want to enjoy. They live in the area and can be great help when planning the trip as well as resources when you're in the area. Vacation rentals are fabulous if an extended family wants to get together, and the kitchen means you can cook if you want to (budget friendly). Betsy LaBarge at Mt. Hood Vacation Rentals is helpful and full of great tips for families. Check out her available properties online and call for more details. We stayed in the Deer Island Chalet and had an amazing time. Deer visited every evening and the river just out the back door (not to mention the private hot tub) made for plenty of options no matter what the weather had in store.
If camping is more your style, the Mt. Hood Village RV Resort is a great option. There are cabins, cottages and yurts if you didn't bring an RV on the road trip, and the golf course, hiking trails and alpine slide with heated indoor swimming will ensure the kids have an awesome time.
Day Three & Four (or more):
Mt. Hood is home to any outdoor activity you can imagine (including laying in a hammock and reading a book) and each season has plenty of offerings to keep any family busy. It's a short drive from your vacation rental in the Welches area to Government Camp, the main hub of activity on Mt. Hood. In winter, expect snowy and/or icy driving conditions, and use TripCheck to get up to the minute road reports.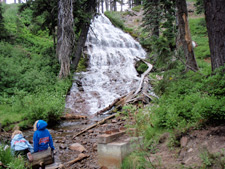 When you plan your trip, visit Mt. Hood Adventure to see all the options and book a few activities. Greg "Chopper" Moreno is knowledgeable and helpful and has years of experience helping families enjoy the outdoors safely. He is a fantastic resource for your adventures and can recommend activities tailored to your experience, level of fitness and interests. Whether you're interested in snowmobiling, geo-caching, hiking, rock climbing, bird watching, white water rafting or anything else, Chopper can help you have a great time. The web site has a lot of recommendations based on the season you will visit, which should give you lots of ideas.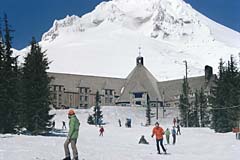 Since the mountain has so much to offer, plan to spend at least two days playing outdoors. If the weather permits, the drive to Timberline Lodge, Timberline Lodge, Oregon, United States is well worth the time, and the view from the lodge is spectacular. The Cascade Dining Room has been named one of the top 10 mountaintop resorts in North America, and offers fine dining known for their use of Northwest ingredients. The fireside brunch is family friendly and kids eat free if you dine early in the evening. Be sure to take the self-guided tour of the lodge.
Other suggestions for enjoying the mountain and nearby area include:
Restaurants:
Barlow Trail Roadhouse (69580 E. Hwy 26, 503-622-1662) — open at 7 am, this is a good spot for breakfast out if you're not in the mood to cook.
Charlie's Mountain View — Known for their prime rib, the nightlife is also hopping at Charlie's. Great if you can get grandparents to watch the kids for a few hours. They are also open for breakfast at 9 am. In Government Camp.
Still Creek Inn & Lounge — Local favorite for more of a culinary experience highlighting local ingredients and fresh seafood. Still very family friendly. In Rhododendron.
Calamity Janes (42015 Hwy 26, 503-668-7817) — Just west of Welches on 26, look for the giant cowgirl sign. Burgers with lots of options and kid menu favorites.
Activities:
Recreation options are endless. Check out the Mt. Hood Territory web site for some ideas.
The Wildwood Recreation Site is a 580-acre facility that should be on your must-see list. Kids can see a cool "fish-eye" view of a stream via the viewing window. There are trails and picnic areas and lots more. Take a day and just relax and bring a picnic lunch and play outside.
Summit Tubing Hill — Spring visits to the mountain should provide adequate snow for tubing, a great experience for families of all ages. There's also skiing and just playing in the snow. A great way to spend a day having fun.
Mt. Hood Cultural Museum — Probably more fun for older kids or adults, there is a large collection of local art and the docents were very knowledgeable about activities in the area. Worth a stop. If you have an artist in the family, you should also check out the Arts Cabins Project. It requires some planning ahead, but the classes and workshops are varied and really educational. Not all are open to children, so call and talk to someone before booking.
Day Five & Six:
Leave the immediate Mt. Hood area and tour the rural area to the south. The small town of Estacada is a fun place to explore and take a pit stop. Stop at Fearless Brewing and sample local craft brews or snack at one of the coffee houses while doing the Estacada Walking Tour. The tour visits the collection of outdoor murals done by a local artist cooperative.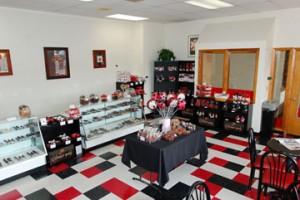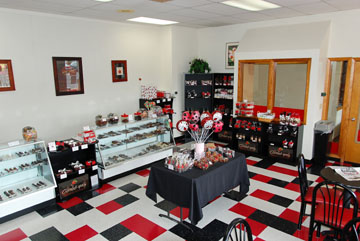 Head to the small town of Canby for some gourmet chocolate shopping. Ladybug Chocolates has something for every palate. Kids will like the chocolate covered Twinkies or the ladybugs made of various types of chocolates. Parents will love the truffles and salted caramels or the nut clusters. Their Vermont Shortstack Breakfast Truffle is the perfect souvenir: pan-fried bacon and pure maple syrup in a milk chocolate ganache coated with homemade buttermilk pancake crumbs. (made to order, call ahead) Down the street, Puddin River Chocolates has wine, sandwiches and of course, more chocolates.
The Canby Depot Museum is a fun stop for little engineers or history buffs, and the Canby Ferry is a fun and budget-friendly way to stretch your legs and see the scenery minus the car seats. It's also a lot of fun (even for parents!).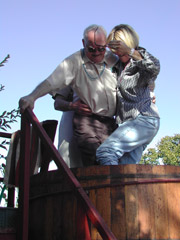 Stop at the St. Josef's Winery for some wine tasting and a picnic on the property. Known for their small batch, award-winning Pinot Noir and Pinot Gris, the tasting room is kid friendly and the grounds are beautiful. They also host numerous festivals and events throughout the year, with good music and lots of family fun. September's Grape Stomping Festival looks like a blast.
Twilight fans anyone? When it's time for dinner, head to Oregon City. The Stone Cliff Inn Restaurant & Bar is the filming site for the movie and the stunning views don't disappoint. The food is also quite good, and it's very family-friendly or good for a night out for a romantic dinner.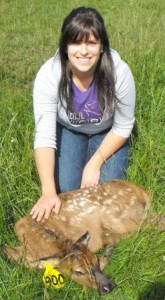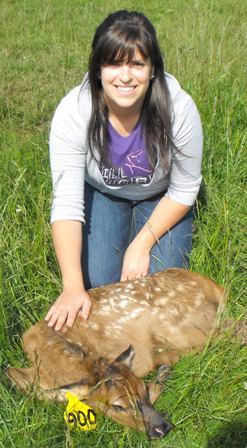 The next morning, head out for more agritourism at the Rosse Posse Acres elk ranch. There's a small petting zoo, and kids (and dads) will love learning about the elk and maybe even seeing some calves. They also have elk meat and a small bed and breakfast.
Tollen Farm is a working farm with sheep and miniature donkeys, and, just a warning, you'll have a hard time getting the kids back in the car. Adults will find art and antiques and lots of gardening gear, as well as fruits, nuts and nursery stock.
Learn about the forest at the Magness Tree Farm. Several different hikes and nature walks are offered, so even the smallest children will have a good time. Learn about the forest, why it's important to protect it, learn to identify several types of trees and more. You'll also pass a historic fire tower, which is especially fun for kids.
Stop in for a bit more wine tasting at the AlexEli Winery near Molalla. When you're hungry for lunch, stop at the Markum Inn (36903 S. Hwy 213, Mount Angel, 503-829-9853) for sandwiches, burgers or even prime rib on Sundays.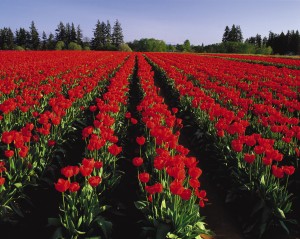 The Wooden Shoe Tulip Festival is a must-attend event. Thousands and thousands of tulips stretch across the farm, with craft vendors, activities for the kids, food and shopping, and of course, tulip bulbs all available. The festival made our Top 10 Spring Festivals for Families list, and is one of the most photographed events in the area. Submit your best photo for a chance to win prizes!
For dinner, try the Highland Still House & Pub. Parents will appreciate the multi-page list of single malt scotches and beers from the region as well as Scotland and Ireland, and kids will love the pretzels, mac and cheese (homemade and delicious!) and the patio if the weather is nice. Dine early and expect a crowd on popular nights, but worth it.
Sneak away with the girls for a little shopping and tea party at the Lavender Bleu Gift & Tea Room. A huge selection of whimsical and fancy gift items as well as tea. Fun as a treat at the end of day or for mom to get away for a moment to just relax.
Lake Oswego Lodging Options:
Fairfield Inn & Suites Portland South/Lake Oswego, Lake Oswego, Oregon, United States has lots of family-friendly amenities, including free continental breakfast and free internet and parking as well as marketplace (snacks) in the lobby. Crowne Plaza Portland Lake Osego, Lake Oswego, Oregon, United States is a full-service hotel with spacious rooms and free parking. Both are located on the I-5 freeway and only minutes from the rest of your trip and a short drive to the airport.