We recently took an overnight road trip to Ashland, Oregon, and made a bunch of fun stops along the way. After a restful stay at Lithia Springs Resort, we wanted to explore Ashland just a little. Honestly, the whole town is just so cute. There are antique stores, coffee shops, restaurants, music shops . . . we were a little surprised at how nice everything was.
Since we were heading home that day, we needed to keep going. Our plan included a stop for lunch at McMenamin's Roseburg Station followed by a visit to see two rivers collide at Colliding Rivers State Park, and the Winchester Dam Fish Ladder. (We like to hit up breweries when we are out of town — you might recall our recent road trip to Seaside, Oregon, where we visited three local breweries on one trip! This time it was only two 🙂 )
After lunch, we decided to go to Colliding Rivers Park first, because that was a little out of the way, followed by the Winchester Dam Fish Ladder, which is just literally right off of I-5 South. From Roseburg, you'll want to drive out Highway 138 for just 20 minutes to get to the park.
Colliding Rivers Park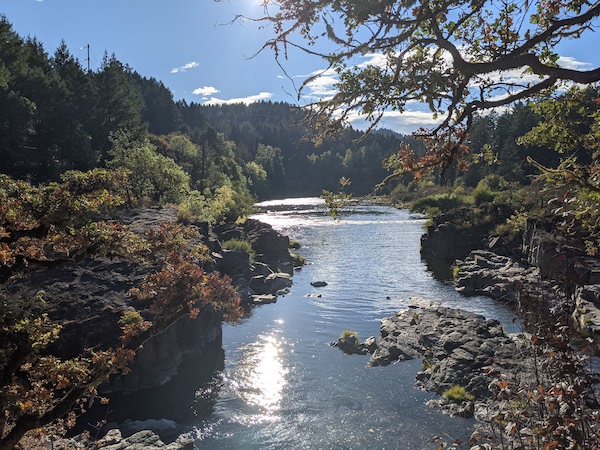 As I mentioned in the other article about this trip, we found some stops we made by using the Roadtrippers app. Colliding Rivers Park was one that came up on the app. It's cool because you can put in your route and the app shows you spots along the way that you might not know about.
Colliding Rivers Park is a unique place. It's a beautiful natural setting with a short and easy trail. While it looks like many other beautiful river scenes, it's remarkable because it's the only spot in the United States where two rivers meet. Here, it's the Little River and the North Umpqua River meeting head-on. Since we went on an early fall day after a dry summer, the water level was somewhat low. But you could still clearly see the two rivers meeting. I didn't really expect crashing waves and splashing, but I'm sure that when the water levels in both rivers is higher it's probably a bit more exciting.
Winchester Dam Fish Ladder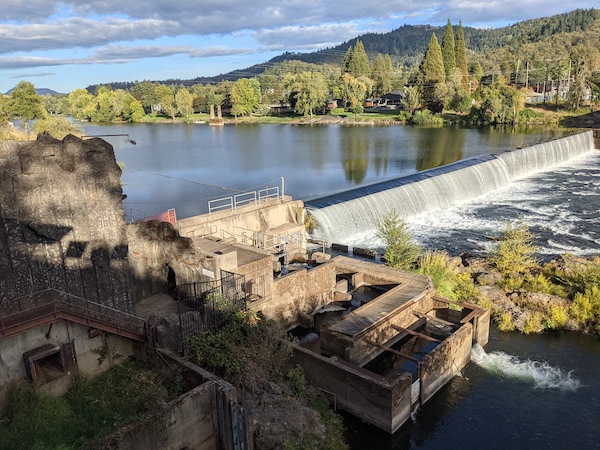 From Colliding Rivers Park, we backtracked the 20 minutes and went back to I-5 South, an easy trek. I had never seen a fish ladder before, which shocked my travel partner, who grew up in the Northwest and saw fish ladders on school trips! I had heard about the window at Winchester Dam, but had never been. The dam dates to 1890, is one of the oldest in Oregon, and is on the National Register of Historic Places.
A fish ladder is where a dam is built so that there are different areas with higher water levels that allow fish to bypass the dam. In this case, the dam is holding back the North Umpqua River, which is home to salmon, steelhead, cutthroat trout, and Pacific Lamprey. The life cycle of salmon requires that they be able to leave their home rivers to travel to the Pacific Ocean, then they return to their home rivers to spawn. The fish ladders make that easier, although the Winchester Dam still doesn't do a great job of it and has been prioritized for improvements to the fish ladder.
The cool thing about this one is there's a public viewing window where you can se the fish passing through a series of levels. We weren't sure if the viewing window would be open due to covid — and it turns out it wasn't. Bummer! But it was still a cool place to visit. Keep an eye on the website in case you're passing by . . . it's worth a visit when it opens again, and maybe we'll see you there!
Vanessa Salvia is a long-time freelance writer and editor. Read her journalistic work at vanessasalvia.com, and learn more about her editing and content creation services at sagemediaandmarketing.com.