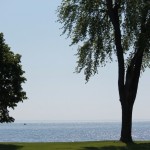 Venturing out for another adventure in Wisconsin, we once again found ourselves along the shores of Lake Winnebego, Wisconsin's largest inland body of water. Returning to the region with flowers in full bloom (read about our winter adventures in Fond du Lac in this story), our weekend destination was Oshkosh. Dubbed Wisconsin's "event city," Oshkosh is perhaps most famous for the EAA AirVenture, a week-long aviation event held at Wittman Regional Airport. During the event, the city's 70,000 residents welcome over 500,000 visitors from over sixty countries (and Whittman is busier than nearby Chicago O'Hare).
Menominee Park
Always looking for ways to stretch a buck and keep the kids entertained, we headed over to Menominee Park right away in the morning. Spread out along the lake and encompassing over 100 acres, park highlights are a free zoo, children's amusement area, swimming beach with shelter, and gigantic wooden playground. Open at 9AM with the zoo is the Lakefly Cafe, offering popcorn and other concession-themed shacks. Ironic in its name, visitors to the area in early spring should know about the annual spring hatch of the mayfly, a mostly annoying insect hatching, breeding, and dying near the lake about this time of year (ask the sturgeon and frogs their opinion, and you may have a different story). Fortunately a steady breeze and sense of adventure kept our spirits high as we looped our way through the zoo (highlights included a camel, elk, wolves, and kangaroo).
Where to Stay
Find family-friendly accommodations in Oshkosh, Wisconsin from traditional hotels to private vacation rentals through Stay22.com: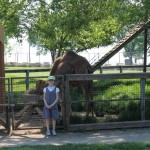 Having visited Menominee Park a few years ago (after the "flight and plight" of the mayfly), we had previously enjoyed rides on the miniature train, merry-go-round and watched other families enjoying the rentable paddle boats and aqua-bikes (not possible with one adult and three toddlers unless you like going in endless circles). Note the amusement area is north of the zoo and playground; plan to park in the middle or move your vehicle between parking areas at some point.
Oshkosh Public Museum
Navigating inland (away) from the lake and closer to the University of Wisconsin, Oshkosh campus is the Oshkosh Public Museum; open weekly and affordable at $7 (adult), $3.50 (age 6-17) and free for those of us with younger kids. On the small and less interactive end of the museum spectrum, the Oshkosh Public Museum does offer a respite from the weather (hot and cold) and moves visitors through seven different exhibits ranging from Wetlands and Waterways to Memories and Dreams on the second floor.
With the most stuff meant for kids to touch located upstairs, make sure your visit spans the hourly performance of the Apostles Clock, an 111 year old clock that plays music and moves figures of the 12 Apostles across the clock face (apparently yours truly was as transfixed by this clock 30 years ago as my kids were a few weeks ago). Perhaps the best-kept secret in Oshkosh is the museum gift shop with eclectic and affordable souvenir gifts ranging from giant marbles to fossil magnets, bonnets, mood rings, and wind up teeth.
Where to Stay: Cobblestone Inn and Suites
Located near both the EAA AirVenture Museum and the Shoppes at Oshkosh outlet mall (featuring Wisconsin-based American Girl and Oshgosh B'Gosh) is Cobblestone Inn and Suites. Built last July, the hotel still has the smell and feel of new construction (no paisley carpet or ancient ice machines here). Offering a complimentary continental breakfast, the hotel also has a wine and beer bar (not complimentary, but find two complimentary drink coupons in this "shop and stay" package here). Without a swimming pool, the hotel helped us secure a 1/2 price family swimming pass just down the road at the West Side YMCA on 20th Avenue (where we thoroughly enjoyed the water slide, splash area, lazy river, and hot tub).