Central Park is one of the best places to take the family in all of New York City—you won't ever have to worry about running out of sites to see or adventures to have when you are there.
At the same time, not all of Central Park is family friendly. To make the most of the trip, it's best to map out a plan ahead of time so you can have as much family fun as possible.
Here are some suggestions to get you started in creating an itinerary that will help to make memories you'll all cherish for a lifetime.
The Tisch Children's Zoo is a can't miss.
Located inside the main Central Park Zoo (another amazing family friendly hot spot in the park), the  Tisch Children's Zoo is setup specifically for children. Not only are the animals cute, fuzzy, and definitely friendly, you'll also have the chance to pet and feed many of them as well.
The Enchanted Forest and Acorn Theater are also sure to bring smiles to everyone's faces; make sure your cell phones are fully charged so you can snap photos the whole time you're in the zoo!
Ride the Central Park Carousel.
One of the oldest public carousels in the country (though thanks to the Parks Department maintenance team it runs better than many brand new carousels), this popular attraction is open from April to November and is always a family favorite.
In nice weather, the entire area around the Central Park Carousel can fill up fairly quickly. You'll want to do your best to arrive at this attraction a little bit earlier in the day, especially if you're planning on getting lunch in the area.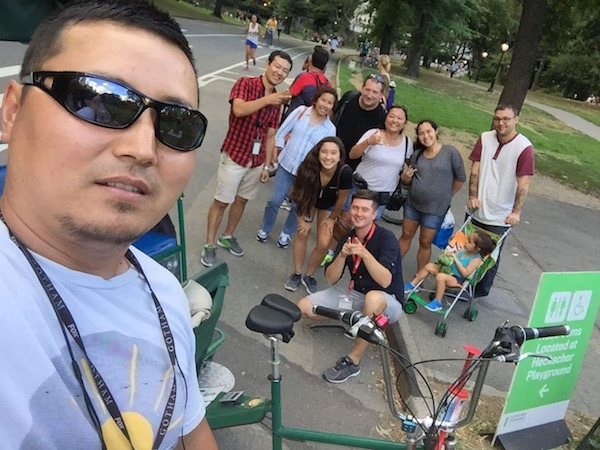 Guided tours of Central Park can be a great way for the entire family to get in on some fun, riding or walking the park together, seeing landmarks and cultural hotspots, and learning about some of the most exciting features of the park as a family.
Different groups will go out at different times—and will cost different amounts of money—so make sure you really do your research before you sign on the dotted line and head out with a bunch of strangers!
 Swimming and Storytelling
In the summertime you won't find a better way to beat the heat than the Lasker Pool. Cool off in the afternoon and then check out the world class storytelling sessions that happen all over the park all (year round) later on in the day.
There are a lot of different things going on in Central Park every day of the week (and almost every minute of the day), which is why you'll want to plan your family outing as early in advance as you can.
As with any family adventure, expect inevitable wrinkles that need to be ironed out. But with a little bit of planning, a lot of excitement, and maybe a pinch of luck, you shouldn't have anything to worry about!