For those of us who want nothing more than to see the world, travel takes priority over many things. Personally, I don't own twenty pairs of cute shoes with matching purses or wear expensive makeup. I buy most of my clothing at thrift store or garage sales or during end-of-season clearance events. All but one of our vehicles has been pre-owned and at least half of the furniture we own is hand-me-down. If our 1200 square-foot-house burned down to the ground, I would be tremendously sad, but not completely devastated.
When my dad died from Pancreatic Cancer in 2009, my sister and I were charged with cleaning out his estate and either assuming, selling, donating, or gifting his possessions. In the process, I understood you really enter and exit the world in the same way—emptyhanded. This experience fundamentally changed my value structure as I realized two things: 1. life is fragile and sometimes short and 2. you do need to plan for the future, but it's important to enjoy today.
Earlier this summer, I met the CEO and founder of iSow.com at a women's blogging conference and felt an immediate connection with her company vision and the way I try and live my own life.
iSow is a web-based funding platform for gift giving that enables people to set goals in lieu of accumulating physical goods.
The program is structured in three distinct categories: Saving (for the future), Sharing (with others), and Spending (on the things that matter to you). The interface is designed in such a way that it is redesigning gift-giving, fundraising, and charitable giving.
As an example, our family is planning an adventure in Tasmania in two years time. We know the trip will run between $8000 and $10,000 and is an expense we need to strategically budget among kids' braces, groceries, utilities, and the ridiculous monthly water and electricity bill. Additionally, I can create goals for charitable giving as well as allow my kids to create specific goals of their own.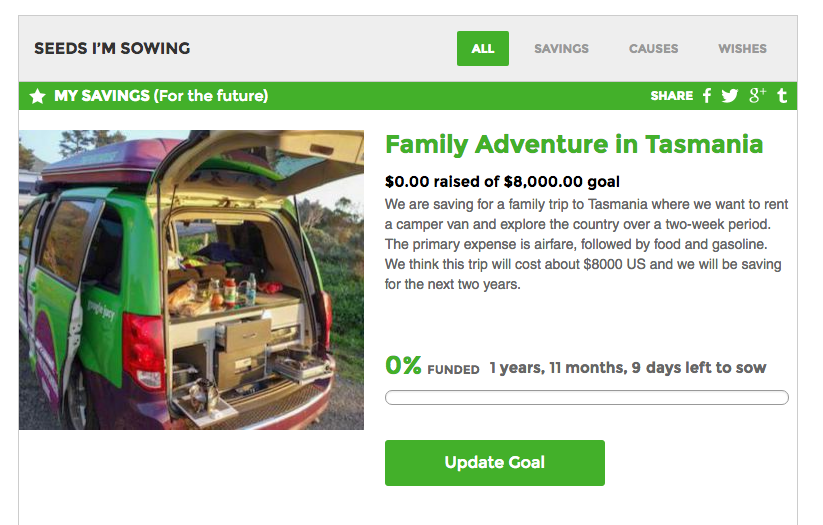 To begin, I created a savings goal that is linked to my personal iSow account and describes our Tasmania trip. I can share the goal on social media and send the link to people who would otherwise feel compelled to give a physical gift for a birthday or holiday. I can also send updates, add video, and modify the goal along the way. You can check it out here or click on the photo above.
Donations can be made using PayPal or a credit card and you don't need to have an iSow account to contribute to someone's goal. Donated money is tracked within iSow and immediately transferred into the recipient's PayPal account.  Recipients are then responsible for transferring funds to the appropriate bank account.
Unlike the Kickstarter model, if you don't meet your goal at the end of the funding, you still keep any gifted money that came your way over that period of time.
If you want to create an iSow account of your own, it's free to join. If you use this link, I will receive $5 when you sign up. Thank you in advance for supporting my passion for travel and showing my three kids the ways of the world!