Steve Roland "Pre" Prefontaine would have been 65-years-old this year. An all-American middle and long-distance runner born in Coos Bay, Oregon and graduate of the University of Oregon in Eugene, Pre remains a local legend in his home state.
Pre once held the American record in seven different distance track events from 2,000 meters to 10,000 meters. He competed in the 1972 Olympic Games in Munich, Germany where he placed fourth in the 5000-meter race. In training for the 1976 Montreal Olympics, Pre's life ended on May 30, 1975 in a fatal car crash.
In 2006, RunnersWorld.com published a "Tour of Prefontaine," with key sites across the state of Oregon (read the story here). The author connects Pre with the Nike Corporation's early years as well as his influence on the running culture in Oregon and beyond.
Three movies also offer insight into Pre's life: Prefontaine (Released in 1997), Without Limits (Released in 1998), and Pre's People (Currently in Production).
If you have an interest in Steve Prefontaine, the Coos Bay, and Eugene are both excellent places to start:
Coos Bay, a Central Oregon coastal (mostly) fishing community of about 16,000 residents, is where Steve was born and where he is buried. Begin at the Coos Bay Visitor Information Center at 50 Central Avenue across from the Boardwalk and City Docks. You will notice this memorial in Pre's honor and memory: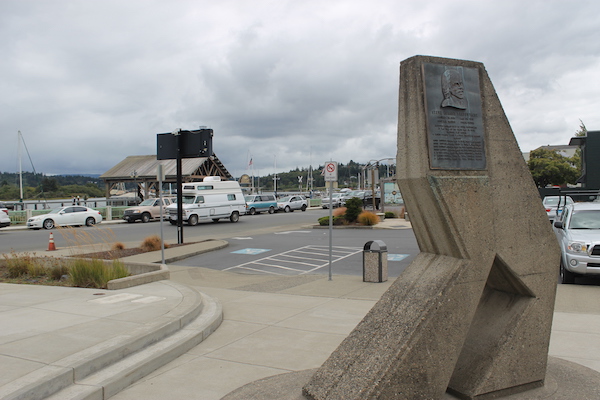 In town, key sites include Pre's childhood home, schools, and running routes. There's even an annual 10K road race in his honor (2016 marks the event's 37th year). Pre's burial site is at Sunset Memorial Park, which is a short drive inland from downtown. Obviously, if you visit, pay your respects in a quiet and unobtrusive way.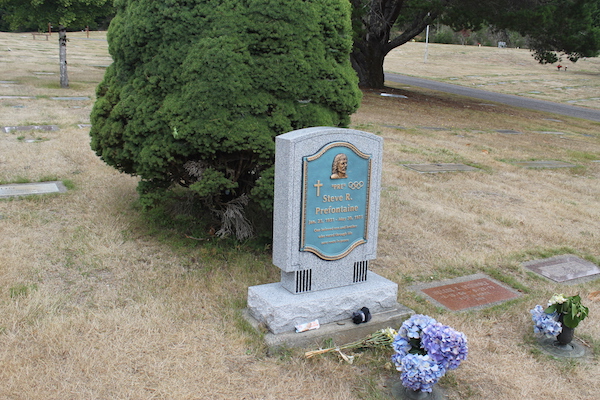 In Eugene, Pre's Rock marks the site of the fatal 1975 car crash. Located on Skyline Blvd. above the University district, look for the memorial stone in the photo below. Take care when visiting this location, as the roads are narrow, steep, and windy (you will understand how and why this location could take a man's life). Many people leave trinkets and items to honor Steve, ranging from running shoes to medals, race bibs, coins, and items of clothing.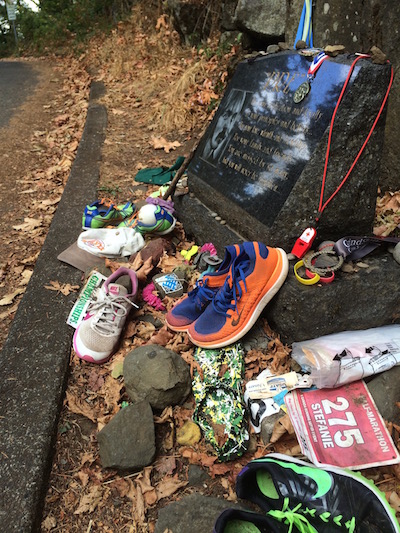 A sobering reminder of the fragility of the human life, visiting these two locations impressed upon me how much one person with great drive and passion can impact the world even in a short twenty-four years.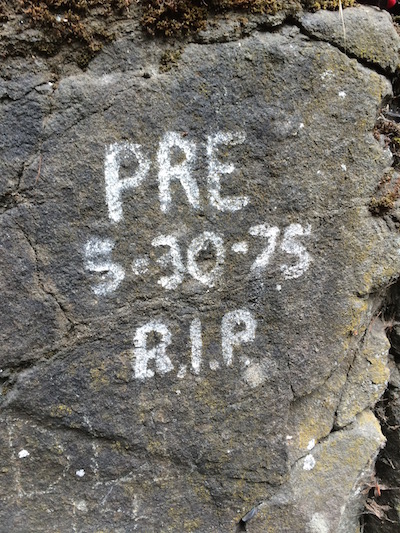 RIP Prefontaine
Pin for Later: