Most people don't consider visiting the Jersey shore in the winter. But I'm here to suggest that winter is a fantastic time to hit the beach. First of all, I'm a big fan of visiting anywhere in the off-season, especially if you don't have to spend a ton of money to get there. Second, I'm a bit of a loner, an anti-crowd kind of person. Since I live in NJ, driving "down the shore" is not a big expense for me, so I took advantage of the empty towns and beaches to really explore the Cape May area.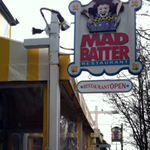 We had a delicious breakfast at the Mad Batter. Their Orange and Almond French Toast was thick, crispy on the outside and perfectly sweet. Great atmosphere, too – a quirky, artsy little place that makes you feel a bit like you've walked into Alice's Wonderland.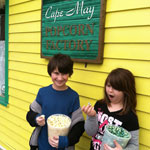 My kids loved the many popcorn flavors at the Cape May Popcorn Factory. We tried chocolate, blue raspberry, caramel, and white cheddar.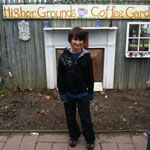 We visited Higher Grounds Coffee in search of a letterbox. (Letterboxing is similar to geogaching – you follow clues to find a hidden rubber stamp and notebook.) This tiny coffee house has an outdoor garden housing many artsy treasures. Great coffee and food – definitely worth a stop on your way to the lighthouse.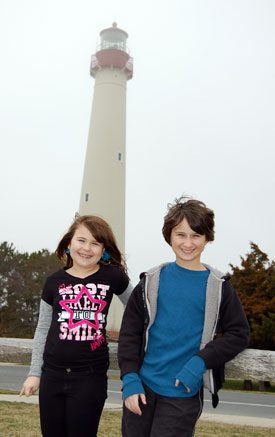 The Cape May Lighthouse was a bit of a bust because we had an extremely foggy day. I didn't want to pay, climb up all those stairs, and look out over… fog. But we walked on the beach, collected shells, and found another letterbox. And we'll be sure to visit the Lighthouse again on a sunny day.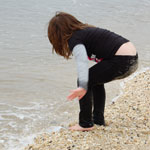 Our last stop in Cape May was Sunset Beach. Even in 50-degree weather, this was my kids' favorite stop. We spent a lot of time choosing our souvenirs at the tchotchke-filled gift shop. We found another letterbox. We witnessed a post-wedding photo session. We talked about the shipwrecked USS Atlantus. Mostly, we dug in the cold, wet sand searching for Cape May diamonds.
While our trip to the Jersey Shore did not include bathing suits, swimming, ice cream, or even much sunshine, we enjoyed a slow-paced weekend that was the perfect opportunity to explore the area without the crowds.