New Geocaching GeoTour in Milwaukee, Wisconsin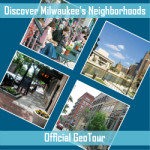 Earlier today the folks at VISIT Milwaukee announced the official launch of the new geocaching GeoTour titled "Discover Milwaukee's Neighborhoods." Timing the launch date with National Tourism Week—an event recognizing travel and tourism as one of America's largest and most powerful industries—the GeoTour features 15 geocache containers hidden in 15 of Milwaukee's neighborhoods.
The first five people to find the individual 15 geocache containers and return the Visit Milwaukee Neighborhood Expert passport to VISIT Milwaukee* will receive a prize package featuring goodies from businesses in the area, as well as an official "Discover Milwaukee's Neighborhoods" t-shirt. Participants may also choose to complete the entire GeoTour to receive a custom, limited-edition "Discover Milwaukee's Neighborhoods" GeoCoin.
From the shores of Lake Michigan to eclectic Brady Street, the urban revitalization of the Historic Third Ward, the heart of downtown, or the progress of Riverwest, each geocache offers a description and  "fun facts" about Milwaukee's history. Complimenting the wide-variety of established geocaches in Milwaukee county, the GeoTour gives visitors and residents one more reason to love their city.
* Return or mail to 648 N. Plankinton Ave., Suite 425, Milwaukee, WI 53203-2926