Fall is in the air and it's time to think about Halloween-themed road trips. Not for the faint of heart—especially for families of younger kids and those of us with overactive imaginations—I assembled this list of some of the more haunted cities in America.
All have a historical component and some sort of guided tour or particularly historic and haunted district. When available, I mention lodging destinations with ghosts or ghost stories. Happy haunting!
Helena, Montana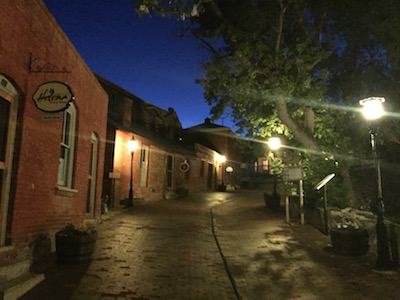 Helena, Montana was founded in 1864 for a group of four unkempt miners who were giving their luck only one "last chance." They struck it rich in a valley dubbed Last Chance which would later be named Helena. The gold brought people of all walks of life to Helena: merchants, politicians, Chinese immigrants, prostitutes and con artists. Wild west vigilante justice was prominent and the mining camp's hanging tree was a place for all ages to gather and take in the specter of death.
Today Reeder's Alley is only a small section of town. Back in the day, the Alley was a hub built by Pennsylvanian brick mason Louis Reeder and was home to single miners trying to hit it big and became infamous for drunken brawls, moonshing, and whoring. Today the state has preserved this historic landmark leasing the Alley rooms as offices. Tenants experience all sorts of other-worldly activities; pennies often appear all lined up in the Caretaker's Cabin and office copy machines print blank pages until they are unplugged. Boulder Hotsprings is haunted, but offers an indoor spa and heated outdoor pool (we visited this location last summer, but did not spend the night in the lodge).
Visit: http://www.helenamt.com
Deadwood, South Dakota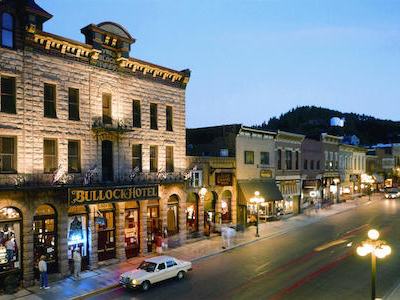 Deadwood. The name itself conjures images of a wild and wooly west, complete with residents straight from dime store novels. Founded on gold, and all things that go along with gold, in 1876, Deadwood today remains a must-stop for visitors traveling to the Black Hills of South Dakota. The entire community is a National Historic Landmark, where not only museums and displays but also live history reenactments and festivals paint a picture as to how it used to be. For the more brave at heart, there are ghost and paranormal tours offered throughout the year. These tours showcase Deadwood's landmark historical properties, such as the Bullock Hotel, Fairmont Hotel & Oyster Bay and the Adams House, and offer a glimpse into yesteryear's way of life.
Seth Bullock, Deadwood frontiersman, still roams the hotel he built (Bullock Hotel, Main Street, Deadwood), and some guests stay in hopes of seeing the sheriff. The Fairmont Hotel & Oyster Bay has been featured on numerous paranormal television shows, including The Dead Files and Ghost Lab.
Visit: http://www.deadwood.com