Looking for Florida road trip attractions that are family-friendly and one of a kind? There are plenty of stops along the western edge of Florida's Gulf Coast where you can pull over for a taste of local kitsch or culture.
But I'm talking more than just quick photo ops here. These are the places where you should spend at least an hour, often longer, to experience something out of the ordinary and guaranteed to make lasting memories. 
Read on for eight of the top attractions to upgrade any trip with kids on Florida's west coast. This road trip itinerary runs from Naples up to Crystal River. 
1. Naples Zoo
You might wonder how a zoo ends up on a list of unique family attractions. Well, this zoo is unlike any other. About two hours from Miami, Naples Zoo at Caribbean Gardens is a tropical garden and zoo rolled into one. Residents range from macaws to mountain bongos, and you can feed a giraffe or watch alligators devour their lunch as a keeper talks about their diet and habits.
But the most unique thing to do at Naples Zoo has to be the Primate Expedition Cruise. This 15-minute cruise aboard a covered catamaran winds between mini islands on Lake Victoria where monkeys, apes and lemurs live cage-free. Your guide explains all about them as they lounge and climb around their island home. Take a look at the video below for a sneak peek.
Traveling with tykes? The zoo's Safari Squad includes a story, animal encounter, craft and themed activities especially for ages 1-4.
Stay longer: If you're staying in Naples and want the comfort of home with the luxury of a resort, I highly recommend GreenLinks Golf Villas at Lely Resort. Everyone gets their own room, you have a full kitchen plus a washer and dryer (a boon for road-trippers), and breakfast on the screened lanai overlooking the lake or golf course is pure bliss. We especially enjoyed the resort pool. They also offer cribs and highchairs on request.
2. Bubble Room
Want to dine in a trolley car or under a miniature train riding around the ceiling? Of course you do! The nostalgic and sometimes wacky decor of the Bubble Room on Captiva Island makes it a must for any visit to the Gulf Coast.
Its signature features include toys from the '30s, signed photographs of film stars, Christmas elves and colored lights galore. The restaurant was recently damaged in a hurricane, but the 1970s landmark still stands. When it reopens, make sure to go for a delicious Carmen Miranda (that's rice and shrimp in a pineapple bowl) or maybe the Pita Fonda (a chicken, avocado, pepper jack wrap). Ending with a mega slice of cake is obligatory. 
3. Der Dutchman
Der Dutchman is much more than a place to eat. It's a destination with shopping, culture, award-winning food and hospitality in the heart of Sarasota's Amish community, Pinecraft. They draw visitors from around the world, and once you try one of their famous homemade pies, you'll understand why. 
When you enter the restaurant, you'll see some people in traditional Mennonite and Amish dress, but all are welcome here, and the vibe is casual, warm and family-friendly. The kid's menu even teaches snippets of Pennsylvania Dutch like "groombadda mush" for mashed potatoes.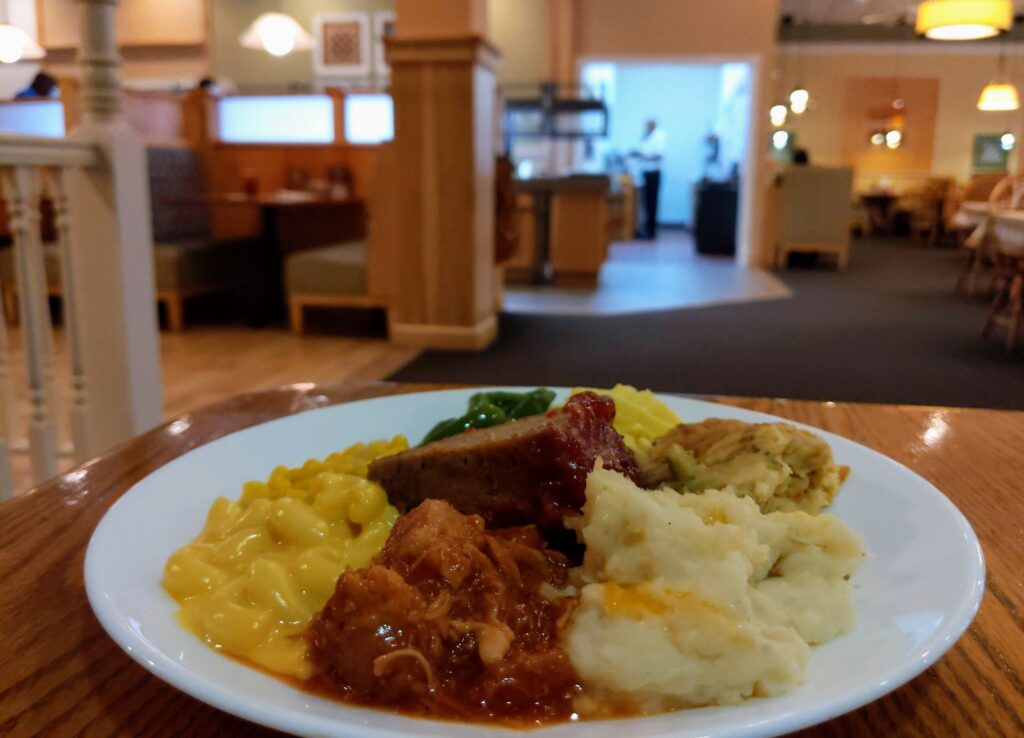 While you can order á la carte, it's hard to beat the buffet. Hearty comfort food like roast beef, potatoes and fresh bread make any day feel like Thanksgiving, and their famous broasted chicken, perfectly seasoned and moist, is a must. The buffet has some amazing desserts, but for one of their legendary pies, you'll need to choose from the dozen-plus flavors on the menu.
If you don't have time for a full meal, visit the bakery for some fudge, pastries or other treats to go. Then head upstairs to the Carlisle Gift Shop. It's a wonderland of crafts, clothes, cookware, linens and more especially suited for gifts and souvenirs. Staying longer in the area? You can enjoy more Amish hospitality at the charming Carlisle Inn nearby. 
4. Zen Glass Studio 
From Sarasota, head to St. Petersburg and its amazing art scene. From music to murals, St. Pete has it all, but most unexpected is the vibrant glass art. There's an astounding number of glass museums and galleries here (including the Chihuly Collection), but if you want to get hands-on, hit up Zen Glass Studio.
This working studio offers glassblowing hotshop workshops, perfect for teens and adults, where you can make your very own ornament, pint glass or paperweight. First, pick your colors. Then listen as your artist instructor explains how to create your piece. You'll swirl the molten glass, coating it with color, and keep it spinning as you melt it in the furnace. We picked the ornament, and it was incredible to blow into the metal pipe and watch the globe expand. You can pick up your custom piece the next day — it needs to cool in a controlled environment overnight.
The instructor covers everything from safety to science, and kids as young as 13 will be fascinated. But adults will also enjoy being a "guest artist" at the studio as you shape the glass into something one of a kind. I guarantee it will be the most unique thing you do in St. Pete, and you get a handmade memento!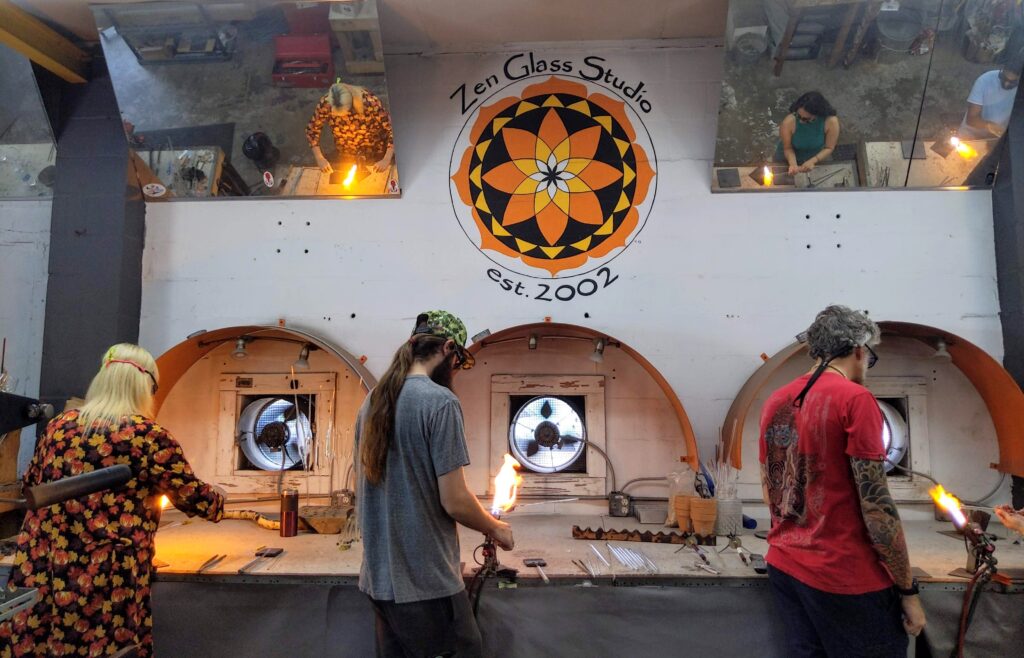 More heat: They also have "Flameshop" workshops, where you can make glass art on a torch, shown above. 
5. Enchant St. Petersburg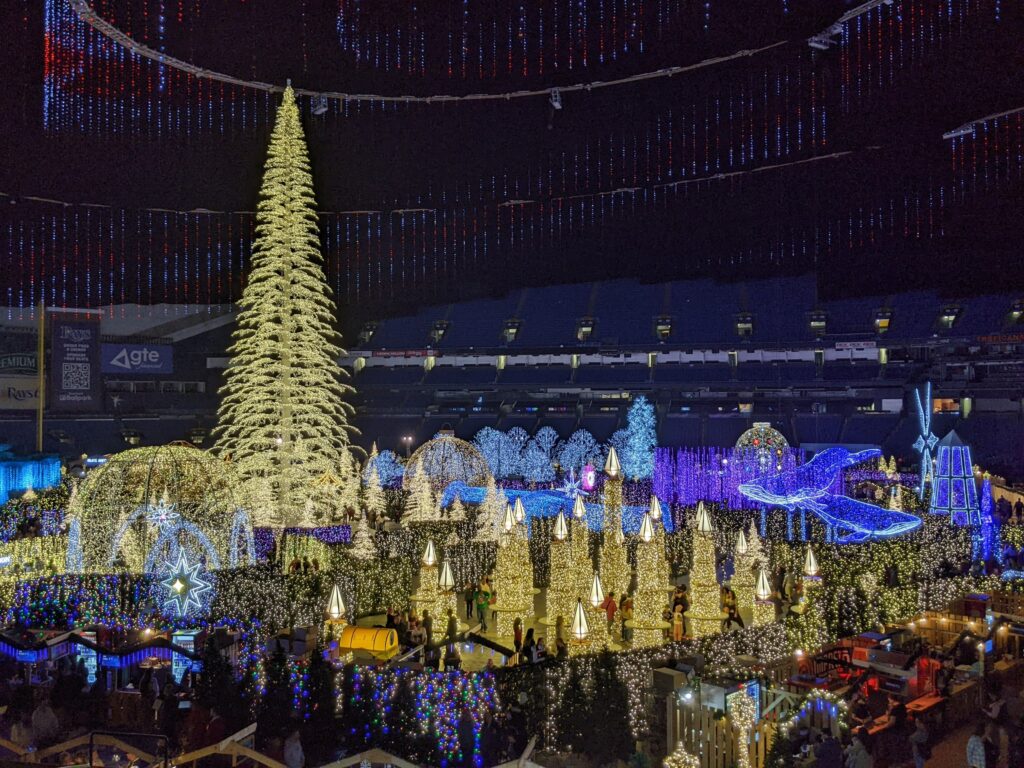 The only attraction on this list that's seasonal, Enchant has quickly become a local Christmas tradition. Unlike other light displays, it's indoors, so it's dim enough to enjoy the sparkles any time of day, and you're not freezing outside — it gets chilly after sundown in winter, even in Florida.
And what a light display! We were blown away by the creativity and quality of the arrangements, from flowers and snowflakes to the 100-foot-tall Christmas tree. There were lights that changed color as you stepped on them (great for kids), lights you can fit between (great for selfie-loving teens) and a light flickering at the bottom of your spiked cocktail (Mom and Dad, this one's for you). It's both merry and bright.
The main draw is the light maze, purportedly the largest in the world. A themed story with clues guides you to the end, although it's not really the kind of maze you get lost in. It's more the kind where you stop every couple minutes to snap another photo.
Around the maze, there's ice skating (an add-on), a holiday village, shopping and snacks, and a stage with entertainment. Little ones can meet Santa and visit Little Elves Play Place for games and stories with Mrs. Claus.
Tip: If you're bringing the family, take advantage of the family four-pack and the kids-free night each Wednesday. They do timed entry, but once you enter, you can stay as long as you like.
Tip: Read this story for more ideas on what to do in St. Petersburg.
6. Weeki Wachee Springs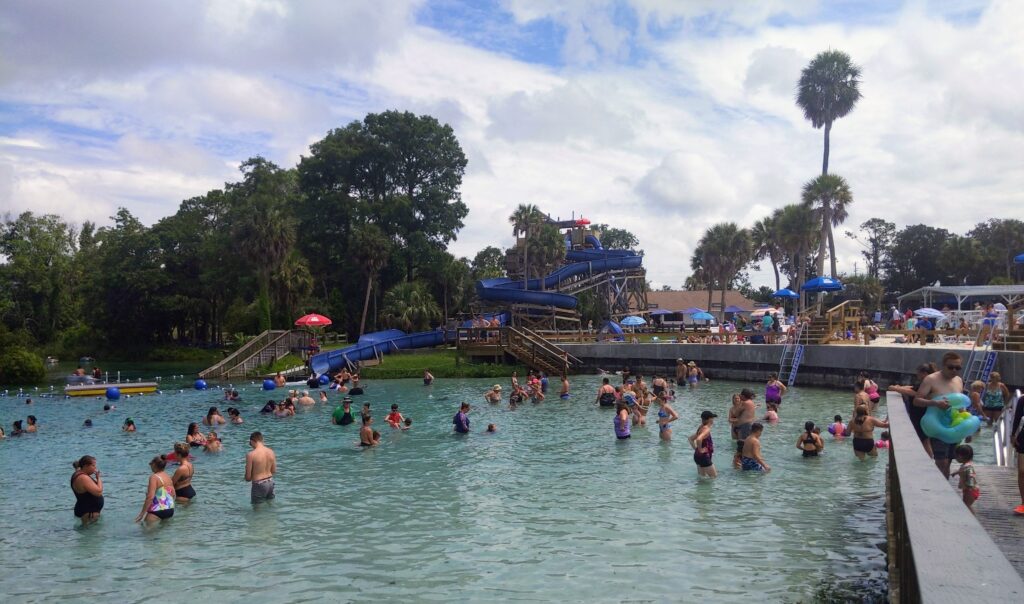 Florida has some beautiful springs, but none are quite like those at Weeki Wachee, shown in the feature photo above. Mermaids first began performing here in 1947, and they still do today, though the site has since become a state park. Arrive early to get a good seat. Seeing the Weeki Wachee mermaids is an absolute must when you're in Florida, and you don't want to miss it. 
After the show, head over to Buccaneer Bay, included with park admission, to enjoy swimming in the springs, floating down the lazy river, and riding the water slides. There's concessions, a sandy beach and even kayak and paddleboard rentals. And kids six and younger have a dedicated wading pool and play area, Lil' Mates Caribbean Cove, just for them. Given how long you can spend and how little it costs in comparison, this is one of the best deals around.
Tip: Get there early. The park closes entry when it reaches capacity, which often happens during the summer. You can text them to find out if they're closed.
7. FLG X Adventure Course & Zip Line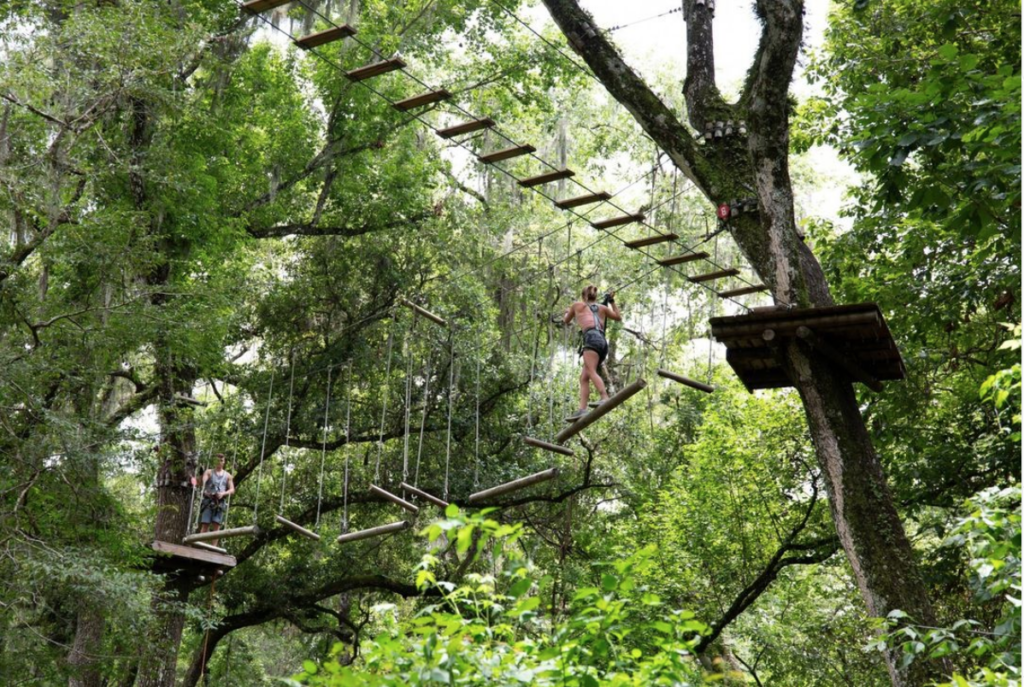 Brooksville is a bit of a detour from U.S. 19 as you drive north along the coast, but it's worth it. Not only is the city charming, especially the downtown, but there are plenty of attractions. The best for families who've been cooped up in a car is the FLG X Adventure Course & Zip Line. 
Climb and swing through the trees, cheering each other. It's a great team-building activity as you overcome challenges together, and the sense of accomplishment at the end of the course is palpable. The obstacles are color-coded for different ages and abilities to make sure junior climbers (ages 9-11) can explore safely. There's even a Little Ninja course so adventurers aged 5-9 can join in the thrills at ground level.
For the ultimate adrenaline rush, finish with a zip line race down two parallel 600-foot lines. It's a rush, and a nice segue for a physics debate as you drive to your next stop: Why do adults always zip faster than kids if objects fall at the same rate regardless of mass? Or may be that's just us. 
8. Three Sisters Springs
If you think seeing mermaids is magical, just wait till you see the OG sea maids. I'm talking about manatees, of course, and Three Sisters Springs is one of the best places in the state to see them.
Go on a cold day from mid-November to late March when the cool temperatures in the Gulf drive hundreds of manatees to the warmer springs. Known for their clear water, you can easily see into the blue pools to admire the manatees as they float, frolic and occasionally surface for air. We even saw baby manatees. 
To get to the springs, take the convenient trolley to the refuge, where you're dropped off right by the boardwalk that leads to multiple viewing platforms.
The springs are part of the Crystal River National Wildlife Refuge, a haven for bird life (over 100 species) and biodiverse wetlands, so there are plenty of hiking opportunities if you want to spend a bit longer. We especially enjoyed talking with the volunteers, who are a fount of manatee knowledge. They'll happily explain manatee habits and habitat to you and your kids, and you'll leave understanding why Floridians love these gentle giants and how important it is to protect them.
About the Author:
Cheryl Rodewig is storyteller, marketer, and award-winning feature writer specializing in travel. Her Venn diagram includes minimalism, waterfalls, French, and the em dash. Find her at cherylrodewig.com or on Twitter at @cherylrodewig.