Isle of Palms, South Carolina is an ocean-front island city a short twenty minute drive from historic downtown Charleston. Our objective at the  1,600 acre family-friendly Wild Dunes Resort – Vacation Rentals, Isle of Palms, South Carolina, United States was to simply relax and unwind. Thankfully, Wild Dunes Resort has successfully mastered the business of all-inclusive island vacations.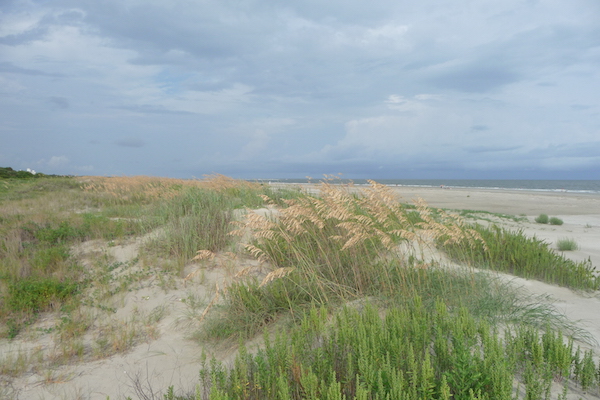 Offering a year-round menu of golf, tennis, spa services, and restaurant options, it's possible to spend your entire visit on the island without lifting a hand or a foot (that is, unless that's what you came there to do). A community in itself, Wild Dunes Resort is comprised of The Boardwalk Inn, The Village at Wild Dunes, and Vacation Homes & Villas.
Geographically located between the beach, the boardwalk, the bike shop, tennis courts, playground, activities center, spa, putting green, exercise facility, aquatic center, market, deli, cafe, and ice cream shop, we wanted to apply for permanent residency. In fact, in our three bedroom, four-star suite in the Village at Wild Dunes came complete with private deck, full kitchen, and stack-able washer/dryer; we felt a bit like we'd moved into the Ethan Allen furniture store showroom.
In the name of journalism, we visited each of the property's four swimming pool – and loved each of them equally. To our surprise, the Atlantic Ocean was a pleasant swim-able temperature.
With our reservation, we received a complimentary one-hour time slot on the tennis courts. Armed with gear straight out of the pro shop, my older son and I hit the clay. A few calories left to burn, we spent an hour on the island bike trails with enough gear to outfit an army. Forming a circumstance around the award-winning golf courses, we spotted pelicans, deer, and even the occasional pair of plaid shorts.
When you have had your fill of swimming, tennis, and golfing, visit the resort's Island Adventures office. Ranked among the best family vacation recreation programs in the country, Island Adventures is a one-stop shop for adventure, excursions, and education. With categories ranging from nature excursions to arts and culture, visit the Island Adventures office at The Village at Wild Dunes to plan activities for your entire family or just the kids.
Conveniently shuttled away for a "three hour tour" on the Barrier Island Eco Tours, one of our mornings blissfully faded into a perfect vacation memory. Between dolphin sightings, shell collecting, touching crabs, and a visit to the "shark hole," this customizable, educational adventure through the inter-coastal waterways is a joy for kids of all ages (and especially mom and dad).
Eventually we grew hungry. Famished, really. Named after the state seashell of South Carolina, The Lettered Olive restaurant received two-thumbs up from everyone in our family. Here's why: (1) holy city gumbo, (2) country grits, (3) shrimp hush puppies with pepper jam. You just don't find these things things on the menu where we live. For $8, dinner selection on the children's menu includes Stoplight Chicken (brown rice with vegetable medley), Slammin' Sliders (beef, chicken, and salmon sliders), Mahi Mahi (with James mop sauce and fresh collards), and Roast Porkloin (served with buttermilk whipped potatoes and farm-to-fork fresh vegetables). From the fresh-squeezed orange juice with our breakfast buffet to the free sea shell with every meal, dining at The Lettered Olive was an elegant compliment to our resort experience.