About this time every winter we get a bad case of cabin fever and thank our lucky stars some of our northern relatives defected to the land of sweet tea and fried okra. With nieces and nephews off for the week-long Mardi Gras celebrations we spent a long weekend near the Gulf Coast doing what the locals do: Laissez Les Bon Temps Rouler (Let the Good Times Roll)
Mobile, Alabama
With seven kids under the age of twelve, we set out to enjoy a family-friendly Mardi Gras starting with a Saturday afternoon parade in Mobile, Alabama, home of the original Mardi Gras celebration (for a great explanation of the history Mardi Gras, read this post at Travel 50 States With Kids). Winding through the historic downtown, the Mobile Mardi Gras parade is a bit like high school homecoming. With bands and dance troops, political candidates, and floats occupied by more kids than adults, families can buy regional grub from food trailers (or $2 cotton candy from the vendors pushing grocery carts up and down the streets).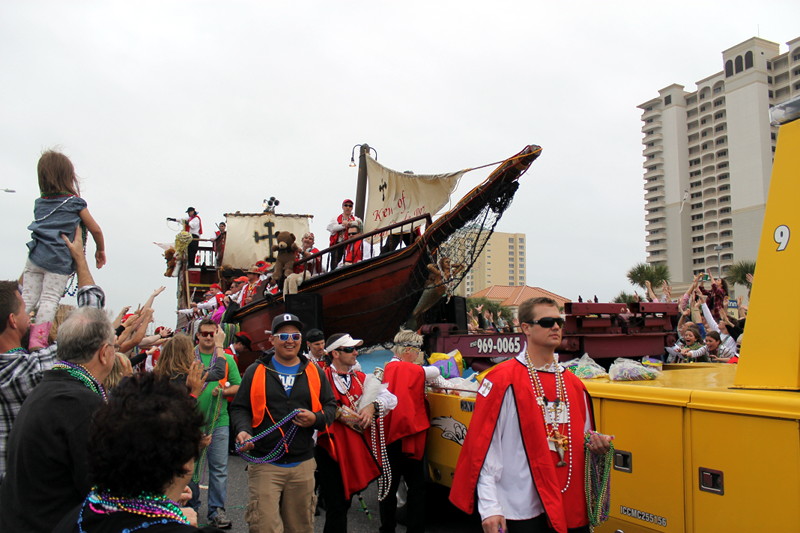 Finding a parking spot with relative ease, we pointed out historic buildings to the kids, including Fort Conde and warehouse buildings  where slaves arrived from Africa and were auctioned to plantation owners. Make sure and look for the historical markers and also the 600 pound electric MoonPie above the corners of St. Francis and St. Joseph Streets (the MoonPie drop is part of the MoonPie Over Mobile New Year's Eve celebration).
Pensacola Beach, Florida
Leaving the parade with what most Mardi Gras fanatics would consider a sad colleciton beads, MoonPies, coins, and toys, we ventured out to Pensacola Beach, Florida for the following afternoon (Sunday). More of a "spring break" crowd, what the Mobile parade lacked in swag, the Pensacola Beach made up for in overall flair. With parade-goers decked out in beads, outfits, and themed collectables (parents, read between the lines here), the beach party had started long before our late arrival. Finding parking was a bit of a stressor, but we had thankfully packed a stroller and a wagon for hauling kids and to-and-from our parade watching spot.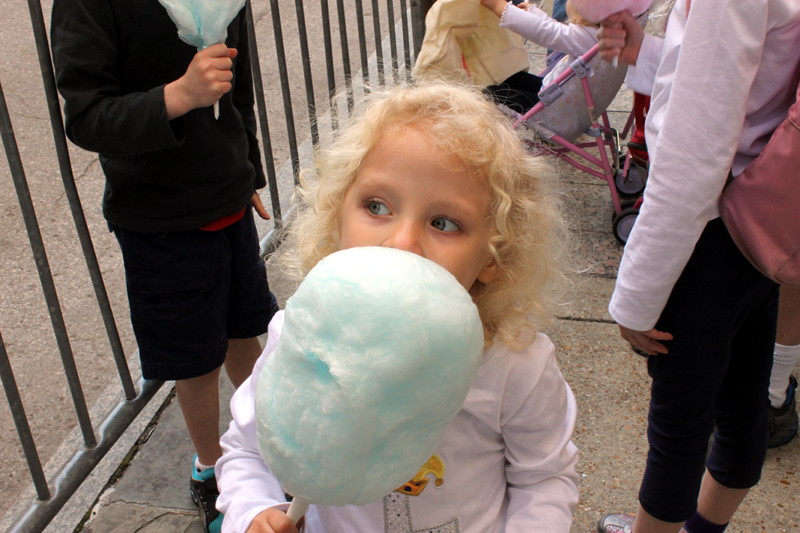 One tip for parents with younger kids, is to plan outhouse breaks with plenty of time for bathroom emergencies (there are NOT a lot of good places to change a diaper along the strip). Make sure and bring snacks and water (and sunscreen/hats), as you can easily wait up to two hours for the parade to begin. Most floats were playing loud music and throwing items far out into the crowd (some people stood back away from the metal gates for a better vantage point) and police officers on motorcycles were drag racing up and down the strip with sirens full blast. Quite literally loaded to the gills with beads and stuffed with MoonPies of varying flavors, one trick for receiving lots of stuffed animals and "good" beads is to bring an adorable niece with curly blonde hair.