For nature fans, it's the fetching foliage, gorgeous gardens, and formidable wildlife. For sun worshipers, it's miles of worth-the-trip-to-take-a-dip sandy beaches.  For golf enthusiasts, it's an astounding 86 fairway-filled, tee-rific golf courses. And for entertainment, there's lively live music shows, salty sea sports, and dazzling daredevil amusement rides.
To those below the Mason-Dixon Line, it's no mystery where to find all of these attractions and discovering, as my youngest calls it, "a little bittle everything."
At this point, I'd normally be tempted to hum a variation of "Nothing could be finer than to be in [South] Carolina," but I think you know where this is going without that massive hint.
In years past, I'd driven through this state on my way to other ports of call, but to my demerit, I'd not focused adequate attention on all South Carolina had to offer. My oversight was especially delinquent in overlooking Myrtle Beach, the coastal town that's a prime destination for summer travel and winter holidays.
Wait, summer travel? Isn't much of the deep South hot and sticky from June through August? Sure, but the seaboard regions of SC maintain a pleasantly balmy subtropical climate year-round.
South Carolina's Grand Strand
That's why roughly 20 million visitors annually make their way to South Carolina's Grand Strand, a 60-mile interlocking series of sand-covered beaches and seaside resorts on the Atlantic coast.
In addition, there's a large community of snowbird types who shelter here in winter, but then offer their homes and condos as short term rentals or Air BnB's during peak seasons. Thanks to low taxes and humble HOA fees, purchase prices and rents in this state are far below what you'll encounter in most other parts of the country.
Golf and Mini-Golf
A lot of that real estate overlooks scores of golf courses that are distributed across the county, providing convenient access for players and spectacular green-link views for residents. True, some of these fairway ponds may harbor the occasional alligator, [injecting new meaning into the term "water hazard"], but those swamp critters generally shy away from adult humans. [Do keep an eye on small kids and pets.]
If mini-golf is more your family's speed, Myrtle Beach is the reigning capital of that popular sub-sport. Positioned on nearly every block adjoining the beaches and shopping districts, ginormous putt-putt palladiums tower heavenward, populated by full-sized fiberglass dinosaurs, dragons, UFOs and pirate ships. Subtlety is not the first word that comes to mind. Mini-golfing here is a maxi-industry.
Brookgreen Gardens
More subtle, sophisticated, and rustic, Brookgreen Gardens, located just south of Murrells Inlet on U.S. 17, combines beautiful botany and about 1,500 works of awesome American figurative sculptures — and it's said to be the most significant collection in the U.S. It covers over 9,000 acres of themed gardens, with a live oak alley, and a "lowcountry" zoo.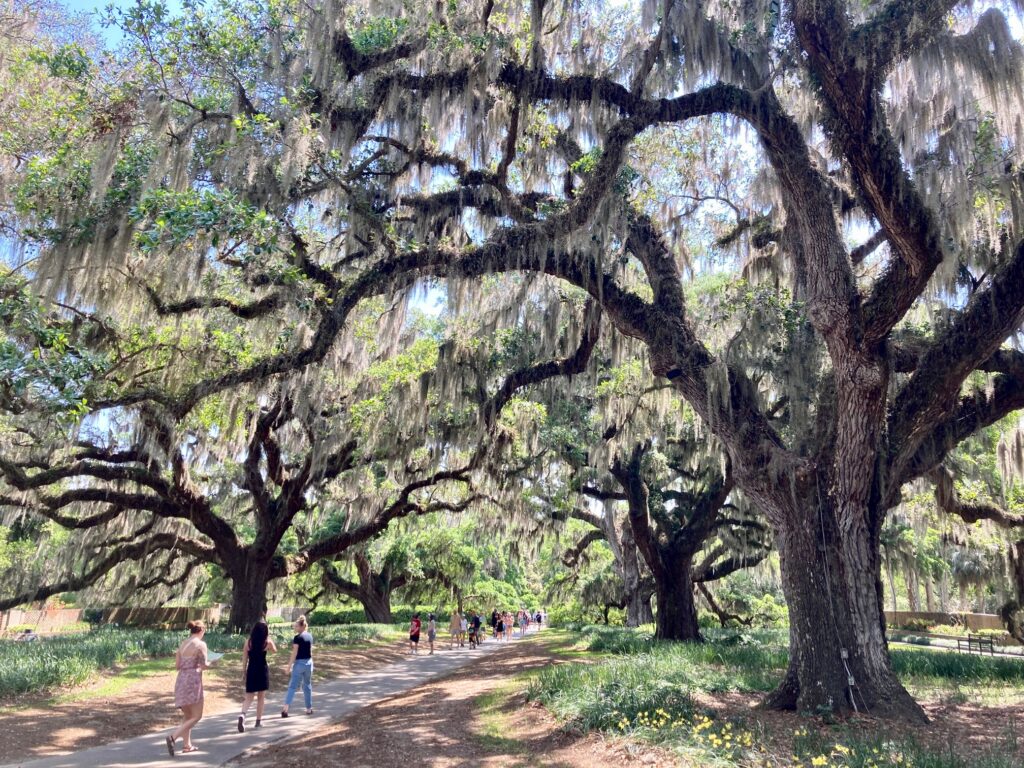 At the heart of Myrtle Beach's coastal attractions is a section of boardwalk that runs between the sandy seagrass and an animated assortment of cafes, arcade games, souvenir shops, hotels, and thrill rides.
SkyWheel Myrtle Beach
This is the zone sometimes referred to lightheartedly as the Redneck Riviera, and there's no denying it radiates a spirit of bubbly fun. You'll know you're close when you spot the majestic Myrtle Beach SkyWheel — one of the tallest solidly-planted ferris wheels on the east coast. The ride provides exuberant overviews of the breezy surroundings.
The Carolina Opry
Come evening, "The Carolina Opry" at the Calvin Gilmore Theater provides as impressive a live variety music show as you're likely to find this side of Nashville. As expected, a solid line-up of country-western and bluegrass hits were the heart of the show, but there were sensational rock numbers and adrenalized dancing as well.
All of the above make Myrtle Beach a premier year-round destination, though be mindful that June through August is peak season, necessitating early booking.
About the Author/Photographer:
Quincy, Massachusetts-based Joseph Lieberman has spent the past 20 plus years visiting 58 countries on 6 continents.
Contact him at: [email protected]