Joining with a handful of states allowing free access to their entire State Park system, residents of and visitors to Ohio are encouraged to hike, bike, boat, camp, and play their way across a sizable chunk of the Midwest. Over seventy parks in entirety, nine have state-owned lodges—eight of which are managed by a private Denver based resort-management company by the name of Xantera. The ninth–the Lodge at Geneva on the Lake–is managed by by Delaware North (based out of  Buffalo, New York of all places). Here are five we have visited:
Northwest Ohio:  Maumee Bay State Park Lodge
Backing up against the majestic shores of Lake Erie, Maumee Bay State Park Lodge is a hop and a skip to Toledo and a hop, skip and a jump to Sandusky (see photo above). With indoor and outdoor pools, a splash pad, arcade, hiking paths, toddler-friendly play area, geocaching, and impressive list of additional indoor and outdoor sports (from golf to mountain biking, racquetball to paddle boats), it's no surprise to the staff at Maumee Bay when kids don't want to leave and find an amusement park.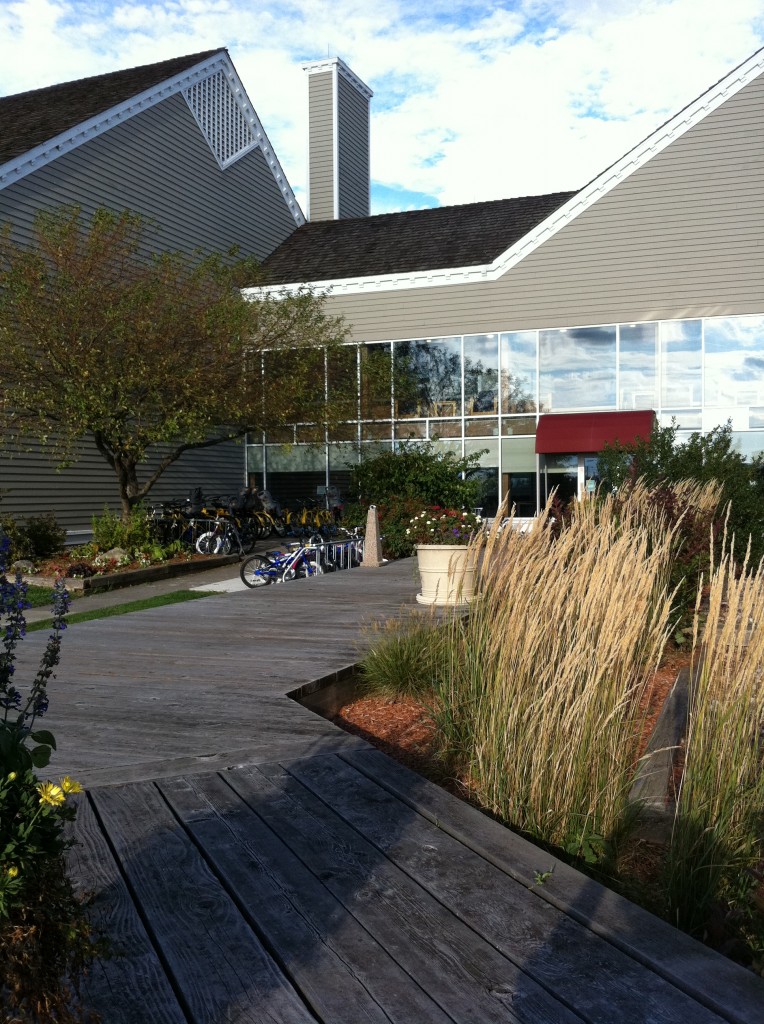 Catering to four-season getaways, reunions, corporate gatherings, and especially to family vacations, Maumee Bay offers lodging in guest rooms (some are two-story lofts with bunk beds) and cottages (some with hot tubs, but all with kitchens, decks, and laundry rooms). A central point of activity is the main lodge where families can borrow board games, check the hourly event calendar, rent bicycles, or even take one of the park wagons out with kids in tow. Make sure to stop at the nature center, see the live mammals, reptiles, and educational exhibits ( be sure to look for butterflies emerging from their cocoons in the outdoor butterfly garden).
Central Ohio: Mohican State Park Lodge
In one of the most wooded of Ohio's State Parks, Mohican State Park Lodge is built atop Clear Fork Gorge and overlooking the majestic Mohican River in the glacial valley below. In general, a hilly place to bike, hike, or otherwise enjoy nature, Mohican State Park didn't forget about families.
Accommodation options span the lodge, four-season cabins, and camping (ranging from full-hook up to without electricity). With nearby outfitters for canoeing, canopy zip line tours, and four-season educational centers for learning about sustainable farming, you may have to tear your group away from the indoor/outdoor pools, shuffleboard board court, geocaching, outdoor playgrounds, tennis, or one of the  birds of prey demonstrations by a naturalist from the Ohio Bird Sanctuary. Or you could just congregate around the indoor fire pit with a deck of cards, good book, or fish tale earned earlier in the day.
Central Ohio: Salt Fork State Park Lodge
Located in Ohio's largest State Park, at Salt Fork State Park Lodge you'll find each of the four floors to be on ground level. Skilfully designed with minimal impact to the picturesque location, both wings of the lodge have lake views of the Salt Fork Reservoir. A paradise for boaters, fishermen, and hikers along the 17 miles of waterfront, Salt Fork State Park has camping, golfing, and nearby horseback riding for those of us who like to stay on terra firma.
In addition to the resort-like indoor and outdoor pool areas, impressive arcade and activity center (projects range from $2-$8 and can double as vacation souvenirs) , the lodge has a paintball course, geocaching, outdoor playgrounds, and indoor and outdoor fire pits. Cabins, pergolas, and camping are alternate lodging choices at Salt Fork State Park (campers are welcome to swim at the pool and dine at the full-service restaurant). A lovely location for a work outing or, say, an Ohio Bigfoot Conference, the lodge offers special rates and programs throughout the year. With complimentary use of the lodge laundry facilities, this alone would make our family annual guests.
Northeast Ohio: Punderson Manor State Park Lodge
Often thought of as Ohio's boutique State Park lodge, Punderson Manor State Park Lodge feels a bit like taking a vacation in the English countryside. Equally picturesque in "true "Amish Country, Northeast Ohio has a gem of a wedding, reunion, or family vacation spot in their own back yard.
As with the other State Park lodges, Punderson Manor features indoor and outdoor pool areas, daily activities, playgrounds, hiking trails and tennis courts. Lodging choices range between the old and new editions of the Tudor-style manor and, the nearby family cabins. Open year-round, the "fast and steep" sledding hill (pictured without snow to the left) is a popular spot for toboggans and hot cocoa in the nearby warming house. Snowmobilers, cross-country skiers, and ice fishers are also welcome to explore the grounds.