Be honest now. Back in the day (before the mini additions to the family) you rated the best places to watch any game, no matter how big, by how sexy the servers were, how cold and cheap the beer was, and obviously, how plentiful the TVs were. Now you worry whether your kids are even invited, and dream of a place with cold beer, TVs, sexy servers and a gigantic game room or daycare. For this year's Big Game, we rounded up the best establishments for the whole family. If your road trip doesn't take a pit stop near one of stops on the list, there's always next year!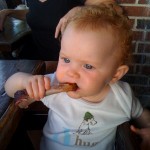 Fiery Ron's Home Team BBQ
Charleston, South Carolina
A local favorite for BBQ, including a fun BBQ Taco with homemade salsa, Home Team is famous for their Mac and Cheese, Creamy Grits, Brunswick Stew, Collards, and of course, lots and lots of BBQ. With plenty of TVs to cheer on your favorite team and an upscale yet homey southern atmosphere, CIA trained Chef Aaron Siegel brings a top chef approach to old-fashioned BBQ. Locations on Ashley River Road and Sullivan's Island. Look for half-price wings during the Big Game and lots of drink specials.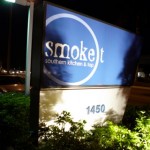 Smoke't Southern Kitchen & Tap
Coral Gables, Florida (South Miami)
Just opened in January by a team of very successful Miami restaurateurs, Smoke't has a hip vibe, 12 beers on tap, 87 beers by the bottle and good eats. Locals report a packed house many nights and biscuits with maple butter are rumored to be high on the list of favorites. Kid favorites will be the Onion Rings Nacho Style or house-made Mac and Cheese (if you have a family of spicy eaters, get the version with jalapenos). Parents will like the Fried Green Tomatoes, Chicken and Waffles and the BBQ.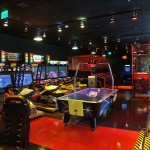 ESPN Zone
Washington DC, New York, Las Vegas, Chicago, Baltimore, Los Angeles and Anaheim locations
ESPN Zone is the quintessential sports-lover's dream. Everything about the locations is designed for couch potato Olympics. But they are also very family friendly. Each location features over 10,000 square feet of interactive games and attractions alone. (The Times Square location is a total 42,000 square feet of unparalleled sports viewing.) And, unlike your mother-in-law's house, there is an emphasis on good food and friendly service. Don't tell your kids before you go, but they even have TVs in the bathrooms!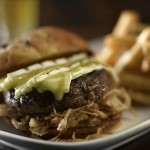 Rockit Bar & Grill
Chicago, Illinois (River North and Wrigleyville locations)
Wildly successful for the past five years in its River North location, Chicago welcomes a new Rockit Bar&Grill to the heart of Wrigleyville. The cuisine is best described as contemporary American grill fare with a sophisticated edge. The ambiance compliments the food; even the 50 inch plasma TV screens have been encased in unique antique frames! Watch the Big Game while nibbling on rocket pockets or jumbo chicken wings. Everyone's a winner at Wrigleyville, where soup is always 50% off on Tuesdays! Kids are always welcome, especially on these designed-for-family nights: Tuesday All Skate (50% off winter warm-up drinks to Wrigleyville ice skaters of all ages) and Wednesday Cook It! (venture into the kitchen and watch the chefs make your favorite Rockit meal).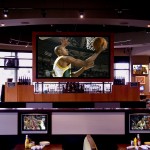 SPORT Restaurant and Bar
Seattle, Washington
With over 40 Flat Screen HDTV's throughout the restaurant and bar, including your own personal booth TV, there's no excuse to miss a single play! Or, let the kids watch their own show while the entire family enjoys their very-own made-from-scratch  meal. Drink a trademark Super Sonic Tonica or compliment a giant chocolate chip cookie with a Dryer's Grand Ice Cream milk shake! Don't forget to take your SPORT, Sports Memorabilia cards with you…they could just be collector's items some day soon.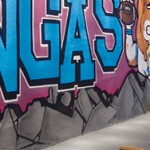 Bingas Stadium Portland Maine
Portland, Maine
If your family road trip took you to Maine in the dead of winter, you're probably stranded. In which case, you really need to find a place like Bingas Stadium and move in for a couple of days. Bingas Stadium has an assortment of experiences all under one roof. Their private Mile High room (remember, this is all family-friendly!) has a VIP experience with first class airline chairs and hi-def plasmas. The Right Field Bar has big booths and tables, perfect for families. Reserve the Superbooth (seats up to 20) that comes with four TVs directly above you. Food is BBQ-themed with wings that locals rave about.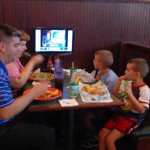 The Greene Turtle
Locations in Deleware, Maryland, Virginia and Washington DC
With a flat-screen TV in every booth and dozens of TVs throughout the rest of the restaurant and bar, there's not a bad seat in the house. This is the place you go to watch the game if you want great viewing. The family friendly environment is an added bonus. Get together with a couple of other families and the kids can watch whatever they want in their own booth while you cheer on your team beside them. The kid's menu is full of all the old favorites and parents have dozens of options.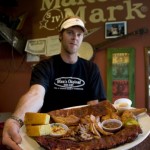 Moe's Original Bar-B-Que
Locations in Alabama and Colorado
What happens when three college buddies from Alabama decide to go into business together? Killer BBQ and a growing chain of restaurants that serve up prize-winning southern soul food. The premise is simple. Awesome food, party atmosphere and the odd actual party. No doubt if you live near a Moe's now you can vouch for the popularity of the joint nearest you, and we're here to tell you it's worth a little detour if your next road trip takes you by a Moe's. Come early if you want a seat for the big game and have a great time with the whole family.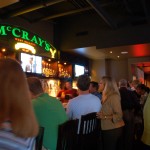 McCray's Tavern
Smyrna and Lawrenceville, Georgia
With a combination of your typical "pub grub" and specialty dinner options like bacon-wrapped pork tenderloin (chef's favorite) and pan-seared scallops, you don't have to sacrifice adult food just to get a kid's menu and a plethora of TVs. Weekends also typically have a brunch menu, which is a local favorite. Along with more than 40 beers on tap, McCray's also has a great selection of Scotch, if you like to celebrate with a little single malt. Kids will enjoy all the usual options and locals highly recommend the Gorgonzola Potato Chips.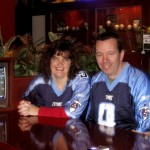 T.C. Gators
Canton, Michigan
Our call for favorite kid-friendly eats inspired reader Janet Morris Grimes to send us her family's favorite place to watch their favorite Nashville teams. The catch? They're watching the Titans in Michigan. After moving to Michigan, the Grimes family has been hanging out at T.C. Gators in their own booth, with their own TV. Janet says the booths are private enough to enjoy your own channel (perfect if your road trip has you far away from the home team) and the atmosphere is fun and festive — and family-friendly.