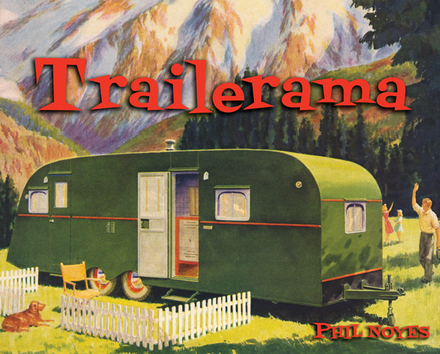 Road trips and vintage travel trailers go hand in hand.  Wandering the world exploring the roads far off the beaten bath is a purposeful journey back in time to when travel wasn't about one freeway exit to the next. Families of that era enjoyed their travel trailers for generations and when you step inside one of these gems, you can't help but wonder what adventures previous families enjoyed together. Our family has a small obsession with vintage trailers and we frequently take ours on our road trips, which is why we were so excited to interview Phil Noyes, author of Trailerama, a coffee table book celebrating all that is vintage trailer. Trailerama is a celebration of what travel trailers have meant to road tripping families, and inspiration for finding your first vintage trailer to enjoy a whole new generation of road trips.
How did you get started on the vintage trailer obsession? We can call it that, right? An obsession?
Sickness, addiction, love affair or obsession, they all work. My wife refers to my '47 Westwood as the "The Mistress".
I fell in love with trailers after a visit to the amazing collection of RV Historian, David Woodworth. He opened my eyes to the golden age of travel travels and showed me a 1936 Newsreel that stated "there are a quarter million trailerites traveling the roads of America" I came home knowing that I needed to share this little known part of our nations pop culture.
You say your backyard could pass as a trailer park, what do you have out there?

We have a 1948 Aljoa Sportsman that does double duty as my office and a guest house.
Our camping trailer is a 1947 Westwood that also serves as a crash pad for weary travelers and there tends to be an additional trailer sitting forlornly in the corner waiting for some love to bring it back to it's former glory.
Do you restore the trailers yourself as well as collect them?
I do as much of the restoration work that I can and then I rely on a bunch of really talented friends to pitch when I'm in over my head. Without the support of our crazy little subculture, nothing would ever get done, as you can't just head to Home Depot and pick up a window for a 1953 Vagabond.
What are your favorite resources for vintage trailer nuts?
www.vintagetrailersupply.com
www.fletcherstrailersales.com
www.vintagecampers.com
www.ebay.com
www.craigslist.com
www.Funkyjunkfarms.com
www.vintage-vacations.com
www.tincantourists.com
Also, all the great vintage trailer pages on Facebook.
What was your inspiration behind Trailerama?
After my first book was published in 2002, I kept collecting and by the time a decade passed, it seemed like a good time to take another stab at it. I called my publisher Gibbs Smith and much to my surprise they agreed and I got to work. So many of my friend's collections had grown as well and I reached out to them and got some wonderful material.
What rallies do you regularly attend that you would recommend to families?
There are so many great rallies every year, it would be tough to pick, but my absolute favorite is the "Trail Along to Pismo" held every spring in Pismo Beach, CA.
And the Tin Can Tourists hold lots of rallies all over the country and are a great group:
What's your favorite road trip?
Los Angeles to Lake Tahoe up the 395!
Be honest, how much time a week do you spend on the tin can crazy boards?
Out of respect to my wife and fear of my boss, I refuse to answer this question.
What's the craziest thing you've ever done to get a new trailer?
I found a 1947 Trailette in the high dessert area of Joshua Tree and the little old lady who owned it said I could have it, if I could get it out. So I went home, got some tools, headed back and began a two day 110 degree excavation. The trailer had literally spent the last three decades sinking into the dessert sand. Funny thing is, the trailer was so filled with mouse poop and birds nests, I ended up giving it to a friend. I have many similar stories!
What's your favorite chapter/spread in Trailerama?
I love the Hollywood section. The pics of James Dean, Rock Hudson and Liz Taylor in their Airfloat trailer on the set of Giant are spectacular. I also love the Long Long Trailer spread, as I am a huge Lucy and Desi fan and that movie is the holy grail of "trailer" flicks.
Did you take road trips as a kid? Any particularly memorable ones?
Lots! My mom had this ratty old station wagon and she would pile me and my two brothers and our crazy dog Digger into the back on a pile of suitcases and drive us from Virginia to Maine every summer. I loved those trips. Falling asleep curled up like puppies and waking up in a different state always seemed like magic to me. To this day, I love to drive! My wife thinks I should be a long haul trucker.
How do you collect all your memorabilia?
Ebay, craigslist, garage sales, flea markets, antique stores mixed with a little dumpster diving and roadside finds.
Is there anything that you'd love to have in your collection that you've never been able to find?
I would love to have a really cool original metal sign from a trailer park. Maybe even something with some neon!
Why are road trips important for families?
Road trips have always been a time for families to unwind together. Especially now, if you can leave the DVD player/game boy/iPad/anything that has batteries at home, you are forced to talk, to sing, to tell stories. It's one of the few times a family has little to no distractions and in our hustle bustle world that is a precious commodity. I'll bet when you ask most people what their fondest memories are of growing up, most will involve a road trip.
Are you're a technology advocate for traveling or are you old-school with paper maps – and why?
I think you have to find a balance. I'd be lying if I said I didn't love my iPhone and google maps, but you have to mix in a little old school or we will all be in danger of losing the ability to find our way home without a "device". Also, maps are just so cool!
What's your favorite trailer you've ever owned?

That's like asking which of your kids is your favorite! But, if you put my feet in the fire, I'd have to say my 1950 Westcraft Coronado Trolley Roof. The restoration almost killed me and my wife almost left me, but it was a real beauty when all was said and done.