Zip-A-Dee-Doo-Dah, Zip-A-Dee-A, my oh my, what a wonderful day!
Wildly popular and fantastically fun, canopy zip line tours are "in" this travel season. Mixing endorphins with fresh air, zip line tours combine the benefits of a day hike with the thrill of the amusement park. Geared towards your older kids, tweens, and even teens, canopy zip line outfitters are popping up all over the country. For the ultimate thrill seeker to the adventurous nature lover, many tours are available year-round and showcase different parts of the country from a whole new point of view. Just the tip of the ice berg, this post showcases some of our favorite tours. Leave a comment if we missed your favorite outfitter and we'll add them to the list.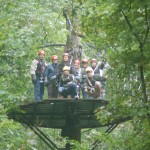 Ohio: Tree Frog Canopy Tours
The longest, highest, and fastest tour in the state of Ohio, Tree Frog Canopy Tours offers over 4000 feet on their zip line course. Skillfully designed in the deciduous woods of Northern Ohio, the 2.5 to 3 hour tour takes patrons on seven ziplines, two canopy bridges, and down two guided repels. A breathtaking way to put yourselves among the "fireworks" of fall, Tree Frog also offers night adventures (patrons don glow sticks and use solar-powered lights to navigate the course). Because of the length and speed of several zip lines on the course, participants muse weigh between 90 and 250 pounds and be at least 10 years old.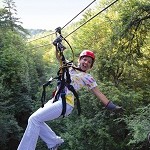 West Virginia: Adventures on the Gorge
With TreeTops Canopy Tours, the longest canopy tour in West Virginia, Adventures on the Gorge uses a combination of ziplines, cable bridges, and stationary platforms put together using natural surroundings. Gravity takes adventurers 200 feet above the ground at its highest point and at speeds of up to 45 miles per hour. A second option, TreeTops, takes riders literally through the treetop canopy (using a combination of ziplines, sky bridges, a short hike, and a rappel). The newest addition at Adventures on the Gorge(on the Gravity line) is a single 3,100 foot long zipline that they've dubbed "Adrena-Line" (featuring sweeping views of the surrounding Appalachian Mountains). Restrictions are: Gravity (age: over 12 years old, weight: 100-250 lbs) TreeTops (age: over 10 years old, weight: 90-260 lbs).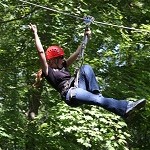 Kentucky: Mammoth Cave Adventures

The home of Kentucky's first canopy zipline tours, Mammoth Cave Adventures offers a five line canopy zip tour, featuring two sky bridges and an outdoor adventure for the whole family. With lines varying in length, speed, and height, the primary canopy zip tour takes you from deck to deck in the treetops on a course guided by a minimum of two certified guides. Mammoth Cave Adventures also offers a secondary zipline tour aimed at individuals that weigh less than 100 lbs but above 40 pounds.  This zipline adventure is similar to the primary zipline in all aspects of height and length and adventure, but differs in engineering design to accommodate those under the 100 pounds required for the primary course.  These two courses will converge so that groups that include children and adults can still zip together at a point.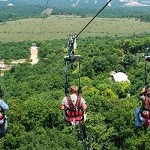 Missouri: Vigilante Extreme Zip Rider at The Shepherd of the Hills

At the highest point in Missouri, Vigilante Extreme ZipRider at The Shepherd of the Hills in Branson  is an exciting way to experience the Ozark mountains. At 170 feet high, 1/2 mile long, and traveling at speeds of 50mph, the ride is designed to be both thrilling and easy. Using an automatic breaking system, participants ride a glass elevator to the top deck of the platform tower and cruise to the landing platform below. Riders must be at least 7 years old and weigh between 75 and 275 pounds.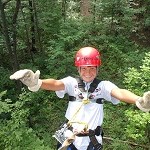 Wisconsin: Zipline Adventure Park
Opened on March 4 of this year, Lake Geneva Canopy Tours in Lake Geneva, Wisconsin holds bragging rights to the longest Canopy Sky Bridge in the "lower 48". At 240 feet long, the Canopy SkyBridge is part of the Canopy Tour, a "tre-mendous" combination of eight ziplines, five sky bridges, and a floating double helix stairway. Lake Geneva Canopy Tours also offers a 30-45 minute Racing Ziplines experience, with over 1,100 feet of "adrenaline pumping excitement" (ending with a breathtaking ride on the longest zipline on the course). Riders must be at least 7 years old and weigh between 70 and 275 pounds.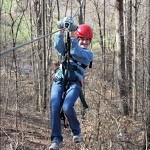 Georgia: North Georgia Canopy Tours
With over a mile of cable, twelve ziplines, two zips over the North Oconee River, zips over the Old Mill and Catfish Ponds, two sky bridges, three nature hikes, a 25-foot rappel and the final dual racing zip over the Hilltop Pond, North Georgia Canopy Tours recommends at least three hours for this experience worth checking out. Riders must be at least 10 years old and at least 70 pounds (children must be accompanied by an adult and able to participate independently on the line).