We took a trip to Portland, Oregon's Hopscotch interactive art museum. We had heard great things about this unique space where art comes to life through immersive experiences and hands-on installations. We were not disappointed! You may have heard that interactive art exhibits are becoming increasingly popular ways for families to engage with art. Now there are spaces like Meow Wolf, which has locations in Santa Fe, Denver, and Las Vegas (We went to the Las Vegas location and loved it!), and now Hopscotch, which has locations in Portland and San Antonio. If you're in Portland, or visiting and want an afternoon activity or a break on your road trip, I recommend you visit Hopscotch, which I think would be a highlight of your vacation. If you're driving through Portland and want someplace to get out of the Northwest rain where your family can eat, play, and be active for a while, it would be the perfect thing to do.
After parking nearby, we made our way to the front entrance. The experience starts right away, with a lobby where you can order munchies like popcorn (we got the pizza popcorn and yum!), beers, NA beverages, and even interactive cocktails that change color.
Once inside, you're not walking through normal hallways like in a typical art museum . . . being inside the place is part of the fun.
As soon as you walk in there is a large gallery space for rotating large-scale murals, like the kind you would see outside on the sides of buildings, and you get to see them up close.
We were immediately drawn towards the what we felt to be the centerpiece of the museum — the massive light pixel trampoline. This trampoline has sensors that trigger vibrant LED lights with each jump. The kids squealed in delight as they bounced and could see themselves controlling the display, mixing colors and chasing each other across the canvas. We parents even joined in for some jumping fun! But be sure to bring your socks for this part of the exhibit — there is an attendant and you won't be able to go onto the trampoline without socks. Unlike other trampoline spaces, this exhibit doesn't have socks available to purchase.
Just beyond the trampoline was what we called Infinity Light Cube but the artist calls Unknown Atmosphere. It's an endless tunnel of mirrors and lights. We all took turns crawling inside, watching the lights dazzle and multiply as we twisted and turned. Another favorite was the rooms which are saturated with a specific hue of color. We went back in to the rooms a couple of times to observe how the perception of our vision changed with the different colors were were submerged in.
The Rainbow Cave is an eye-opening exhibit constructed entirely from plastic shopping bags as an imposing demonstration of society's plastic waste. the cave is created of 86,000 plastic bags, which represents the amount of bags used in the United States every 27 seconds and globally every 5 seconds. The kids were amazed by the sheer scale while as adults we contemplated the environmental impact it represented. It was impressive in scale but also quite sad to see the immense amount of plastic waste piled up. It really hit home the need to reduce and recycle.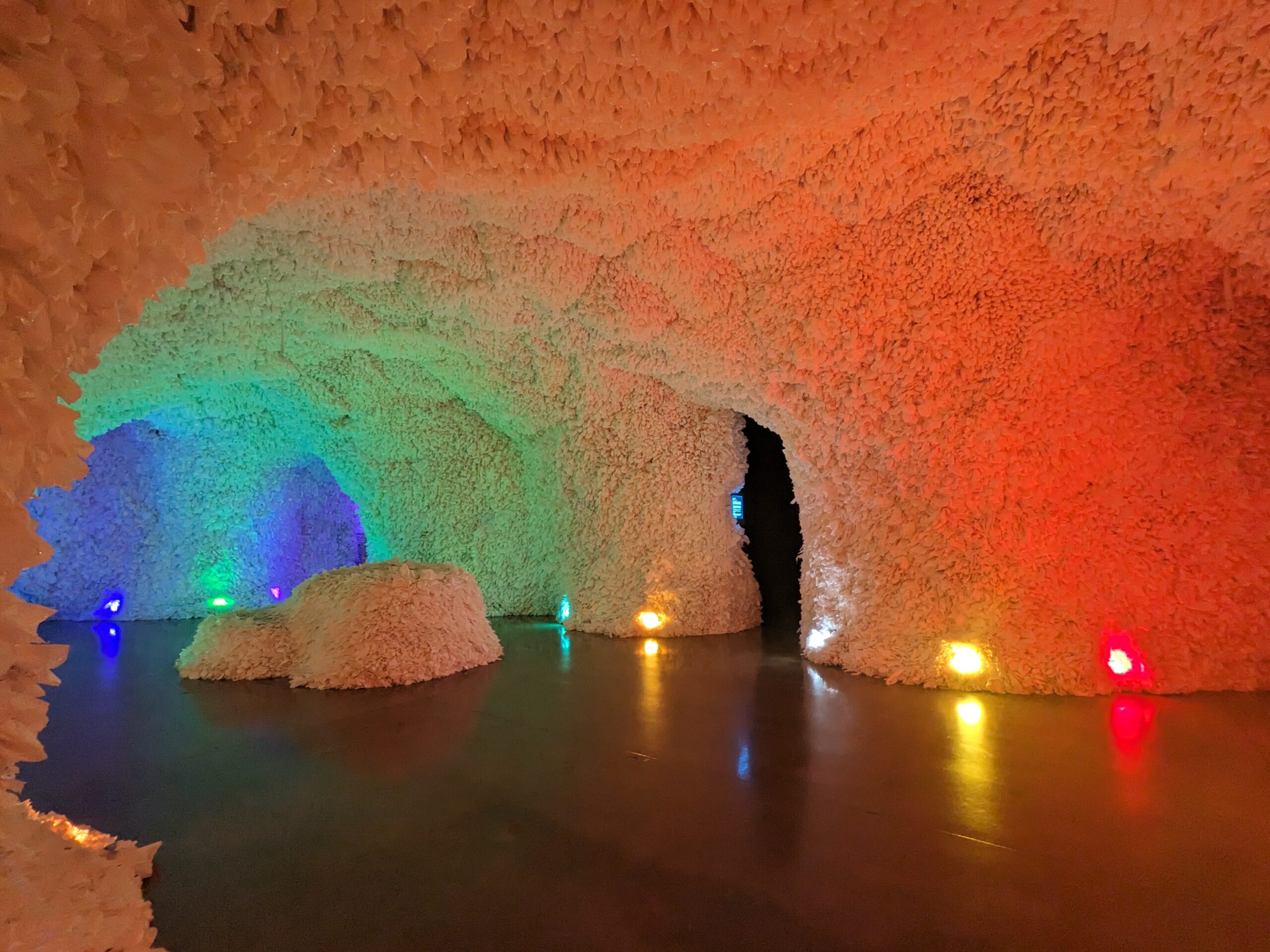 After emerging from the cave, we wandered to explore the rest of the exhibits, which included an option to tell a secret and have it recorded if you wanted to, or listen to the secrets of others who recorded theirs. There is a special "kids only" secret section. There's also an augmented reality living room along with a way that you can virtually spray paint your own graffiti.
If you're looking for a one-of-a-kind art adventure for both kids and adults, visit Hopscotch Portland for a fun way to spend your afternoon. It takes about an hour to go through it quickly, and you can definitely spend more time there exploring the fascinating exhibits and immersive experiences. It sparked imagination, creativity, and meaningful conversation for our whole family.
Still have time to spend in Portland, try these three family-friendly museums.
Happy trails!