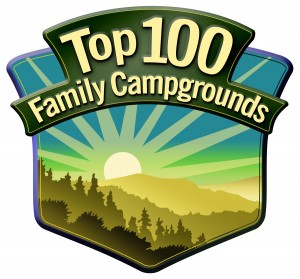 My favorite camping tool, ReserveAmerica.com, announced their picks for America's top 100 campgrounds yesterday. I love ReserveAmerica. The site allows you to search for campgrounds along your journey, and has easy to use maps of the actual campgrounds, clear information on what's at each campground, and you can search all federal, state, county and some private parks as well. There are over 300,000 campsites, cabins, day use facilities and picnic areas in their database.
According to ReserveAmerica, "The "Top 100 Family Campgrounds" were selected based on criteria requested by family campers including park amenities, beautiful outdoor scenery, and educational facilities. The criteria included parks that offer hot showers, laundry facilities, hiking trails, family beaches, radio – free zones, visitor centers, educational programs, children's events, and that are located within 100 miles of a metro location."
You can find the lists (with clickable links from each of the winning campgrounds) on ReserveAmerica's site, in the Camping Club Newsletter section, but the links are not working right now, so I'm going to post the winners. Hopefully they will fix their site so you can search the winning parks without cutting and pasting the names into their search bar. I've also included their top picks for biking, hiking, fishing and a lot of other great categories. If you're planning a family road trip, be sure to try to fit in a few days of camping!
2009 Top 100 Family Campgrounds
Anastasia State Park-St.Augustine, FL
Anthony Chabot Regional Park-Castro Valley, CA
Anza-Borrego Desert State Park-San Diego, CA
Applegate Lake Recreation Area-Squaw Lakes-Siskiyou National Forest -OR
Bald Ridge Campground-Lake Sidney Lanier-Burford, GA
Bayou Segnette State Park-Westwego, LA
Bear Lake State Park-Garden City, UT
Bluff View Park -Clearwater Lake-Piedmont, MO
Brooks Camp Campground-Katmai National Park & Preserve-King Salmon, AK
Bulltown Campground-Burnsville Lake-Burnsville, WV
Burlingame State Park & Campground-Providence, RI
Canning Creek Cover Park & Campground-Council Grove Lake-Council Grove, KS
Castle Crags State Park-Shasta, CA
Castle Rocks State Park-Almo, ID
Cedar Ridge Park-Belton Lake-Temple, TX
Channel Islands National Park-Ventura, CA
Chester State Park-Chester, SC
Claytor Lake State Park-Dublin, VA
Columbus-Belmont State Park-Columbus, KY
Cypremort Point State Park-Cypremort Point, LA
D.A.R. State Forest-Goshen, MA
Dam Site River-Beaver Lake-Eureka Springs, AR
Del Valle Regional Park-Livermore, CA
Devils Fork State Park-Salem, SC
Dreher Island State Recreation Area-Prosperity, SC
Eagle Point-Pottersville, NY
Eel Creek Campground-Siuslaw National Forest-OR
ELS/Encore Lake George Escape Camping Resort-Lake George, NY
ELS/Encore Mt. Hood Village RV Resort -Welches, OR
Eugene T. Mahoney State Park-Ashland, NE
Fishermen's Memorial State Park & Campground-Narragansett, RI
Fort Boonesborough State Park-Richmond, KY
Fort Clinch State Park-Fernandina Beach, FL
Fort Robinson State Park-Crawford, NE
Fremont Indian State Park and Museum-Sevier, UT
George Washington Memorial Camping Area-Providence, RI
Goblin Valley State Park-Green River, UT
Goose Point Park-Philpott Lake-Bassett, VA
Grand Isle State Park-Grand Isle, LA
Grayson Highlands State Park-Mouth of Wilson, VA
Green River Lake State Park-Campbellsville, KY
Greenbelt Campground-Greenbelt Park-Greenbelt, MD
Gun Creek-Rend Lake-Benton, IL
Hodges Gardens State Park-Florien, LA
Hopeville Pond State Park-Griswold, CT
Hungry Gulch Campground-Sequoia National Forest-CA
Indian Creek-Mark Twain Lake-Monroe City, MO
Indian Lake Islands Campground-Sabael, NY
John W. Kyle State Park-Sardis, MS
Juniper Springs Recreation Area-Ocala National Forest-Silver Springs, FL
Kettletown State Park-Southbury, CT
Kiptopeke State Park-Cape Charles, VA
Lafayette Campground-Franconia Notch State Park-Franconia, NH
Lake Greenwood State Recreation Area-Ninety Six, SC
Lake Lincoln State Park-Wesson, MS
Lake Michigan Recreation Area-Huron-Manistee National Forest-MI
Levi Jackson Wilderness Road State Park-London, KY
Little Manatee River State Park-Sterling, FL
Little Sand Point Campground-Piseco, NY
Loft Mountain Campground-Shenandoah National Park-VA
Longwood Park-John H. Kerr Dam & Reservoir-Boydton, VA
Macedonia Brook State Park-Kent, CT
Millerton Lake State Recreation Area-Fresno, CA
Morro Bay State Park-San Luis, CA
Mueller State Park-Divide, CO
New River Trail State Park-Foster Falls, VA
Norway Beach-Chippewa National Forest-MN
Occoneechee State Park-Clarksville, VA
Oconee Point Campground-Hartwell Lake-Seneca, SC
O'Leno State Park-High Springs, FL
Paradox Lake Campground-Paradox, NY
Pawtuckaway State Park-Nottingham, NH
Percy Quin State Park-McComb, MS
Pinegrove Campground-Coconino National Forest-AZ
Pocahontas State Park-Chesterfield, VA
Ponca State Park-Ponca, NE
Ponderosa State Park-McCall, ID
Raystown Lake-Hesston, PA
Red Fleet State Park-Vernal, UT
Rock Creek Canyon-Inyo National Forest-CA
Round Lake State Park-Sagle, ID
Salisbury Beach State Reservation-Salisbury, MA
Salt Rock State Park Campground-Baltic, CT
Santee State Park-Santee, SC
Sonoma Coast State Beach-Sonoma, CA
Sunol Regional Wilderness-Sunol, CA
Talbot Island State Park-Sebring, FL
The Boston Harbor Islands National Park Area-Boston, MA
Tishomingo State Park-Tishomingo, MS
Tolland State Forest-East Otis, MA
Trace State Park-Belden, MS
Trout Pond Recreation Area-George Washington & Jefferson National Forest-Lost City, WV
Twin Lakes Recreation Area-Hartwell Lake-Pendleton, SC
Two Lakes Campground-Chequamegon-Nicolet National Forest-WI
Waquoit Bay National Estuarine Research Reserve-Waquoit, MA
Wells State Park-Sturbridge, MA
White Lake State Park-Tamworth, NH
Willow Grove Campground-Dale Hollow Lake-Allons, TN
Woodland Valley-Phoenicia, NY
Zilpo Campground-Daniel Boone National Forest-Salt Lick, KY
Top 25 Amazing Spots
Arethusa Falls-Crawford Notch State Park-Hart Location, NH
Bayou Segnette State Park-Westwego, LA
Brooks Camp Campground-Katmai National Park & Preserve-King Salmon, AK
Carter Caves State Resort Park-Olive Hill, KY
Cumberland Falls State Resort Park-Corbin, KY
Davis Lake Campground-Mississippi National Forest- MS
False Cape State Park-Virginia Beach, VA
Flume Gorge-Franconia Notch State Park-Franconia, NH
Fort Robinson State Park-Crawford, NE
Goblin Valley State Park-Green River, UT
Grayson Highlands State Park-Mouth of Wilson, VA
Hodges Gardens State Park-Florien, LA
J. P. Coleman State Park-Iuka, MS
John W. Kyle State Park-Sardis, MS
Myakka River State Park-Sarasota, FL
Natural Tunnel State Park-Duffield, VA
Oregon Dunes KOA-North Bend, OR
Purgatory Chasm State Reservation-Sutton, MA
R. Shaefer Heard-West Point Project-West Point, GA
San Simeon State Park-Cambria, CA
Spectacle Island-Boston Harbor, MA
State Forest State Park-Walden, CO
Table Rock State Park-Pickens, SC
Topsail Hill Preserve State Park-Santa Rosa Beach, FL
Westmoreland State Park-Montross, VA
Top 25 Biking Trails
Alafia River State Park-Lithia, FL
Ashuwillticook Rail Trail-Lanesborough, Cheshire, Adams, MA
Cape Cod Rail Trail-Dennis to Wellfleet, MA
Chadron State Park-Chadron, NE
Cheyenne Mountain State Park-Colorado Springs, CO
Choctaw Lake Campground-Mississippi National Forests-MS
Croft State Natural Area-Spartanburg, SC
Cuyamaca Rancho State Park-San Diego, CA
Davis Lake Campground-Mississippi National Forest-MS
Douthat State Park-Millboro, VA
Franconia Notch Recreation Path-Franconia Notch State Park-Franconia, NH
Highlands Hammock State Park-Sterling, FL
Jordanelle Rock Cliff State Park-Heber City, UT
Nashua River Rail Trail-Ayer, Groton, Pepperell, Dunstable, MA
New River Trail State Park-Foster Falls, VA
North Bend Park-John H. Kerr Dam & Reservoir-Boydton, VA
Odiorne State Park-Rye, NH
Old Post Road Park-Dardanelle Lock & Dam-Russellville, AR
Platte River State Park-Louisville, NE
Silver City KOA-Silver City, NM
Staunton River State Park-Scottsburg, VA
Steinaker State Park-Vernal, UT
Trace State Park-Belden, MS
Wasatch Mountain State Park-Midway, UT
York River State Park-Williamsburg, VA
Top 25 Bird-Watching Spots
Applegate Lake Recreation Area-Squaw Lakes-Siskiyou National Forest-OR
Belle Isle State Park-Lancaster, VA
Bonny Lake State Park-Idalia, CO
Caesars Head State Park-Cleveland, SC
Caledon Natural Area-King George, VA
Collier-Seminole State Park-Naples, FL
Fort Kearny State Recreation Area-Kearney, NE
Holmes Bend Campground-Green River Lake-Columbia, KY
J.A. Skinner State Park-Hadley, South Hadley, MA
John James Audubon State Park-Henderson, KY
John W. Kyle State Park-Sardis, MS
Lake Lincoln State Park-Wesson, MS
Lake Michigan Recreation Area-Huron-Manistee National Forest-MI
Miller State Park-Temple, NH
Montpelier Creek KOA-Montpelier, ID
Ochlockonee River State Park-Sebring, FL
Otter Creek State Park-Antimony, UT
Plymouth Park-John Day Lock & Dam-The Dalles, OR
Ponca State Park-Ponca, NE
Salton Sea State Park-Riverside, CA
Smith Mountain Lake State Park-Huddleston, VA
St. George Island State Park-Naples, FL
Sweetwater KOA-Sweetwater, TN
Umbagog Lake State Park-Cambridge, NH
Wachusett Mountain State Reservation-Princeton, MA
Top 25 Canoeing Spots
Belle Isle State Park-Lancaster, VA
Blackstone River Valley Heritage Park-Uxbridge, MA
Blackwater River State Park-Holt, FL
Blue Licks Battlefield State Resort Park-Carlisle, KY
Brooks Camp Campground-Katmai National Park & Preserve-King Salmon, AK
Caddo River-DeGray Lake-Arkadelphia, AR
Caladesi Island State Park-Dunedin, FL
Connecticut River Greenway State Park-Northampton, MA
False Cape State Park-Virginia Beach, VA
Goodale State Park-Camden, SC
Green River State Park-Green River, UT
Hayward KOA-Hayward, WI
Hillsborough River State Park-Thonotosassa, FL
James River State Park-Gladstone, VA
Juniper Springs Recreation Area-Ocala National Forest-Silver Springs, FL
Lake Oroville State Recreation Area-Oroville, CA
Mason Neck State Park-Lorton, VA
Mollidgewock State Park-Errol, NH
Oleta River State Park-North Miami, FL
Onawa/Blue Lake KOA-Onawa, IA
Pillsbury State Park-Washington, NH
Smith Falls State Park-Valentine, NE
Sylvan Lake State Park-Eagle, CO
Tishomingo State Park-Tishomingo, MS
Umbagog Lake State Park-Cambridge, NH
Top 50 Educational & Historical Facilities
Anasazi State Park Museum-Boulder, UT
Applegate Lake Recreation Area-Squaw Lakes-Siskiyou National Forest-OR
Big Bone Lick State Park-Union, KY
Borderland State Park-Easton/Sharon, MA
Bulltown Historical Area-Burnsville Lake-Burnsville, WV
Camp Floyd/Stagecoach Inn State Park and Museum-Fairfield, UT
Canning Creek Cover Park & Campground-Council Grove Lake-Council Grove, KS
Casey KOA-Casey, IL
Castle Island-South Boston, MA
Chippokes Plantation State Park-Surry, VA
Colonel Allensworth State Historic Park-Tulare, CA
Columbus-Belmont State Park-Columbus, KY
Douthat State Park-Millboro, VA
Eleanor Roosevelt National Historical Site-Hyde Park, NY
Fall River Heritage State Park-Fall River, MA
False Cape State Park-Virginia Beach, VA
Fort Boonesborough State Park-Richmond, KY
Fort Robinson State Park-Crawford, NE
Frederick Douglass National Historic Site-Washington, D.C.
Fredericksburg/Washington DC KOA-Fredericksburg, MD
Fremont Indian State Park and Museum-Sevier, UT
Gasparilla Island State Park-Boca Grande, FL
Highlands Hammock State Park-Sterling, FL
Holliday Lake State Park-Lynchburg, VA
Home of Franklin D. Roosevelt National Historical Site-Hyde Park, NY
John Wingate Weeks Historic Site-Lancaster, NH
Koreshan State Historic Site-Sebring, FL
Myakka River State Park-Sarasota, FL
Natural Tunnel State Park-Duffield, VA
Norway Beach-Chippewa National Forest-MN
Orman House State Park-Apalachicola, FL
Oscar Scherer State Park-Osprey, FL
Percy Quin State Park-McComb, MS
Ponca State Park-Ponca, NE
R. Shaefer Heard-West Point Project-West Point, GA
Santa Fe Trail Park & Campground-Council Grove Lake-Council Grove, KS
Southwest Virginia Museum Historical State Park-Big Stone Gap, VA
St. Andrews State Park- Panama City, FL
Staunton River Battlefield State Park-Randolph, VA
Tishomingo State Park-Tishomingo, MS
Trinidad Lake State Park-Trinidad, CO
Utah Field House of Natural History State Park and Museum-Vernal, UT
Vanderbilt Mansion National Historical Site-Hyde Park, NY
Walden Pond State Reservation-Concord, MA
Wentworth-Coolidge Mansion Historic Site-Portsmouth, NH
Westmoreland State Park-Montross, VA
Wilderness Road State Park-Ewing, VA
Williamsburg KOA-Williamsburg, VA
Willow Grove Campground-Dale Hollow Lake-Allons, TN
York River State Park-Williamsburg, VA
Top 50 Fishing Spots
Applegate Lake Recreation Area-Squaw Lakes-Siskiyou National Forest-OR
Bear Lake State Park-Garden City, UT
Blackberry-Siuslaw National Forest-Tidewater, OR
Blue Creek- Oologah Lake-Oologah, OK
Bolsa Chica State Beach-Orange, CA
Brooks Camp Campground-Katmai National Park & Preserve-King Salmon, AK
Burns Run West – Texoma Lake-Cartwright, OK
Burnsville Lake-Burnsville, WV
Calamus Reservoir State Recreation Area-Burwell, NE
Cayo Costa State Park-Boca Grande, FL
Choctaw Lake Campground-Mississippi National Forests-MS
Claytor Lake State Park-Dublin, VA
Davis Lake Campground-Mississippi National Forest-MS
Dent Acres Campground-Dworshak Dam & Reservoir-Ahsahka, ID
Downstream Campground-Garrison Dam Lake-Riverdale, ND
Fort Pierce Inlet State Park-Fort Pierce, FL
Gasparilla Island State Park-Boca Grande, FL
Grand Isle State Park-Grand Isle, LA
Greenbo Lake State Resort Park-Greenup, KY
Grenada Lake-Grenada, MS
Hungry Mother State Park-Marion, VA
Hyrum Lake State Park-Hyrum, UT
J. P. Coleman State Park-Iuka, MS
John W. Kyle State Park-Sardis, MS
Kentucky Lakes/Prizer Point KOA-Cadiz, KY
Kiptopeke State Park-Cape Charles, VA
Lake Cumberland State Resort Park-Jamestown, KY
Lake Francis State Park-Pittsburgh, NH
Lake Lincoln State Park-Wesson, MS
Lake Manatee State Park-Bradenton, FL
Lake McConaughy State Recreation Area-Ogallala, NE
Lake Ogallala State Recreation Area-Ogallala, NE
Lake Warren State Park-Hampton, SC
Manchester KOA-Manchester, TN
Mollidgewock State Park-Errol, NH
New River Trail State Park-Foster Falls, VA
Occoneechee State Park-Clarksville, VA
Otter Creek State Park-Antimony, UT
Percy Quin State Park-McComb, MS
Plymouth Park-John Day Lock & Dam-The Dalles, OR
Quail Creek State Park-St.George, UT
Sandisfield State Forest-Sandisfield, MA
Santee State Park-Santee, SC
Scusset Beach State Reservation-Sandwich, MA
Spinney Mountain State Park-Lake George, CO
St. George Island State Park-Naples, FL
Sugarloaf KOA-Sugarloaf, FL
Trace State Park-Belden, MS
Umbagog Lake State Park-Cambridge, NH
Yuba Lake State Park-Levan, UT
Top 50 Hiking Trails
Appalachian Trail-MA
Artist Bluff-Franconia Notch State Park-Franconia, NH
Black River Hike & Bike Trail-Clearwater Lake-Piedmont, MO
Brighton KOA-Brighton, ONT CANADA
Brooks Camp Campground-Katmai National Park & Preserve-King Salmon, AK
Burnsville Lake Trail System-Burnsville, WV
Cape Perpetua-Siuslaw National Forest-Yachats, OR
Castle Crags State Park-Shasta, CA
Chippokes Plantation State Park-Surry, VA
Cumberland Falls State Resort Park-Corbin, KY
Deer Creek State Park-Midway, UT
Douthat State Park-Millboro, VA
Fairy Stone State Park-Stuart, VA
False Cape State Park-Virginia Beach, VA
Fort Robinson State Park-Crawford, NE
Gaylord KOA-Gaylord, MI
Grayson Highlands State Park-Mouth of Wilson, VA
Holliday Lake State Park-Lynchburg, VA
Holmes Bend Campground-Green River Lake-Campbellsville, KY
Hopkinton State Park-Hopkinton, MA
Hungry Mother State Park-Marion, VA
Indian Cave State Park-Shubert, NE
Jordanelle Rock Cliff State Park-Heber City, UT
Kiptopeke State Park-Cape Charles, VA
Kodachrome Basin State Park-Cannonville, UT
Koreshan State Historic Site-Sebring, FL
Loft Mountain Campground-Shenandoah National Park-VA
Lory State Park-Denver, CO
Middlesex Fells Reservation-Malden, Medford, Stoneham, Melrose, Winchester, MA
Monadnock State Park-Jaffrey, NH
Myakka River State Park-Sarasota, FL
Natural Bridge State Resort Park-Slade, KY
North Sydney/Cabot Trail KOA-New Harris, NS CANADA
Oconee State Park-Mountain Rest, SC
Oscar Scherer State Park-Osprey, FL
Pawtuckaway State Park-Nottingham, NH
Percy Quin State Park-McComb, MS
Pillsbury State Park-Washington, NH
Ponca State Park-Ponca, NE
R. Shaefer Heard-West Point Project-West Point, GA
Ray Behrens-Mark Twain Lake-Monroe City, MO
Red Fleet State Park-Vernal, UT
Rockport State Park-Peoa, UT
Smith Mountain Lake State Park-Huddleston, VA
Steinaker State Park-Vernal, UT
Tishomingo State Park-Tishomingo, MS
Topsail Hill Preserve State Park-Santa Rosa Beach, FL
Torreya State Park-Bristol, FL
Trace State Park-Belden, MS
Wasatch Mountain State Park-Midway, UT
Top 25 Horse-Friendly Parks
Anza-Borrego Desert State Park-San Diego, CA
Bear Brook State Park-Deerfield, NH
Blue Creek-Oologah Lake-Oologah, OK
Bridalveil Creek Horse Camp-Yosemite National Park-CA
Bristol/Kingsport KOA-Blountville, TN
Dale Hollow Lake State Resort Park-Burkesville, KY
Dubois/Wind River KOA-Dubois, WY
Fairy Stone State Park-Stuart, VA
Frank Russell Recreation Area-Mark Twain Lake-Monroe City, MO
Golden Gate Canyon State Park-Golden, CO
Grayson Highlands State Park-Mouth of Wilson, VA
H. Cooper Black Jr. Memorial Field Trail and Recreation Area-Cheraw, SC
James River State Park-Gladstone, VA
Lake Anna State Park-Spotsylvania, VA
Limon KOA-Limon, CO
Little Manatee River State Park-Sterling, FL
Myakka River State Park-Sarasota, FL
Myles Standish State Forest-South Carver, MA
New River Trail State Park-Foster Falls, VA
Staunton River State Park-Scottsburg, VA
Stub Stewart State Park-Buxton, OR
Taylorsville Lake State Park-Taylorsville, KY
Trace State Park-Belden, MS
Wilderness Gateway Campground-Clearwater National Forest-ID
York River State Park-Williamsburg, VA
Top 25 Kid-Friendly Parks
Alafia River State Park-Lithia, FL
Applegate Lake Recreation Area-Squaw Lakes-Siskiyou National Forest-OR
Barr Lake State Park-Brighton, CO
Barren River Lake State Resort Park-Lucas, KY
Bayou Segnette State Park-Westwego, LA
Beaver Brook Reservation-Mill Street, Belmont/Waltham, MA
Burns Run West-Texoma Lake-Cartwright, OK
Cedar Ridge Park-Belton Lake-Temple, TX
Eugene T. Mahoney State Park-Ashland, NE
Fort Boonesborough State Park-Richmond, KY
Fort Robinson State Park-Crawford, NE
Leesylvania State Park-Woodbridge, VA
Longwood Park-John H. Kerr Dam & Reservoir-Boydton, VA
Morro Bay State Park-San Luis, CA
Nantasket Beach State Reservation-Hull, MA
Odiorne State Park-Rye, NH
Oleta River State Park-North Miami, FL
Pawtuckaway State Park-Nottingham, NH
Percy Quin State Park-McComb, MS
Pocahontas State Park-Chesterfield, VA
Rudds Creek Campground-John H. Kerr Dam & Reservoir-Boydton, VA
Shelby/Mansfield KOA-Shelby, OH
Trace State Park-Belden, MS
Twin Lakes State Park-Green Bay, VA
Wisconsin Dells KOA-Wisconsin Dells, WI
Top 25 Park Beaches
Bear Brook State Park-Deerfield, NH
Caladesi Island State Park-Dunedin, FL
Calamus Reservoir State Recreation Area-Burwell, NE
Choctaw Lake Campground-Mississippi National Forests-MS
Claytor Lake State Park-Dublin, VA
Demarest Lloyd State Park-Dartmouth, MA
Emmet KOA-Emmet, MI
Fairy Stone State Park-Stuart, VA
Fort Pierce Inlet State Park-Fort Pierce, FL
Harvey Gap-Rifle, CO
Holliday Lake State Park-Lynchburg, VA
Lake Lincoln State Park-Wesson, MS
Lake McConaughy State Recreation Area-Ogallala, NE
Longwood Park-John H. Kerr Dam & Reservoir-Boydton, VA
Myrtle Beach State Park-Myrtle Beach, SC
Nantasket Beach State Reservation-Hull, MA
Naples Marco Island KOA-Naples, FL
Revere Beach Reservation-Revere, MA
Rudds Creek Campground-John H. Kerr Dam & Reservoir-Boydton, VA
San Elijo State Beach-San Diego, CA
South Sandusky Day Use-Benton, IL
St. George Island State Park-Naples, FL
Sugarloaf KOA-Sugarloaf, FL
Topsail Hill Preserve State Park-Santa Rosa Beach, FL
Wallis Sands State Beach-Rye, NH
Top 25 Picnic Areas
Ashland State Park-Ashland, MA
Bayou Segnette State Park-Westwego, LA
Beaver Brook Falls-Wayside, Colebrook, NH
Benbow Lake State Recreation Area-Humboldt, CA
Burnsville Lake-Burnsville, WV
Camp Floyd/Stagecoach Inn State Park and Museum-Fairfield, UT
Clarksburg State Park-Clarksburg, MA
Claytor Lake State Park-Dublin, VA
Collier-Seminole State Park-Naples, FL
Elrod Ferry-Hartwell Lake-Hartwell, GA
First Landing State Park-Virginia Beach, VA
Hodges Gardens State Park-Florien, LA
Jones Gap State Park-Marietta, SC
Lake Lincoln State Park-Wesson, MS
Lake Manatee State Park-Bradenton, FL
Little Manatee River State Park-Sterling, FL
Mt. Sunapee State Park-Newbury, NH
Niobrara State Park-Niobrara, NE
North Bend Park-John H. Kerr Dam & Reservoir-Boydton, VA
Occoneechee State Park-Clarksville, VA
Paonia State Park-Crawford, CO
Platte River State Park-Louisville, NE
St. Mary KOA-St.Mary, MT
Trace State Park-Belden, MS
Winthrop/N Cascade KOA-Winthrop, WA
Top 25 Romantic Spots
Applegate Lake Recreation Area-Squaw Lakes-Siskiyou National Forest-OR
Bald Nob – Franconia Notch State Park-Franconia, NH
Belle Isle State Park-Lancaster, VA
Caladesi Island State Park-Dunedin, FL
Cumberland Falls State Resort Park-Corbin, KY
Eugene T. Mahoney State Park-Ashland, NE
First Landing State Park-Virginia Beach, VA
Gasparilla Island State Park-Boca Grande, FL
Hodges Gardens State Park-Florien, LA
J.A. Skinner State Park-Hadley, South Hadley, MA
Moore State Park-Paxton, MA
Niagara Falls North KOA-Youngstown, NY
Occoneechee State Park-Clarksville, VA
Odiorne State Park-Rye, NH
Pennyrile Forest State Resort Park-Dawson Springs, KY
Percy Quin State Park-McComb, MS
Ponca State Park-Ponca, NE
Raystown Lake-Hesston, PA
Redman Campground-Wasatch Cache National Forest-UT
Rend Lake-Benton, IL
Ridgway State Park-Ridgway, CO
Rockport State Park-Peoa, UT
San Antonio KOA-San Antonio, TX
Sonoma Coast State Beach-Sonoma, CA
Wentworth-Coolidge Mansion Historic Site-Portsmouth, NH
Top 50 Scenic Views
Applegate Lake Recreation Area-Squaw Lakes-Siskiyou National Forest-OR
Blue Hills Reservation-Milton, MA
Collier-Seminole State Park-Naples, FL
Cumberland Falls State Resort Park-Corbin, KY
Dead Horse Point State Park-Moab, UT
Devils Tower KOA-Devils Tower, WY
Fort Robinson State Park-Crawford, NE
Frank Russell Recreation Area-Mark Twain Lake-Monroe City, MO
Goblin Valley State Park-Green River, UT
Goosenecks State Park-Mexican Hat, UT
Highlands Hammock State Park-Sterling, FL
Hillsborough River State Park-Thonotosassa, FL
Hodges Gardens State Park-Florien, LA
Indian Creek Recreation Area-Mark Twain Lake-Monroe City, MO
J. P. Coleman State Park-Iuka, MS
James River State Park-Gladstone, VA
John W. Kyle State Park-Sardis, MS
John Wingate Weeks Historic Site-Lancaster, NH
Kiptopeke State Park-Cape Charles, VA
Kodachrome Basin State Park-Cannonville, UT
Lake Manatee State Park-Bradenton, FL
Lake Michigan Recreation Area-Huron-Manistee National Forest-MI
Landsford Canal State Park-Catawba, SC
Little Manatee River State Park-Sterling, FL
Monadnock State Park-Jaffrey, NH
Mount Holyoke Range State Park-Amherst, MA
Mt Sugarloaf State Reservation-South Deerfield, MA
Mt. Greylock State Reservation-North Adams, Adams, Lanesborough, Cheshire, Williamstown and New Ashford, MA
Natural Bridge State Resort Park-Slade, KY
Niobrara State Park-Niobrara, NE
Percy Quin State Park-McComb, MS
Petosky KOA-Petoskey, MI
Plymouth Park-John Day Lock & Dam-The Dalles, OR
Ray Behrens-Mark Twain Lake-Monroe City, MO
Raystown Lake-Hesston, PA
Royal Gorge KOA-Canon City, CO
Saddle Butte State Park-Los Angeles, CA
Shenandoah River State Park-Bentonville, VA
Sky Meadows State Park-Delaplane, VA
Staunton River State Park-Scottsburg, VA
Summit Cannon Mountain-Franconia Notch State Park-Franconia, NH
Tall Chief Cove-Skiatook Lake-Skiatook, OK
Tillicum Beach-Siuslaw National Forest-OR
Tishomingo State Park-Tishomingo, MS
Torreya State Park-Bristol, FL
Trace State Park-Belden, MS
Twin Lakes State Park-Green Bay, VA
Westmoreland State Park-Montross, VA
Willow Grove Campground-Dale Hollow Lake-Allons, TN
Yampa River State Park-Hayden, CO
Top 25 Tours & Events
Ano Nuevo State Natural Reserve-San Mateo, CA
Antelope Island State Park Annual Bison Roundup-Syracuse, UT
Battle Of Bulltown-Burnsville Lake-Burnsville, WV
Borderland State Park-Easton/Sharon, MA
Boston Harbor Islands-Boston, MA
Branson KOA-Branson, MO
Caledon Natural Area-King George, VA
Carter Caves State Resort Park-Olive Hill, KY
Cherry Creek State Park-Aurora, CO
Chippokes Plantation State Park-Surry, VA
Elkhart/Middlebury KOA-Middlebury, IN
Eugene T. Mahoney State Park-Ashland, NE
Grenada Lake-Grenada, MS
Hillsborough River State Park-Thonotosassa, FL
Hodges Gardens State Park-Florien, LA
Koreshan State Historic Site-Sebring, FL
Myakka River State Park-Sarasota, FL
New Hampshire Great Park Pursuit
Newburgh/New York City N KOA-Plattekill, NY
Niobrara State Park-Niobrara, NE
Southwest Virginia Museum Historical State Park-Big Stone Gap, VA
Staunton River Battlefield State Park-Randolph, VA
The Esplanade Hatch Shell-Boston, MA
Topsail Hill Preserve State Park-Santa Rosa Beach, FL
Wilderness Road State Park-Ewing, VA
Top 25 Unique Cabins
Bear Creek State Park-Cumberland, VA
Cayo Costa State Park-Boca Grande, FL
Chief Timothy Park Cabins-Lower Granite-Clarkson, WA
Cottonwood Cabin-Okanagan-Wenatchee National Forest-WA
Cypremort Point State Park-Cypremort Point, LA
First Landing State Park-Virginia Beach, VA
Fort Robinson State Park-Crawford, NE
Higgins Lake Yurts KOA-Roscommon, MI
Kiptopeke State Park-Cape Charles, VA
Mancos State Park-Mancos, CO
McArthur-Burney Falls Memorial State Park-Shasta, CA
Milan Hill State Park-Milan, NH
Mountain Home Tee-Pees KOA-Mountain Home, ID
Myakka River State Park-Sarasota, FL
Nickerson State Park-Brewster, MA
Occoneechee State Park-Clarksville, VA
Oleta River State Park-North Miami, FL
Pawtuckaway State Park-Nottingham, NH
Percy Quin State Park-McComb, MS
Poso Guard Station Cabin-Sequoia National Forest-CA
Shawme-Crowell State Forest-Sandwich, MA
Spruces Log Pavillion-Big Cottonwood Canyon-UT
Tishomingo State Park-Tishomingo, MS
Two Rivers State Recreation Area-Waterloo, NE
Umbagog Lake State Park-Cambridge, NH
Top 25 Water Recreation Parks
Arkansas Headwaters Recreation Area-Salida, CO
Burns Run West – Texoma Lake-Cartwright, OK
Collier-Seminole State Park-Naples, FL
Davis Lake Campground-Mississippi National Forest-MS
Downstream Campground-Garrison Dam Lake-Riverdale, ND
Dreher Island State Recreation Area-Prosperity, SC
Fort Collins/Lakeside KOA-Ft. Collins, CO
Frank Russell Recreation Area-Mark Twain Lake-Monroe City, MO
Hillsborough River State Park-Thonotosassa, FL
Indian Creek-Mark Twain Lake-Monroe City, MO
Jessie M. Honeymen Memorial State Park-Florence, OR
Lake Anna State Park-Spotsylvania, VA
Lake Barkley State Resort Park-Cadiz, KY
Lake Cumberland State Resort Park-Jamestown, KY
Lake Lincoln State Park-Wesson, MS
Millerton Lake State Recreation Area-Fresno, CA
New Bern KOA- New Bern, NC
R. Shaefer Heard-West Point Project-West Point, GA
Ray Behrens-Mark Twain Lake-Monroe City, MO
Rudds Creek Campground-John H. Kerr Dam & Reservoir-Boydton, VA
Staunton River State Park-Scottsburg, VA
Stockton Delta KOA-Lodi, CA
Tall Chief Cove-Skiatook Lake-Skiatook, OK
Trace State Park-Belden, MS
Willow Grove Campground-Dale Hollow Lake-Allons, TN