For this month's expert itinerary, I reached out to Janet Chapple, author of the book Yellowstone Treasures: The Traveler's Companion to the National Park. Here's Janet's expert day-to-day advice:
Have you heard people say they went to Yellowstone as children and have always wanted to go back? I've heard this dozens of times and have always responded: "Just do it!" When my own children were small, we lived too far from the park to take an inexpensive vacation there. But Yellowstone is a must-see vacation destination for any family and can be the perfect reasonably priced trip if you live a drive of a day or two from northwestern Wyoming.
The best time to go is when your kids are from about five years old, with their awareness of the outside world growing, until adolescence, when they will be totally involved in activities with their peers. Your family cannot help but be fascinated by Yellowstone if both children and adults are willing to have new experiences and have prepared in advance by watching Yellowstone videos, holding family conversations, and reading a guidebook or books keyed to your family's particular interests.
Costs you'll encounter on your Yellowstone trip beyond car expenses and food include the $25 per vehicle entrance fee, which includes neighboring Grand Teton National Park and is good for seven days (a perfect length for your first visit!) and campground fees, which begin at $12 a night for unreserved campsites. (Reserved campgrounds and hotel rooms range from $18.50 per night to over $200 per night, but we're talking here about keeping costs minimal.) Of course, activities like horseback riding, boat trips, and an Old West cookout are available for a charge, but you can go everywhere without spending anything more, if you so choose.
What exactly can you see? The park itself has over 300 miles of roads, and just outside its boundaries are also many delightful sights. Many of those park miles take you near outstanding features you cannot find anywhere else, including geysers, hot springs, abundant wildlife, waterfalls, the Canyon, Yellowstone Lake, wildflowers, geology, fishing, hiking, and ranger-led excursions and talks.
Book Your Stay in Yellowstone
Let's create a hypothetical plan for a trip with two kids, ten and seven years old. First, a word of caution. Although I will mention here things to do on each of seven days in Yellowstone and the Tetons, no itinerary should be too full either of miles to cover or of things to see and do, because the unexpected experiences may take over—and may be the most memorable.
Let's suppose your family is approaching from North Dakota, ready to relax after a difficult winter, and has nine or ten days altogether, two of them spent driving to and from the Yellowstone area. Arriving from the northeast, stay in Red Lodge, Montana, to be poised for your first sightseeing day.
 Day 1: Beartooth Highway
Traverse the Beartooth Highway (U.S. Hwy. 212), climbing to the 11,000-foot summit by way of switchbacks, passing endless fields of wildflowers (in July and August) and stopping to throw snowballs and enjoy the amazing views. Enter Yellowstone through the Northeast Entrance and start watching for the animals: moose, pronghorn antelope, wolves, and bison may be in view. If you start early enough, you may find a campsite available at Pebble Creek or Slough Creek campgrounds, or you may need to seek one at Tower Fall campground. The Tower-Roosevelt area is a good one for spotting black bears. It's clever to reserve a cabin at Tower-Roosevelt for that first night just in case. Any reservations usually need to be made months in advance through Xanterra Parks & Resorts: 866-439-7375.
While in the Tower-Roosevelt area, stop at the ranger station to pick up copies of the Junior Ranger newspaper. This directs children 5 to 12 to specific activities, provides checklists of the animals and park features they've learned about, and lets them get a badge and become Junior Rangers when they turn it in.
Day 2: Mammoth Hot Springs
Get an early start to see wolves along the Northeast Entrance Road (the way you came in) or go west from Tower-Roosevelt Junction and stop for waterfalls, short hikes, and certainly at Mammoth Hot Springs to walk around the travertine terraces. Go south from Mammoth to Norris Campground to secure a campsite for the next three nights.
Days 3, 4, and 5: Geysers and Hot Springs
Enjoy the geysers and hot springs at Norris Geyser Basin, hikes and short drives in the vicinity and as far south as Madison and Old Faithful Village. You're very likely to see elk in this part of the park. Plan to spend at least one of the days around Old Faithful, since there is so much to see in that area. Early on Day 5 you'll want to go to Lewis Lake Campground to secure a campsite for the next three nights—or, if you've reserved in advance, you can arrive later in the day at the Grant Village or Canyon campground.
 Days 6 and 7: Grand Teton National Park or Jackson
Even without reserving a place to stay in Grand Teton National Park or Jackson, you can spend most of one day viewing those beautiful peaks or hiking in them from your base at Lewis Lake. Jackson, for the record, is the most expensive gateway community near Yellowstone. The other day gives you time to see West Thumb Geyser Basin, the lakeshore, Hayden Valley with all its bison, and the trail along the rim of the incomparable Canyon of the Yellowstone River.
On the eighth day, leave by the East Entrance, enjoying more time along the lake and climbing over another mountain pass. Be sure to make a note of all the things you want to see on your next visit!
Here are some useful Web sites for trip planning:
Yellowstone National Park or phone 307-344-2111 to have a free planning kit mailed to you.
Xanterra Parks & Resorts  (for reservable campsites and lodgings) or call 866-439-7375.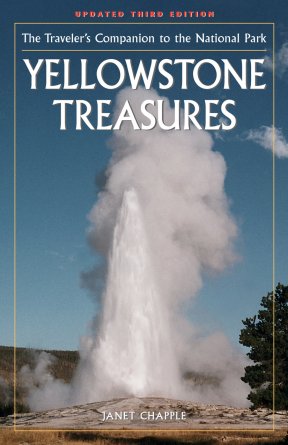 For more information on Yellowstone, check out this blog on Yellowstone in a Day.