Yellowstone National Park has been on my road trip bucket list for many years. Passing through Wyoming in May, I detoured to the northwest corner of the state with a plan to see as much of the park in a day as humanly possible. To make the most of the adventure, I tent camped the night before at Madison Campground. Located near the West Yellowstone entrance, Madison is one of the few campgrounds taking reservations before Memorial Day Weekend.
Where to Stay
Find family-friendly accommodations near Yellowstone National Park, from traditional hotels to private vacation rentals through Stay22.com:
As it turned out, nighttime temperatures dropped to just above freezing and I put my thermal sleeping bag to the test. Bears are active within the campground and one was spotted strolling through the sites the day before my trip. Despite being "bear aware" and locking up all food and liquids in my vehicle, I quickly realized the odds were much better I'd encounter of one of the many buffalo grazing along the nearby Madison River.
If anything I wanted to see Old Faithful, so I headed out bright and early the next morning in the direction of the park's most popular attraction. Along the way, I stopped at Fountain Paint Pot and Midway Geyser Basin, two excellent "quick and easy" stops with boardwalk trails leading through various active geothermal landscapes. One nice thing about arriving earlier in the day is better parking and fewer people; even before the peak tourist season the park was brimming with out-of-staters and large groups traveling in charter busses.
I failed to do any sort of pre-trip research on Old Faithful and somewhat lucked out arriving fifteen minutes ahead of an eruption. Contrary to my assumption of the term "Old Faithful," the geyser does not erupt on a set schedule. Visitors can wait anywhere between 35 minutes and two hours between eruption times (visit this page for more info).
Next up was Mammoth Hot Springs, a drive north in the direction of Montana. On the way, traffic came to a stop as a herd of buffalo claimed right-of-way on the road. In all, I saw buffalo, elk, moose, bear, and a variety of birds and critters on my trip. I noticed many bird watchers set up in designated pull-offs and one nice lady helped me to see an osprey nesting her young.
A bit tired from driving, I decided to embark on a 1-mile roundtrip hike at Artist Paintpots. I was rewarded bubbling mudpits and vividly-colored (but deadly) pools of orange and blue. The "one with nature" tranquility I felt at Artist Paintpots was offset by the many people exploring the Mammoth Hot Springs Terraces near Mammoth Hot Springs. I'm glad I stopped here, but the experience made me question the utility of a selfie stick on a narrow, heavily-traveled walkway.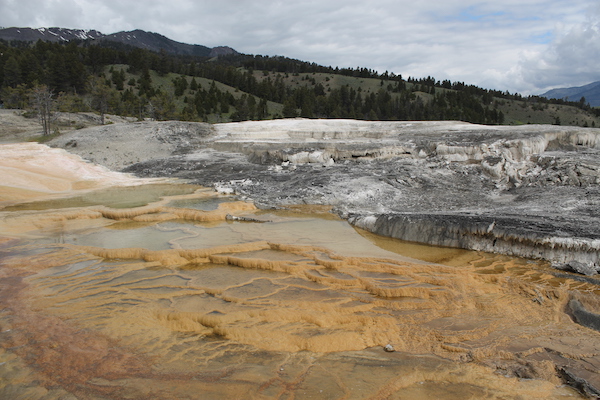 The drive out towards the park's Northeast Entrance was breathtaking and peaceful. If you have a picnic basket ("Hey Boo-Boo!"), you'll find many beautiful places to enjoy a pre-packed meal. I found a lovely spot near the Soda Butte Creek.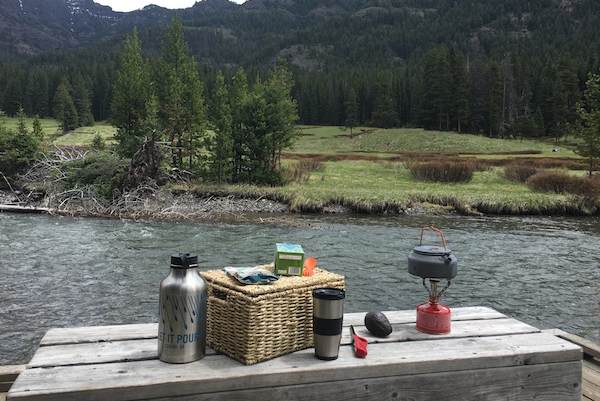 In all my Yellowstone National Park takeaway is this: while you can't really "see" the park in a day, you can appreciate the enormity of the land that is collectively ours to preserve and maintain. Sheri has written many stories about her family's time in Yellowstone National Park. Simply type "Yellowstone" in the search bar above.
Happy Trails!