Rites of passage have always included the time-honored picture in front of some roadside monstrosity. Photoholics continuously seek opportunities to stand in front of large structures on road trips and vacations. If that's the case, then photo albums and TikTok feeds will be overloaded after a day spent in Casey, Illinois.  Holder of 12 world's largest records and multiple big things, Casey is the place to go for a day of feeling like being in the middle of the movie set, Honey, I Shrunk the Kids.
What to See and Do in Casey, Illinois
Located about a 2-hour drive from St. Louis, this quaint little town is chock full of BIG surprises. The first stop should be getting a detailed map highlighting the more than 30 sculptures sprinkled throughout the city streets. These can be found online, at the chamber of commerce, or in any of the gift shops along Main Street. Although it will help you to find each attraction on the list, a lot of them can be spotted just by looking UP.
Our route put us smack dab in the middle of town with the rat trap as our first landmark. The kids had a blast faking their timely demise in the rodent death trap. While checking off our list and being silly for photo ops came easy for the kids, reading the engineering information that went into these mondo sculptures was awe inspiring.
For example, the World's Largest Rocking Chair towers over 56 feet in the air and required ten grown men to achieve the prerequisite of it actually rocking. The World's Largest Teeter Totter is not only an exquisite, landscaped pleasantry, but it also actually works.
Guests can scramble back and forth across 82 feet of this mammoth lever and fulcrum.  If you're not tired yet by the energy exerted on the seesaw, then start the climb up the nearby World's Largest Mailbox or take a swing in an extremely big birdhouse. Whatever you choose, surprises await around every corner.
Book Your Stay in Casey, Illinois
Some of the less interactive displays include a very large pencil, ruler, pizza slicer, and deer antlers just to name a few. These enormous pieces of art speckles the landscape of each immaculately manicured street.
My most surprising delight came from the humongous bookworm that looked like an exact replica of Mr. Wiggle from this author's penned books about the library. Even better was the fact that my great nephews and nieces instantly recognized him and coerced me inside to find a copy of it for posing. It sits in the front yard of the Casey Library.
What began as local resident, Jim Bolin, wanting to celebrate his small community has turned into a renowned roadside attraction worthy of a day's stop. Bolin, creative imagineer, even attaches bible verses relating to each structure. His inspiration has touched countless number of visitors to the area.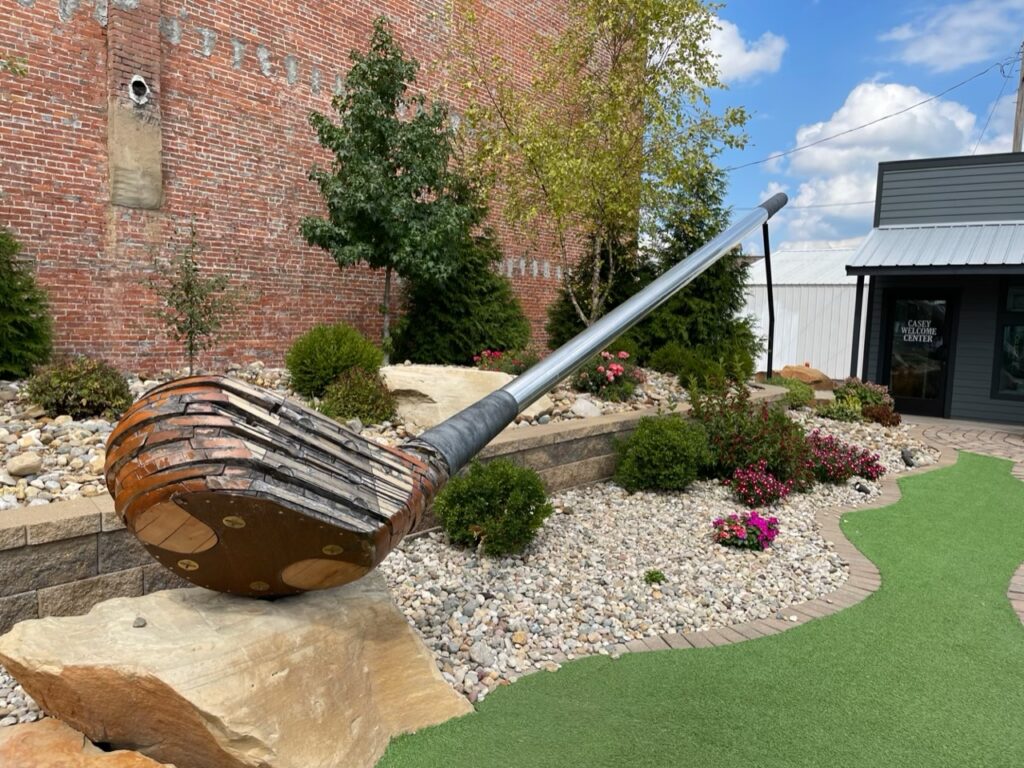 There are too many great things in this small city to write about in the length of this article, but enough great things to plan your visit. There are several cafes in walking distance to delight your palette and enough choices for accommodations to meet any need. For a complete list of all the large things, check out the city's website at https://www.bigthingssmalltown.com/
About the Author:
Carol Thompson is a retired educator. She is the author of the Mr. Wiggle series books for children. When she is not traveling or writing, she enjoys time with her family and animals (including 4 mini-Mediterranean donkeys) on her farmette in Georgia.