With the solar eclipse fast approaching, we're finalizing plans to head out to the Oregon Coast and camp at a state park contained within the path of totality.
On our packing list is a new and innovative new product called the GOGO Lantern, the world's first solar powered LED light and bucket combination.
Collapsable, lightweight, and easy to store, the GOGO Lantern is completely waterproof and super bright. At 120 lumens fully charged, the lantern will run between six and eight hours. Charging time varies: eight hours in full sun or three hours by USB.
With a carrying capacity or two liters (approximately half a gallon), the plastic perfect for carrying seashells, water, or whatever else you need at the campground. Also waterproof, the solar cell detaches from the bucket and can be hung (or worn) as a lightweight light source. Or if you are near a magnetic surface, simply attach the solar cell to the surface (a capacitor within the sensor switch automatically turns the lamp on when it encounters water or metal).
The lantern will be produces in three color options (orange, blue, and green) with five types of finish for the bucket material (frosted, transparent, customized, printed logo, or DIY). Included in the package are a USB charging cable, lanyard/clip, and nylon carrying bag.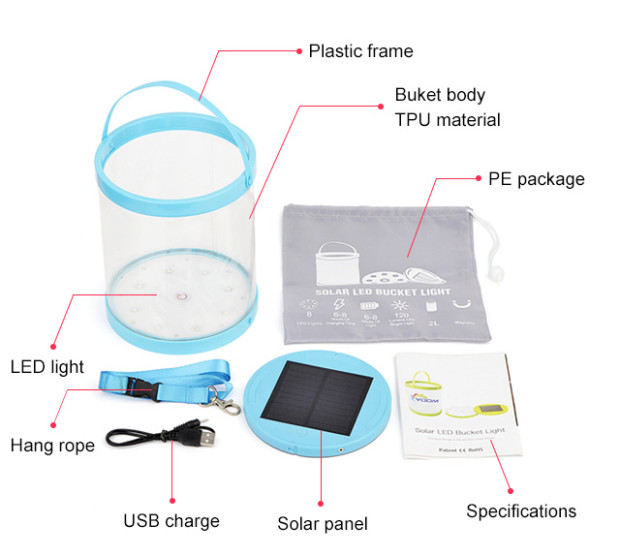 Currently available to order through an active (already funded) Kickstarter campaign, the best way to secure your own GOGO Lantern is through one of the reward packages: https://www.kickstarter.com/projects/226702866/gogo-lantern-redifine-outdoor-lantern/
Happy Camping!