Summer in Michigan isn't complete without sparklers, sand castles, and soft serve ice cream. A self-proclaimed Wisconsin custard elitist, Michigan is still my home turf and I'm not ashamed to say I've put down a few cones in my day. Sandy, sunburned, and starving on a sunny day in August, Whippi Dip ice cream came up over the hill on 977 Pontaluna Road in Spring Lake like a neon oasis in the desert (Or should we say, dessert?).
A popular name for ice cream stands across the Midwest, Whippi Dip on Pontaluna Road has been serving up famous BBQ, fries, and turtle sundaes for over 60 years (owned and operated by the Ruark family for the past 40). Tempted by the home made french dip au jus and $1 sloppy joe sandwiches, we stuck to the soft serve and ordered a twist, a dip, and a flavor burst (see Mr. Strawberry in the photo above.)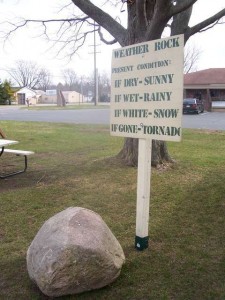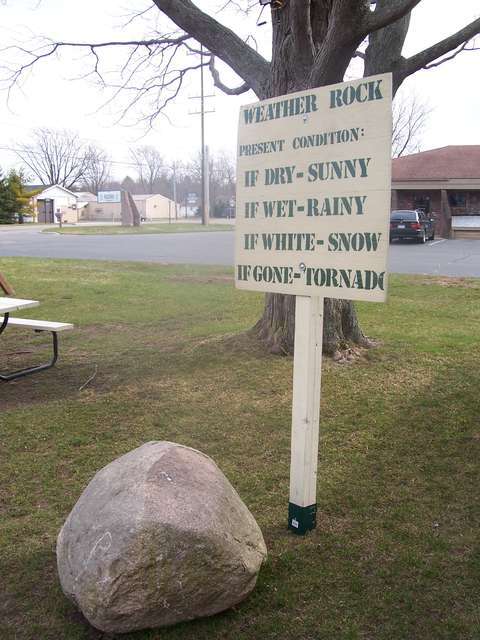 Donned with edible sugar eyes and smiling in the face of their impending doom, one technique for eating this summer treat is to sneak up on it from the back side. Using the same shrill screams enjoyed while eating ginger bread men and chocolate bunny ears, our family rolled in masochistic laughter as we monopolized a picnic table by the shaded play ground out back. Chuckling at the weather rock (see photo), we determined the day was sunny enough to sit for a spell. Painted like a melting ice cream cone, the building is as colorful as the people who work there (mostly summer college students who patiently wait while you photograph ice cream cones and listen to the sounds of laughing children).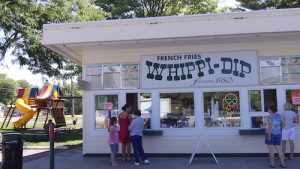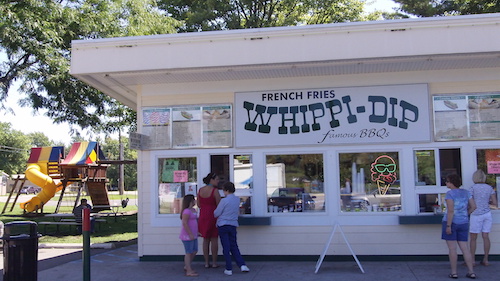 Just down the road from Hoffmaster State Park on the shores of Lake Michigan, plan to use the rest room before you visit. Known for waiting until the last possible minute, we took a stroll to the nearby gas station to wash sticky fingers and avoid a bathroom emergency. Lacking a traditional website and open seasonally from Mid-March to Mid-October, visit Urban Spoon online for photos, menus, and customer reviews.