The Road Trips "Feed Me" mantra, is simple, but not always easy to accomplish. On our family travels, we look for the extension of "dinner at home" where ever we roam. In the ongoing search for high-quality, affordable, regional, delicious food, I packed up the boys and headed to Chicago Southland for the weekend. If there's one thing Chicago knows how to do, and do well, is satisfy the foodie in us all.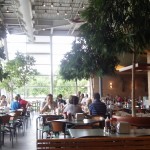 The Patio Restaurant, Orland Park
With six locations in Chicago, The Patio Restaurant has been serving up award-winning barbecue, sandwiches, homemade soups and garden-fresh salads for over 30 years. Dining in the roomy modern, retro, "outside comes indoors" Orland Park location, we placed our orders, cafeteria style, from the main counter. The pulled pork sandwich (hickory smoked and smothered in BBQ sauce for $5.49) received my "I once lived in Texas and now have ridiculously high BBQ expectations" seal of approval. One kid ordered spaghetti (homemade meat sauce served with french bread) and the other grilled cheese (freshly baked white bread grilled with American cheese and served with a pickle and not salty-yea!-fries); both for $5.25. Unable to pass by the ice cream counter, dishes of superman ice cream rounded out the meal.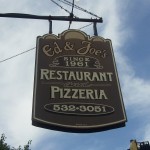 Ed & Joe's Restaurant & Pizzeria, Tinley Park

If you're in the mood for authentic thin crust gourmet pizza, Ed & Joe's in charming downtown Tinley Park should be a "must stop" on your Chicago Southland family dining itinerary. Known for high-quality ingredients and "slow" food, Ed & Joe's has been perfecting the dining in and dining out experience for 50 years. Offering live acoustic music three nights a week, daily specials, and social media incentives, prepare to take in the ambiance while your food is prepared. Intrigued by the name and their regional popularity, a plate of Schmods (French bread dipped in natural Italian beef broth and oven-roasted with mozzarella and Parmesan cheeses and served with the dipping broth) whet our appetite while our pizzas baked in the oven. The kids happily split a single topping ($11.25), while I feasted on the Putanesca (topped with fresh garlic, feta, mozzarella cheese, diced tomatoes, fresh basil, and olives). Between the three of us, two small pizzas left more than enough to bring back to our hotel for late night (and early morning) snacking.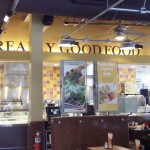 Jason's Deli, Oak Lawn
Celebrating 35 years of serving really good food, Jason's Deli was recently voted the #1 deli in America by Parents Magazine. On our maiden voyage to Jason's, we were overcome with hope for kids' menus everywhere. Free of nitrites, artificial colors, and high fructose corn syrup, Kidwich Meals and J.D. Pickle Meals include items like Ham & Cheese (served on wheat, white, or an organic wheat wrap), a baked potato, or bow tie pasta and chicken Alfredo (each for $3.59). Organic apples, organic carrots, fresh fruit, or chips, and organic apple juice, organic milk are included in the price. The kids happily licked their complimentary low-fat ice cream cones while I sipped coffee from a real mug and watched the deli experts prepare muffalettas and paninis for happy, hungry, looking customers.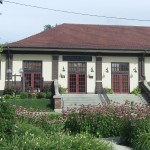 Flossmoor Station Restaurant & Brewery, Flossmoor
A delightful surprise on our culinary excursion, the Flossmoor Station Restaurant and Brewery is a great place for history and train buffs of all ages. Located in a restored train station, the building remains adjacent to an active Metra line. In the heart of downtown Flossmoor, a person can't help but feel like they might just be in Europe. Ordering from the rail-themed kid's meal, we shared dippers (carrot and celery sticks, steamed broccoli, and the best bread sticks this side of the Mississippi, $4.59) and health bites (fruit kabobs with fruit dip, $2.99). The kids ordered selected pasta and chicken timbers for their entrees, not the fish fillet ($4.79) or 1/4 slab rib dinner ($6.99) suggested by dear ol' mom. Too satiated to even order gelato or yogurt from the seasonal Caboose Ice Cream Shoppe, we popped in the rail car to confirm all 24 toppings—reluctantly leaving with a promise to come back the next time we pass through town.