On our winter wonderland weekend in Traverse City, Michigan, we had plenty of fresh air and opportunities to burn calories. This made us hungry. Very hungry. To a foodie's delight, Traverse City supports regional food, independent restaurants, and culinary variety. With kids in tow, our mantra has always been affordable, healthy, and fun. Here's where we re-fueled:
Appropriately marketing itself as a neighborhood bakery, Bay Bread company at 601 Randolph St. is in the heart of the  "Little Bohemia" neighborhood*.  Serving up breakfast, lunch, espresso drinks, and bakery items "to go", Bay Bread Company supplies area businesses with freshly-baked loaves. Hungry patrons can select from forty different kinds of bread, ranging from traditional rye to pesto batard, onion loaf, cinnamon swirl, sunflower, wheat and many more.
Unique to the Bay Bread dining experience is an upstairs seating area called "The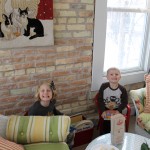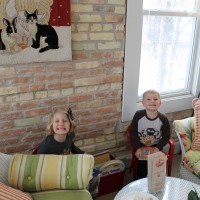 Roost". In the building next door, go up, down, up, and then up to what I imagine was recently a second-floor apartment (the shower in the bathroom gives it away). With tables and cozy seating areas, your food is delivered by bakery staff. Self-serve coffee refills occur in the in the kitchen. Feeling at home in the living room, kids can find a spot on overstuffed couches and read books in baskets stocked just for them. The kids ordered the Cafe Kids Pack, which includes half a sandwich (choices are PB&J, grilled cheese, turkey and cheese, or just cheese) with a drink and a cookie for $4.65.
* Also known as Slabtown, Bohemian immigrants used slabs of scrap lumber from the local mills to construct their homes.
Located near the Sugar Beach Resort Hotel (our home away from home on the East Bay), we were thrilled to discover the entire lunch and dinner menus at Red Mesa Grill are available for carry out. Specializing in Latin American fusion food—just spicy enough for us Midwesterners—Red Mesa Grill is known for guacamole made fresh every day. With a bustling dining room on a cold evening in January, the colorful building includes covered outside seating just asking for a margarita and lazy Sunday afternoon in August (we'll be back to test this theory out).
Quite possibly the most attentive telephone service we've ever had, a custom dinner for two picky eaters and two famished adults was ordered and ready for pick up in twenty minutes.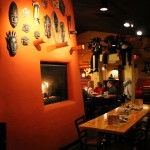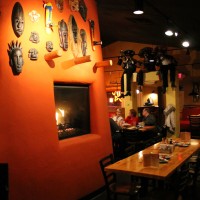 With food enough for two meals, we carried home a cup of salsa, a cup of guacamole, and an armload of chips as our appetizer. Grabbing kids' activity bags stuffed with goldfish crackers, wikki stix, and activity sheets, we were thankful for the food and entertainment on the drive home to Wisconsin.
Items on the kids menu include a Mexican hot dog, pizza, chicken strips, Mexican grilled cheese, a taco, kid's hamburguesa, and Caribbean fish fingers and range in price from $5.29 to $7.99. Dinners include a side and drink (we picked fruit and rice). Parents of kids with gluten concerns can ask for a Celiac safe menu (also available online).