Weather you're heading up to Traverse City for a winter festival or you want to see why Good Morning America recently ranked the Sleeping Bear Dunes National Lakeshore the most beautiful place in America, it's time to come out of hibernation and head "Up North" to a place where Michiganders really know how to play in the snow. With enough cold fun to keep you plenty warm, here are some of our favorite places on a winter family vacation in Traverse City, Michigan: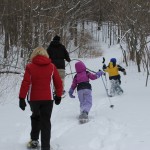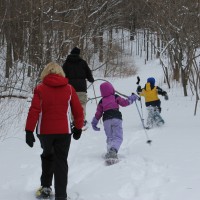 Snowshoeing
Empire Bluff Trail
A nature-lovers paradise, trails and paths criss-cross their way across the greater Leelanau Peninsula. To visit the area for the first (or fifth) time and to leave without a trip to the Sleeping Bear Dunes National Lakeshore is truly a missed opportunity. In order to fully appreciate the views by snow shoe, consider the 1.5 mile round trip hike on the Empire Bluff Trail. Overlooking Lake Michigan (parents, keep an eye on your kids as you approach the bluff), the trail makes the ascent at a calorie-burning incline. Younger kids may need to take breaks (carry water and stop to take photos); the return trip will have you trying to keep up. A plethora of snowshoeing trails are described on the Traverse City website here, or pick up a pamphlet at the Traverse City Convention and Visitors Bureau; equipment rentals and area outfitters are also listed.
For the adventure seekers in your family, consider spending a few hours snow tubing at Timberlee Hills, ten minutes east (and up) from downtown. A family-owned operation, the "hill" at Timberlee Hills offers breathtaking views of the peninsula from the summit. Take a good look, as the scenery goes by too quickly on the trip back to the bottom of the tube lift. Included with the cost of the hourly lift ticket is the use of single and double tubes (groups can also hook their tubes together and take a tandem ride). Waiting at the basin is Hilltop Hideaway, a banquet room that doubles as a warming house, bar, and eatery. Our visit to Timberlee Hills was after dark (when the sun sets at 5PM, this is not so hard to plan). Check the Timberlee Hills website and/or Facebook page for coupons, deals, and other fun events.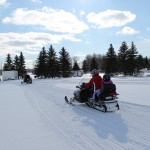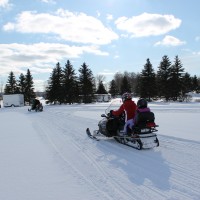 Snowmobiling
Blue Sky Rentals
On a trip to Traverse City, why not rent a snowmobile and see why so many year-round residents can't wait for the first snowfall. A necessary mode of transportation during blizzards and sever weather, snowmobiles are a way of life in Michigan. With recreational trails aplenty, the folks at Blue Sky Rentals will help outfit your sledding adventure. With rates ranging from four hours to a full week (and one and two-person machines), Blue Sky Rentals can also provide a trail guide if you are new to the sport. Visit the Blue Sky website for prices, packages, trail conditions, Michigan snowmobile laws, and customer photos. Blue Sky also partners with the Grand Traverse Resort and Spa on their Winter Fun activity package (see below).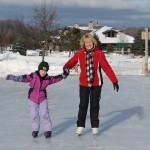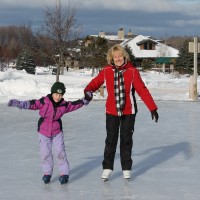 Winter Programs and Activities
Grand Traverse Resort & Spa
The Grand Traverse Resort & Spa offers a variety of winter activities for guest and resident alike. Ranging from ice skating, snowshoeing, cross country skiing, dog sledding, snowmobiling, and kid-friendly winter activities (like snow tic-tac-toe, pictured above), equipment rental and reservations can be made through the Clubhouse.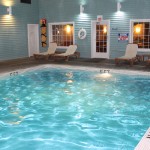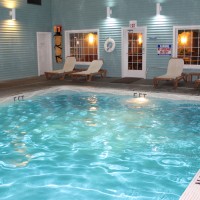 Where to Stay
Sugar Beach Resort Hotel
A warm oasis on the snowy-white landscape, Sugar Beach Resort Hotel sits on the southern end of the East Bay. With 600-feet of beach front, make a snowman in the winter or head inside to the indoor pool and hot tub. Enjoy a complimentary breakfastoverlooking the bay in the second-story breakfast bar.
Enjoying two "to go" evening meals in the comfort of our family suite, we appreciated the four person kitchen table, microwave, and refrigerator almost as much as the nearby laundry room. In the evening, rent DVD's from the front desk (or plan ahead bring your own) or hang out by the fireplace in the front lobby—look for bowls of fruit, coffee, and regional newspapers and magazines. There's also a small arcade room for kids.
For more ideas on what to do on a winter weekend in Traverse City, pick up a copy of "Traverse City for Kids: 106+ Fun Things to Do and See," available at the Traverse City Convention and Visitors Bureau or online here. Organized by season, winter begins on page 20 and includes suggestions for sleigh rides, traditional sledding, downhill skiing and snowboarding, and even winter river tubing.